Putin is now such a Bond villain cliché in the Western imagination that his every move is a source of titillation to us. His disappearance from the airwaves for an eleven day stretch sent the internet off into a frenzy of speculation. Popular theories included an attempted palace coup, the birth of his secret love-child, or a bad dose of the flu.
The Kremlin reacted to it all with its usual stonewalling, but since Putin's reappearance there has been a flurry of macho showboating. Extravagant military exercises have been held, and stories of how he was considering using nuclear weapons during last year's annexation of Crimea have been told. Clearly the extra scrutiny was making some in Moscow feel the need to move the media narrative away from Putin's absence before it started making the Russian leader look weak.
Whatever the reason for his odd disappearance, Putin's behaviour is a lot less unprecedented than many Western audiences seem to believe. We seem to have forgotten our own history, when the lives of the British Royal family or JFK would receive the kind of deferential treatment from the Western press that would astound us today.
Putin's private life gets similar kid glove treatment in Russia, and not just because he is an elected despot. How little we actually know about him compared to a typical Western politician says a lot. His brief divorce announcement on Russian state TV in 2013 was unprecedented in Russian political history. There were rumours that he was experiencing marital difficulties beforehand, but nothing about his love life has appeared in the Russian press since one tabloid linked him to a former Russian Olympic athlete and was promptly shut down.
Putin's private income is similarly opaque, although it has been claimed that he built up a large fortune in power and hidden it abroad. It has also been claimed by the Russian political expert Stanislav Belkovsky that over eight years Putin had secretly accumulated more than £20bn, which would make him the richest person in Europe.
Vladimir Putin: Inside the Russian President's Daily Life
Vladimir Putin: Inside the Russian President's Daily Life
1/9 He's big on exercise

Putin spends two hours a day swimming, where he gets "most of Russia's thinking done", according to political advisors. He's also a gym-goer where he enjoys weight-lifting.

AP

2/9 The gym is followed by reading

His favourite genre of books are about historical figures such as Ivan the Terrible, Catherine II, Peter the Great. Not for him are the works of JK Rowling and John Grisham.

Getty

3/9 He likes cold baths

Of course he does. He does have warm baths too, but he spends time completing "his cleanse".

GETTY IMAGES

4/9 He's not keen on the internet

Maybe because it makes him aware of how many people hate him, but truly because he finds "the screens within screens and the bars building up with messages confusing".

Getty Images

5/9 He can't be given milk

There is no explanation as to why. He also can't be offered food products by his host – all foreign food stuff has to cleared by the Kremlin first.

EPA

6/9 He's learning English via sing-alongs

Putin has a tutor to help him learn the England language, with afternoon sessions.

GETTY IMAGES

7/9 He's an animal-lover

It may seem strange to imagine the Russian President haring around with animals, but he is very fond of his pet Labrador who is apparently "not afraid of him". He also goes in for hunting parties.

AFP/Getty Images

8/9 He has a travel regime to rival Mariah Carey

Putin flies in Russian chefs, waiters and cleaners to ensure his overseas stays are up to his standards. He also has all hotel toiletries replaced with his personal products and fresh fruit under special Kremlin anti-contamination seals.

GETTY IMAGES

9/9 He's not a big conversationalist

"He doesn't talk," the interpreter told Newsweek. "He feels no need to smile. He doesn't want to go for a walk. He doesn't want to drink... At anyone time there are 10 people around him... You cannot get more than 3m close to him because the space is guarded so carefully. He is endlessly surrounded by whispering aides, cameramen, bodyguards."

KIRILL KUDRYAVTSEV/AFP/Getty Images
But aside from these allegations, we know next to nothing about the details and facts of Putin's finances, and personal life in general. And this isn't unusual. Boris Yeltstin – Putin's direct predecessor – was also given to mysterious unannounced disappearances off the airwaves, although in the days before social media and 24-hour news they might have gone unremarked for longer. Yeltsin was plagued by ill health and regularly drank to excess despite his hectic public schedule. His health became a recurring issue in his second term when it emerged he had had a heart attack just before the 1996 elections and had concealed it from the Russian public.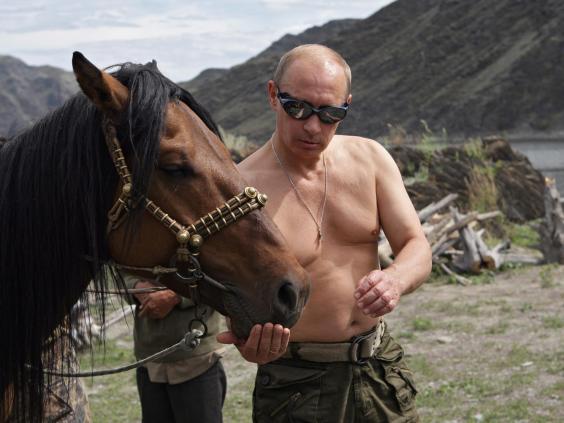 One of Yeltsin's unintentional legacies which we have all had to endure are the excruciating picture series of his successor Putin being "manly". Far from being the excess of Russian machoism these stunts were interpreted as in the West, they were a Kremlin exercise designed to demonstrate the new leader's robust good health in contrast to his old boss. This shadowy presence of Yeltsin's ill health was alluded just last Wednesday, when Putin's spokesman said that the president was "perfectly healthy" and that his handshake was "breaking hands" – a reference to Yeltsin's spokesman in 1996, who said that the ailing leader's handshake was "strong".
Putin's vanishing act from the eyes of the modern media isn't even the longest one by a recent president. In 2010 Nigeria's Umaru Yar'Adua died in office from a heart condition after three months of official silence about his health.
One day we'll find out about where Putin disappeared to, but this will be probably only be when another Russian leader who has replaced him explains it to us. So in other words, not any time soon, and even then could we ever really be certain?
Reuse content