There are two new events on the UK festival calendar this year. But they're not brought to us by any of the major promoters.They're put on by stars themselves: in this case, Madness and Nile Rodgers.
Twenty thousand Madness fans are scheduled to attend the band's new one-day event, House of Common, on Clapham Common, south London, on the August bank holiday. The headliners (Madness, of course) will be joined by 20 like-minded bands and DJs chosen by the band. 
Madness are no strangers to putting on an event; House of Common follows their Madstock! festival which first took place as a reunion concert in 1992, and was such a success that they repeated it three times, with a revival in 2009.
A statement from the band suggests House of Common will be annual. Meanwhile, 15,000 people will attend Nile Rodgers's three-day festival from 24 to 26 June, at Fulham Palace in south London. 
Buy tickets for House of Common
Aside from being a mere vanity project (putting on your own festival automatically bumps you up to headliner), there's a lot to be gained by a band putting on their own festival rather than just turning up to play at an event and receiving a cheque.
It's a chance to curate the bill, giving a platform to rising artists they admire and whose careers they want to boost, and also putting on bands they've long revered. Fans trust the tastes of their favourite band, as proven by the successful musicians-curated All Tomorrow's Parties festivals. 
"Artists and artist-managers are looking at new ways to invigorate how they approach a headline show, and taking control of this and therefore hosting and curating an event of their own seems the most logical thing to do," says promoter Tom Baker, who runs Field Day.
Musicians and Actors on Growing Old Disgracefully
Musicians and Actors on Growing Old Disgracefully
1/5 Lemmy

The Motorhead frontman recently revealed his excessive lifestyle - rumoured to involve drinking a bottle of whisky a day - had to be scaled back after he started being unable to stand up during a recent show.

Getty Images

2/5 Willie-Nelson

82-year-old Nelson says he started smoking cigarettes when he was just six, and that his love affair with marijuana was the "smoothest" of all his marriages. He even has his own brand of marijuana called 'Willie's Reserve'.

Getty

3/5 Shane-MacGowan

The Pogues singer was kicked out the band in the nineties for his excessive drinking, and was given just six weeks to live, and is still partial to a G&T after a doctor suggested he stick to clear liquids.

Getty

4/5 Keith-Richards

The Rolling Stone guitarist is still a fan of marijuana. ""I smoke regularly, an early morning joint. Strictly Californian," he told Mojo.

Getty Images

5/5 Jack-Nicholson

The legendary actor knows his limits, even if they are extreme. "I've woken up in trees, I've woken up almost hanging off cliffs, but I've always known how to sort myself out."

Getty Images
"It gives the headline bands a platform to showcase artists they are fans of. Mumford and Sons are a perfect example when they staged an excellent series of mini-festivals in Cape Town, South Africa with local but rapidly rising artists John Wizards and Beatenberg."
And with bands no longer able to rely on record sales, there are the elements of self-promotion and reaching out to a wider net of fans, and revenue.
Bands have experience when it comes to what works at festivals. Folk-pop band Keston Cobblers Club, who started Camp Wildfire in 2015 having played getting on for 100 festivals over the years, wanted to create an event with a difference.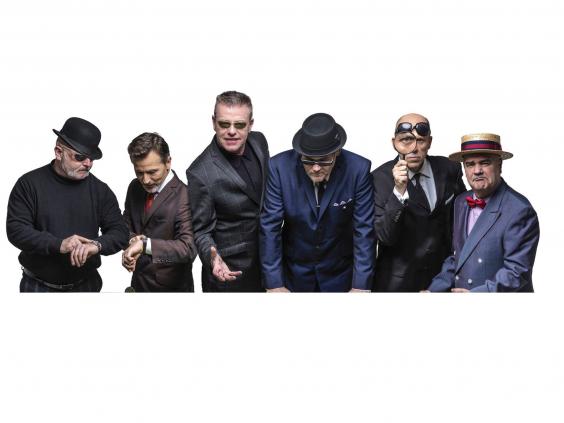 "I had never been to any festival where the main focus wasn't on listening to music all day," band member Jules Lowe explains. "We wanted adults to go back to work on a Monday with far more than just a hangover.
At Wildfire, you can pack your days with adventure sports, expeditions, puzzles; the style is loosely based on a 1950s British scout camp, but actually feels quite other-worldly." 
They keep the line-up and location secret, just like In the Woods, the tiny 1,000-capacity boutique festival from members of Laurel Collective, creating an exclusive atmosphere.
For David Gedge, the creative core of both indie band The Wedding Present and orchestral-pop band Cinerama, the festival he's held since 2009 – At the Edge of the Sea – is a chance for both his acts to perform. The idea for a festival came over breakfast at a Wakefield Little Chef while on tour with The Wedding Present: "The conversation turned to the huge number of bands we'd met over the years.
"Many of these people have remained good friends and we were discussing how it was a shame that we didn't get to see them more often. Then I had the idea of an annual event to which we could invite all the bands we've encountered and also bands that we wanted to see ourselves." 
A festival needs to stand out. For Gedge, it's about providing the unexpected. "The last thing I want is for At the Edge of the Sea to be just a bunch of indie bands, so I go out of my way to try and invite artists who are going to do something slightly unusual. A highlight for me was in 2012 when we had an orchestra of saw players. The first band to play in 2009 were on stilts." 
Perhaps the most long-standing music festival run by a band is Beautiful Days held by The Levellers since 2003. It began as an alternative to corporate festivals, to bring "weirdness" back into music festivals. 
Nile Rodgers came up with the idea for his own event in 2012 at Montreux, when the jazz-festival organisers discussed honouring the Chic frontman.
Rodgers suggested honouring the artists who played a part in his career, including Grace Jones, Taylor Dayne, Alison Moyet, Mark Ronson and Felix da Housecat: "We did 11 continuous hours of dance music. I was trying to show that seemingly disparate artists work extremely well together," he said. It inspired his first Fold, at Martha's Vineyard last August. 
This year's first UK Fold spans genres, with Alison Moyet, The Thompson Twins' Tom Bailey, John Newman, Emin, Grace, Angie Stone, and Incognito, and Chic headlining all three nights. 
Band festivals guarantee a unity among the crowd from a shared love of the band putting on the event. And that creates a magical atmosphere for all, not just the headliners.
Reuse content