The startlingly beautiful, almost alien landscape of Cappadocia, in Central Anatolia, Turkey, is one of those places you react to with awestruck noises rather than words at first. If you haven't consciously seen photographs of the pastel-hued valleys, "fairy chimneys" and other rock formations of the area or the daily wonder of hundreds of hot air balloons drifting together overhead at sunrise, you almost certainly have without realising it.
That's what happened with me, and a specifically musical link with the images (the cover of Autechre's classic 1994 IDM record "Amber" features photographs of the undulating, pinkish rocks of the area's Zemi Valley) made travelling there for a music festival feel very fitting. I had heard tell of Cappadox – a three-year-old multidisciplinary music and arts festival run by the Istanbul-based Pozitif company – last year sometime, and immediately resolved to go. Though the event seems to be largely unknown in the UK at this point, I would urge anyone looking for something genuinely different in a festival experience to make time to go in 2018.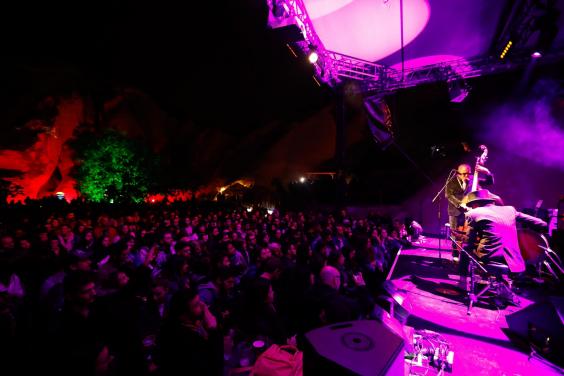 Over a coffee just after I arrived, Cem Yegül, the gregarious and engaging CEO of Pozitif, took me through his company's beginnings as free-jazz promoters in Istanbul in 1989, and the musical and philosophical underpinnings of Cappadox. Central to the event is a very unusual idea for a festival's creator to be pushing: that people don't actually need to buy a ticket to experience it in a perfectly valid way. "This topography here is so surreal that I don't think you even need to go to a concert," he smiled. "We like to let the festival be led by the environment and the atmosphere rather than by big set-piece performances that everyone feels they must attend." 
That atmosphere was palpable at all times during Cappadox, and treats of one kind or another lay around every corner, with the festival's visual and performance art programmes, gastronomic events, outdoor activities and music programmes lined up as equals and partners. Those who took in the music programme (which had main stages in the towns of Göreme and Uçhisar plus various other indoor and outdoor venues dotted around both) found deep roots in jazz, but an obvious love for countless, often avant-garde forms branching out from it.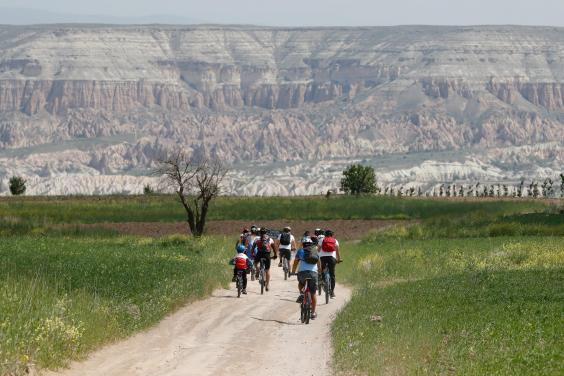 The humid, eyes-down instrumental folk rock of Portugal's Dead Combo, the peaceful, haunting compositions of the Canadian-Danish pair Rhye and a genre-straddling set by two DJs from the Turkish magazine Bant Mag were highlights among the fairy chimney stacks of the Perili Ozanlar Vadisi venue (Göreme). Back at the festival's base camp in Uçhisar, meanwhile, Peter Broderick and David Allred played from their lovely, violin and upright bass-led LP for Erased Tapes. And while time constraints prevented me from experiencing everything Cappadox has to offer this time around – the event's much-cherished sunrise and sunset concerts and walks and the area's world-famous hot air balloon rides, for example – I did manage to fit in (literally as well as figuratively) a glorious 15-course fire-cooked Turkish meal down in a canyon, an extensive and impressive day of contemporary art activities, and some stunning walks.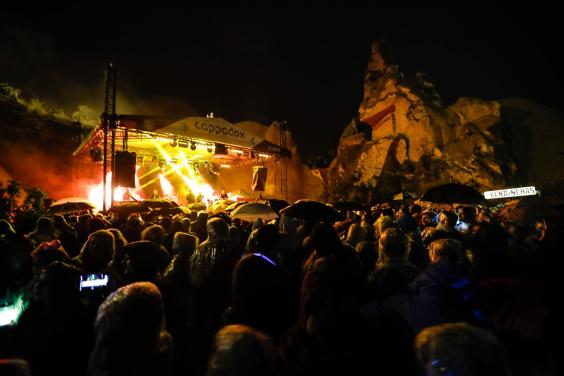 Cappadox's contemporary art programme this year revolved around the theme of "Ways out from the world", but Yegül was at pains to explain that the thrust of this idea was construction rather than escape. For me the community feel, friendliness and creativity of Cappadox comprised the perfect follow-through on this thoroughly laudable and timely aim.
Reuse content