It's easy to see how the idea came about. When a television series has been on air as long as medical drama Casualty the urge to mix things up must be strong. Unfortunately Saturday's "Holby Sin City", an experimental episode which attempted to bring Frank Miller's heightened noir aesthetic to Holby's not-so-mean streets sparked a viewer backlash with outraged fans branding it the worst episode in the show's 29-year-run.
Yet Casualty isn't alone in trying to breathe new life into an old show. Television history is littered with attempts to experiment, from the live episodes that have become a soap opera staple – Coronation Street will screen their third later this year – to more innovative moments such as Seinfeld's famous "Backwards Episode" or the monologue episode of EastEnders in which the entire 30 minutes was devoted to Dot as she recorded a message for her husband, Jim, who was then in hospital.
And there's no denying that these so-called "bottle episodes", which occur outside the main cannon of the show, can really pay off. Think of "Blink", the Doctor Who episode which daringly all but benched the Doctor, placing Carey Mulligan centre stage, Mad Men's much-praised "The Suitcase" a near two-hander between Don Draper and his protégé Peggy Olsen, or black-and-white X-Files episode "The Post-Modern Prometheus" which paid homage to both Mary Shelley and David Lynch.
A similarly arresting concept illuminated the 30th episode of drugs saga Breaking Bad, in which anti-hero Walter White found himself increasingly agitated by the presence of a fly in his meth lab. Directed in hallucinatory style by Rian Johnson the result was an intense and distinctive hour of television, which compelled despite its failure to advance plot or characterisation in any meaningful way.
Nor are such risks a hallmark of recent shows. One of television's most famously innovative episodes dates back to 1967 when sci-fi drama Star Trek threw caution to the wind and thrust their futuristic cast back in time to Nazi Germany. Today such a plotline seems almost commonplace – and the episode was effectively parodied in Family Guy – but at the time it demonstrated that even the most long-running show could be transformed by something fresh and new.
Then there are the repeatedly innovative shows such as Joss Whedon's Buffy The Vampire Slayer, with season four's "Hush" played out almost entirely in silence and season six's "Once More With Feeling" aka the musical episode delivered in song.
The biggest risks can often be found in the most unlikely of places. Teen drama Dawson's Creek rejected straight storytelling when unveiling the moment lead character Dawson discovered his former girlfriend Joey was dating his best friend Pacey, choosing instead to examine the same story from four different viewpoints. Most notably of all, teen detective drama Veronica Mars paid tribute to Akira Kurosawa's influential 1950's film, Rashomon with an episode in which heroine Veronica tries to pick through conflicting stories to uncover the truth about her rape.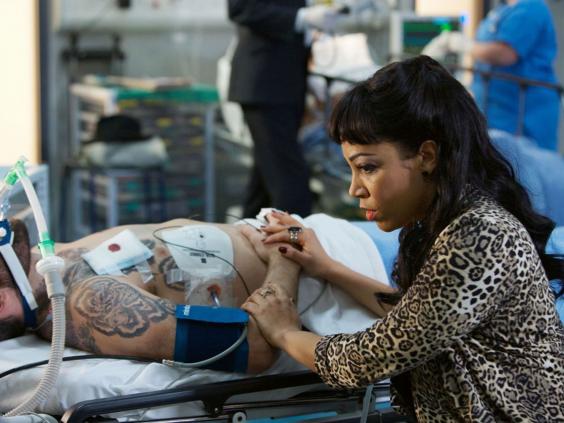 The problem, as the "Holby Sin City" scriptwriter Mark Cately has found, is when the risk doesn't quite work. More than one viewer on Saturday night referenced the notorious "Bouncer's Dream" episode of Australian soap Neighbours, in which viewers were inexplicably treated to life in Erinsborough through the eyes of the neighbourhood's favourite friendly canine, while the least said about last year's Simpsons/Family Guy crossover in which a generations-worth of fond feelings towards the denizens of Springfield was trashed by a tonal mismatch of epic proportions the better.
Still Cately can take heart from the fact that every programme mentioned, no matter how innovative, pales in comparison to the most creatively risk-taking series of them all, the decades-ahead-of-its-time Moonlighting. The genre-bending Bruce Willis/Cybill Shepherd series about a couple of sparring private eyes reached a memorable apogee with "Atomic Shakespeare", an episode which riffed on The Taming of The Shrew, using both the original play and a script that was written in iambic pentameter to drive home the similarities between the show's David and Maddie and the Shrew's Kate and Petruchio.
Bold, daring, and utterly different to anything that else on television both before or since "Atomic Shakespeare" really shouldn't work. It does, however, and in its success lies a lesson for the creators of "Holby Sin City": it's OK to rip up the rulebook when you're certain that you can deliver the goods.
Reuse content