When The Great British Bake Off returns to BBC One this week, you'll notice they spend a lot of time discussing the joy of a traditional English madeira cake. "I'm happy that there will be different flavours," says Marry Berry, "but I don't want it too far from the classic, because you can't beat it." The same is apparently true for a perfect GBBO series, and after five test batches, it's now possible to identify the essential ingredients.
All need a raising agent, which usually takes the form of a peppy arts undergrad, like series 4 runner-up Ruby, last year's 17-year-old Martha and this year's 19-year-old Flora from Perthshire. At the other end of the experience spectrum, there's always a Gran of Grit who knows how to cake-bake in a crisis. This slot has in the past been filled by series five W.I. member Diana and series three's Sarah-Jane, a vicar's wife and honourary gran, at just 28.
The Importer of Exotic Ingredients (cardamom-obsessed Chetna from series five), The Clumsy Enthusiast (dough-dropping Cathryn in series three) and The Hipster Heartthrob (Rob, series two) all add flavour — until they inevitably get eliminated somewhere around the fourth round. Then there's The Scientist, whose techie innovations make him/her a serious contender. This year, keep an eye on trainee anaesthetist Tamal, who keeps sponges moist with injections from a syrup syringe.
Yet after builder Richard Burr's narrow defeat in 2014, GBBO 2015 must surely belong to Baker Bloke, the male contestant who challenges gender stereotypes with his cake-y creativity. If the Gran of Grit emulates Mary Berry, then Baker Bloke is her co-judge Paul Hollywood's natural protege, and no one has ever embodied the role quite so completely as this year's contestant Paul, a prison guard from Wales. Presenter Mel Giedroyc is quick to spot his potential: "You know that you have the same facial hair as Paul Hollywood? You also have the same name. What is going on?"
The X Factor is over before its even begun
Judges may come and go and even winning acts (bless 'em) are instantly forgotten once the finale credits roll. Yet there is one element of The X Factor that has been integral to the show's success right from the start; That element is Peter Dickson.
You won't recognise his name or his face, but Dickson has been the true bedrock of Simon Cowell's pop talent search show since it first aired in 2004. For it was Dickson's bombastic voiceover that introduced contestants to the stage every week during the live shows, and now he's announced he's leaving.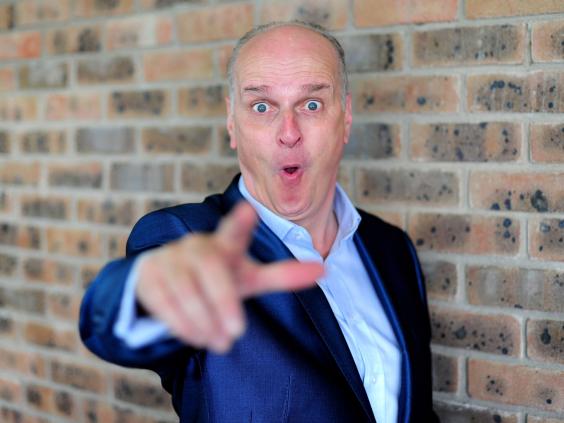 Dickson took pride in his work, citing his favourite all-time name to say as that of series 2009 contestant Rachel Adedeji (or "RAaaaaachel AD-a-DAAAAAY-Jay!!!!", if you prefer). In truth Dickson's over-enunciation of commonplace syllables lent the show a pomp and pageantry, which it could never have earned otherwise. What will they do without him?
Scandi Sit Coms are the new Nordic Noir
It would be easy to assume that TV in Sweden, Norway and Denmark is wall-to-wall grisly crime dramas, occasionally leavened by an eight-hour 19th century war epic. For that reason, be sure to catch Dag, a new Norwegian sit-com about a misanthropic marriage guidance counsellor which starts on Sky Arts this evening. Nor is Dag a one-off. It's possible for Netflix subscribers to track down episodes of Rita, Denmark's answer to Bad Education, and Lilyhammer, the Norwegian comedy starring The Sopranos' Steve Van Zandt. Welcome To Sweden, a semi-autobiographical comedy series created by Amy Poehler's brother Greg should make it to the UK eventually. Whether four funny shows will be enough to counter the region's long-cultivated reputation for gloom is, however, another matter.
CATCH UP
Prince Philip: the Plot to Make a King, All 4
You needn't be a fanatical royalist to find this documentary intriguing. It tells the story of how 20th century aristocrat and fixer Lord "Dickie" Mountbatten hatched a plan to marry his nephew into the royal family, despite much opposition from snooty courtiers. That nephew was the now 94-year-old Duke of Edinburgh and the rest, as they say, is history. 
http://www.channel4.com/programmes/prince-philip-the-plot-to-make-a-king
Matt Berry does…Summer Holidays, BBC iPlayer
Telly's other M. Berry is more interested in comedy than cakes and these bizarre mini mock-docs continue the format already hilariously laid down in his other comedy shorts. Berry uses that delightfully fruity baritone to add narration to a collection of archive clips. Ignore the title, this week's third episode is all about a recently divorced bag worm called Gary Dent. 
http://www.bbc.co.uk/iplayer/episode/p02wz47q/matt-berry-does-3-summer-holidays
Taskmaster, UKTVPlay
Greg Davies' sarky teacher persona has already done good service in The Inbetweeners and Man Down, but really comes into its own now that he's the 'taskmaster' in this new quiz show. Five comedians (including, this week, Tim Key and Frank Skinner) are subject to silly challenges, such as painting a picture of a horse, while riding a real one. 
http://uktvplay.uktv.co.uk/channel/dave/
Bitter Lake, iPlayer
This week Adam Curtis's online-only documentary was shortlisted at the prestigious Grierson awards. As well as tackling the relationship between Afghanistan and the West, Bitter Lake prompted a re-think at the BBC. According to a spokesperson there'll be more of the same in future: "Adam would only do Bitter Lake for iPlayer, it wasn't declined by any of the channels."
http://www.bbc.co.uk/programmes/p02gyz6b
Reuse content