With Game of Thrones season five drawing to a dramatic close as only a TV series based on George RR Martin's books can, our minds have already wandered to what season six may have in store.
Details remain scarce but a few hints have dripped through on the grapevine and this is what we know so far:
Season six will probably start next April
Judging by the last five seasons, fans can expect to see new episodes from Dan Weiss and David Benioff sometime in spring 2016 (we know, but it'll come round sooner than you think). Production is rumoured to be starting as soon as next month.
There are going to be some massive dragons
VFX supervisor Joe Bauer dropped the news about Daenerys' babies and it's got us very excited. We saw them briefly in episode nine and my had they grown but come season six, they'll have doubled in size.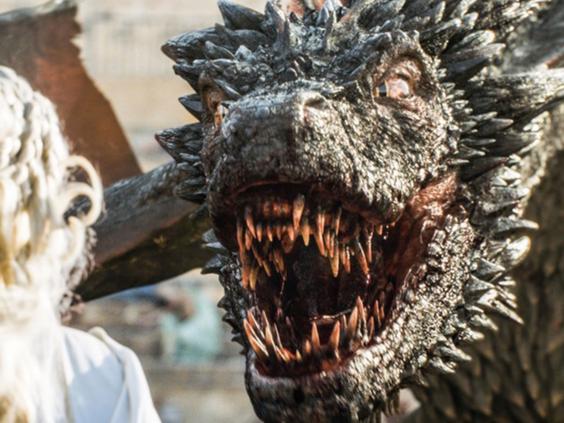 "When the dragons were small we had little foam rubber models of each dragon and we could carry them on and off of the set and it was no big deal," Bauer told Yahoo TV. "Last year the best we could do was a head and this year it's going to be a finger nail or something, I'm not really sure."
My God that episode though!! Ride!! #Khaleesi #drogon to the rescue #dragons #ADanceWithDragons #GameofThrones pic.twitter.com/y0EyiUwm0C

— Jonathan Lugo (@Koralugo) June 8, 2015
The Winds of Winter may not be out in time...
George RR Martin is hard at work trying to finish his sixth A Song of Ice and Fire book before season six reaches our living rooms. Whether or not he'll manage it remains in doubt however, seeing as fans have been waiting since 2011 for the next Westeros instalment. Just stop emailing him alright?
...and even if it is it might not make a difference...
Martin actually has next to no creative control over what goes on in the HBO TV series, meaning showrunners Dan Weiss and David Benioff are at liberty to stick as close to or stray as far from the events of the novels as they like.
Recent season storylines have proved that not everything that happens in the books will go the same way in Thrones (Sansa's rape to use just one example) and with the show having caught up with Martin, really anything goes from this point onwards.
Shocking Game of Thrones scenes
Shocking Game of Thrones scenes
1/9 Sansa/Ramsey rape scene

Season 5, episode 6: Fans were outraged as the episode ended with Sansa Stark being brutally raped by her new husband, Ramsey. The camera soon panned to Theon as he watched on, terrified.

HBO

2/9 Shireen burns at the stake

Season 5, episode 9:Stannis burns his daughter Shireen at the stake after Red Priestess Melisandre advises him to make a sacrifice to gain more power

3/9 Theon gets his penis chopped off

Season 3, episode 10: While being tortured by Ramsey, Theon Greyjoy goes through all sorts of pain. The most horrible though is when his penis is cut off and then sent to his family.

YouTube

4/9 George Bush's head on spike

Season 1, episode 10: According to the directors, they couldn't get enough prosthetic heads made up for the show and ended up using the spare one's lying around. One of those just happened to be the fake head of George Bush, which eventually ended up on a spike.

YouTube

5/9 Joffrey murders two prostitutes

Season 2, episode 4: In one of his most violent moments, Joffrey finds himself with two prostitutes in his room and the most disgusting thing he can think to do with them, uses them as living targets.

YouTube

6/9 The Red Wedding

Season 3, episode 9: It was the turning point for the entire show. Just as everyone thought it was going the Starks way, they nearly all end up murdered in one of the bloodiest episodes of any TV series ever.

HBO

7/9 Rat torture

Season 2, episode 4: Torture is a pretty common occurrence on Game of Thrones, but none were quite a bad as this. In the scene a bucket of rats is put to a man's chest and then heated up with a flame so they must eat through the man to escape. Terrifying.

YouTube

8/9 Mountain head explosion

Season 4, episode 8: Just as everything was going Oberyn Martell's way, it all literally blew up in his face. The warrior ended up looking like a squashed watermelon in one of the most awful scenes in the entire series.

9/9 Theon botched beheading

Season 2, episode 6: Beheadings: In one of the more gruesome beheadings, Theon strikes Ser Rodrick Cassel not just once but four times in the neck, finally taking it all the way off with a kick.
...but George RR Martin isn't writing an episode
The author has turned down scripting an episode for next year's season because it would mean at least a month away from work on The Winds of Winter. He also opted out of several convention appearances, so he's trying guys, okay? It can't be too long now.
Plots skipped in past seasons may reappear
Weiss and Benioff recently hinted that characters and storylines from Martin's books previously ignored in Thrones may make reappearances in future seasons. Meaning we could still see Lady Stoneheart and Victarian Greyjoy on the small screen.
"Sometimes we're going in a different order or telling a different story," Benioff told Entertainment Weekly. "We think the story will all make sense at the end. Otherwise it will be eight wasted years."
Reuse content