Lord Ashcroft's biography of David Cameron, being serialised this week by the Daily Mail, has fired up Westminster and the Twittersphere. It turns out there are a remarkable number of jolly pictures of the Prime Minister bopping at posh parties in the 1980s; there are also now more pig jokes in circulation than anyone thought possible.
Cameron has made clear he doesn't intend to 'dignify' the allegations in the book by responding to them. And No 10 clearly wants us to infer that Lord Ashcroft is motivated by a desire to settle a "personal beef" (not pork) with his former ally. Ashcroft denies the suggestion and his co-author, Isabel Oakeshott, has argued that the book would have been published before the election had revenge been its purpose.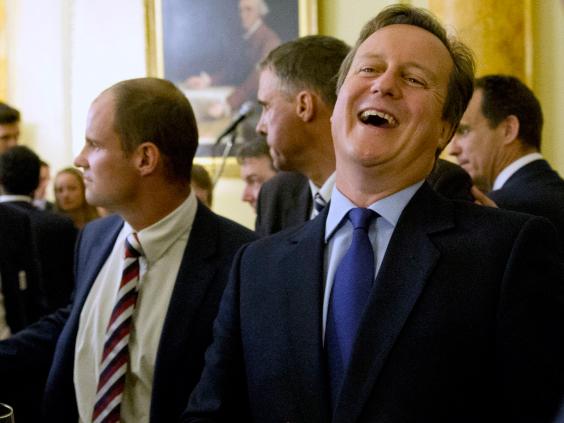 Either way, it is notable that many of the more colourful claims to have emerged thus far are not firmly backed up by documentary evidence or on-the-record sources. That doesn't mean they can simply be discounted – but it's hard to imagine some of the assertions appearing in the mainstream media were it not for the book's publication.
So what do we know now about the Prime Minister that we didn't before?
1. He (sort of) did it with a dead pig, allegedly.
For from having his snout in the trough, Cameron is said to have put his trough in the snout of a dead pig during a bizarre initiation ceremony. The claim comes from an unnamed MP who appears not have seen the act himself, but says he has seen a photo of the dirty deed. But the person who is said to have the photograph did not respond to approaches from Ashcroft and Oakeshott.
2. He smoked weed, allegedly.
James Delingpole is quoted as saying that he and his pal Dave smoked joints while listening to Supertramp in his room at Christchurch College. Then again, he tweeted over the weekend: "I deny everything. We didn't inhale. Or something." Cameron has previously responded to questions about drug use in his student days by saying simply: "I had a normal university experience". That might explain the weed and the '70s prog rock, but still leaves questions about that pig.
3. Cocaine "circulated" at a dinner party at his home, allegedly
As for harder drugs, the book refers to a dinner guest who claims to have seen cocaine being "in open circulation" at the Camerons' home, though the guest did not see either the Prime Minister or his wife taking it. A big party of Chipping Norton set types is described by Ashcroft and Oakeshott as "loud, boozy and perhaps not entirely free of class-A drugs". In short: caveats rule OK.  
4. He was once willing to giving George Osborne the sack, allegedly
The PM and his Chancellor are the closest of political allies and are said to have a genuine friendship. But according to the new biography, after Osborne became involved in a row over a private meeting with a Russian tycoon, Cameron – then leader of the Opposition – "hinted" in "private" conversations with "close confidents" that he was willing to give his right hand man the boot, "if absolutely necessary". No named sources here, though the story hardly tells us much of note: at the time of the row the Tories poll-lead over Labour was cut from 20-points to eight, with the general election just 18 months away. Surely no party leader in history would stand by even their most trusted lieutenant if doing so put an election in jeopardy.
…And he one claim we don't need to quality
His foreign policy has been inept, allegedly
Actually, there are plenty of on the record sources for this one, not to mention mounting evidence on the ground that the UK's intervention in Libya – and its policy towards the Syrian civil war – haven't exactly worked.
There is no doubt that Ashcroft's biography has caused something of a sensation; and it will presumably shift a fair few copies. But it is hard to shift the feeling that some of the allegations may never be proved. And others raise questions about whether there is a degree of intrusion that can really be justified by the public interest. In any event, by maintaining a 'dignified' silence, Cameron will believe that in the long-run he will not be overly damaged.
Sure enough, if the primary impression created by the book is that the Prime Minister is a big posho who hangs around with other poshos and did some daft things at Oxford with his elite pals, one might reasonably wonder whether it will make a single jot of difference to the way he's perceived.
David Cameron's biggest controversies
David Cameron's biggest controversies
1/8 Pig-gate

A book released by Conservative peer Lord Ashcroft alleged that an MP and Oxford contemporary of David Cameron had allegedly seen a photograph of Mr Cameron performing a sex act on a pig while at university. Downing Street did not comment on the allegations and the peer said they could have been a case of mistaken identity

David Hartley/REX Shutterstock

2/8 'Swarm' of migrants

In July 2015 David Cameron referred to refugees coming into Europe from the Middle East and North Africa as a "swarm". He was criticised for using the language, which critics said was dehumanising

Getty

3/8 Child tax credits

In April 2015 David Cameron was asked whether he'd cut child tax credits. "No, I don't want to do that," he said, saying that he rejected reports that he would. Shortly after the election the Government unveiled cuts to child tax credits

EPA

4/8 Cycling to work

As leader of the opposition David Cameron was regularly photographed cycling to work. In early 2006 he was photographed cycling but with a driver in a car carrying his belongings. It was suggested at the time the cycling was just for show and that having two vehicles on the road instead of one was wasteful

Rex

5/8 Andy Coulson

David Cameron employed former News of the World editor Andy Coulson as government communications director from 2010. After stepping down from the post due to coverage of the phone hacking affairs, Mr Coulson was later found guilty of conspiracy to intercept voicemails. He served a short prison sentence

AFP

6/8 His personal windmill

Early in his leadership of the Conservative David Cameron made an effort to change the party's image by making eco-friendly gesures. As one of these gestures, the future PM put a wind turbine on his house. However, the turbine later had to be removed after neighbours condemned it as an eyesore and the council's planning committee said it had been put in the wrong place

Getty

7/8 Funeral selfie

David Cameron was pictured posing for a 'selfie' with Danish PM Helle Thorning-Schmidt and Barack Obama at Nelson Mandela's funeral. Some in the press criticised the prime minister for showing in an inappropriately low level of respect for the gravity of the occasion

AFP/Getty Images

8/8 Eating a hotdog with a knife and fork

The Prime Minister was pictured eating a hotdog with a knife and fork in the run up to the 2015 general election. He was accused of being "posh". "I had a very privileged upbringing... I've never tried to hide that," he said

Reuters