Fifa President Sepp Blatter declared "the crisis at Fifa is over" after the Executive Committee of football's governing body agreed to publish its own confidential report into corruption in the 2018 and 2022 World Cup bids.
But he confirmed that Fifa will not revisit the decision to award those two tournaments to Russia and Qatar. That choice was made in December 2010 by a Fifa Executive Committee of which 11 of the 25 members have since left, eight as a direct consequences of allegations of corruption.
The report will be published with "appropriate redactions" to protect the confidentiality of those who cooperated with its author, US attorney Michael Garcia.
Key players in the Qatar World Cup bid controversy
Key players in the Qatar World Cup bid controversy
1/5 Mohammed bin Hammam

The Qatari was the Asian Football Confederation president at the time of the 2010 vote. The Sunday Times alleged that documents showed he made payments to officials as part of a campaign to win support for the 2022 World Cup bid. He insisted he had no "official or unofficial" role with the bid. Fifa imposed a second life ban on him in December 2012, after his decision to quit all his football roles. This came after the Fifa ethics committee investigation found him guilty of "repeated violations" of the ethics code on conflicts of interest, while he was AFC president and while a member of the Fifa Exco between 2008-2011.

AP

2/5 Jack Warner

The Trinidad & Tobago politician was forced to resign as a Fifa vice-president in 2011, after he and Bin Hammam were alleged to have paid bribes of £600,000 to Caribbean associations. He is also alleged to have helped Bin Hammam bribe Caribbean officials in return for support in his aim to oust Sepp Blatter.

Getty Images

3/5 Sepp Blatter

The long-standing Fifa president oversaw the bidding process to award Qatar the World Cup. Has since admitted awarding Qatar the cup was "a mistake". He set up an executive committee task force to look into the World Cup in Qatar being moved to the winter because of the extreme summer temperature.

Getty

4/5 Lord Triesman

Former FA chairman. Alleged that, in exchange for voting for England to host the World Cup, Warner asked for money to build an education centre in Trinidad and to buy World Cup television rights for Haiti, and that Paraguay's Nicolas Leoz asked for an honorary knighthood in exchange for their votes.

Getty Images

5/5 Michael Garcia

Former New York district attorney Michael Garcia was named Fifa's chief independent ethics investigator. He spent a year investigating the organisation, and delivered a 350-page report on the 2018 and 2022 bidding processes in September. Called for greater transparency and culture change in Fifa.

Getty Images
The summary of the report by Garcia's co-head of Fifa's Ethics Committee, German judge Hans Joachim Eckert, prompted the American complain of "erroneous representations". Since then Fifa's compliance chief Domenico Scala said he had handed the report to two law professors, one Swiss and one German, and that they had found nothing that would require Fifa to strip either host nation of its tournament, which appears to confirm that Eckert's summary is at least legally sound.
The decision to publish, described by Uefa President Michel Platini as "essential to restoring the credibility of Fifa", came as a surprise, not least as five of those on the committee that approved its publication are currently under investigation over its contents.
At the conclusion of the meeting in Morocco Blatter urged the world to "look forward" and to be "less critical of Fifa". He also confirmed he would not be stepping down before the end of his term as president in May 2015. He is expected to stand again.
He said of the very public row between Garcia and Eckert: "Instead of solving problems they have created problems. We have been in a crisis. With the decision today the crisis has stopped."
The publication of the report will not happen until after the investigations it has prompted, into five committee members, including the chief medical officer Michel d'Hooge, and the German football legend Franz Beckenbauer, though he has since left the committee. This is likely to take several months.
Blatter said it had not been easy to persuade the committee to agree to the report's publication. "I am a happy president today because my movement is with me. We are going forward but we need your support. Be a little bit critical, but not always critical to Fifa."
He was speaking ahead of tomorrow's Club World Cup final between Real Madrid and San Lorenzo of Argentina, the team supported by Pope Francis. "I believe in the Lord, said Blatter. "He tells me I can go to The Vatican. The team of the Pope is playing tomorrow. If he gives me health, good luck, yes, I will bring back Fifa. But not on my own, I need the Executive Committee."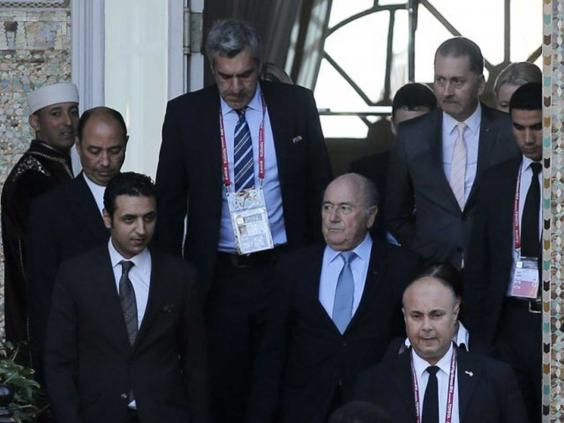 Publication will do little to placate those who believe the bidding process was highly corrupt, both on the part of those who won the tournaments, and other bidders, including England and Australia. Fifa's decision is based solely on Garcia's report, which lacked the authority to compel participants to cooperate with it. Garcia was barred from visiting Russia during his investigations.
The Swiss authorities are also investigating findings in the report, but these do not pertain to the winning bidders. The FBI are understood to be conducting their own investigation.
Reuse content