After watching Canelo Alvarez outclass fellow countryman Julio Cesar Chavez Jr. in Las Vegas last night, the crowd in attendance at the T-Mobile Arena erupted at the announcement that he will next face IBF-WBA-WBC middleweight champion Gennady Golovkin on September 16.
While the news of the fight was met with widespread approval from the combat sports community, one man sat in in the T-Mobile Arena last evening wouldn't have been so happy—UFC President, Dana White.
Alongside UFC featherweight Yair Rodriquez, White was in attendance last evening having been invited by Golden Boy Promotions earlier in the week. Like most others in the arena, White had seemingly no idea of the looming announcement.
Speaking to FightHub TV after the fight, he revealed that the announcement had put a spanner in the works for the Floyd Mayweather vs. Conor McGregor fight happening in September.
"We just lost our date to Canelo and GGG, but that's a good fight, I'll be at that one too," White said.
"Canelo looked good tonight—Canelo looked awesome. GGG is fun man, he's the guy that boxing needs to it will be a fun fight. So is Canelo. Tonight, Canelo went at it too and I kept asking my friends at HBO what's the punch stat—how many punches has this guy landed? How many power punches because the number must be huge."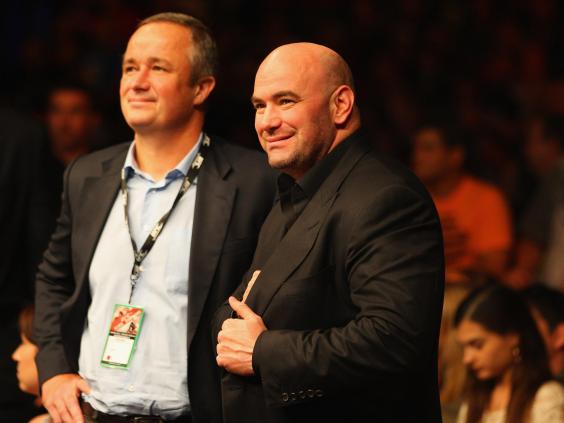 Reporters then asked for an update on the status of the Mayweather vs. McGregor fight and how close it was to happening. The fight has been widely criticized with most saying it would be uncompetitive, but White believes that anything can happen.
"Floyd wants this fight and we're trying to make it so let's see what happens," White told FightHub TV.
"Floyd is the best in the history of the game and Conor is one of the best ever in the history of our game so people want to see it and I'm always interested in putting together fights people want to see.
"Anything is possible when two guys get in there and start throwing punches—especially when someone hits as hard as Conor does. That's what makes it fun."
With talks seemingly at a standstill over the past few weeks, White was asked whether it was the Mayweather camp that was holding out on a deal. The UFC president denied it was and said that Mayweather is waiting on him to make the next move.
"This s*it doesn't happen without me Floyd and you know it," White said, addressing Mayweather directly. "Floyd is waiting on me right now he knows it. It's not even about Floyd right now—it's about Conor. Conor is having a baby and once he has the baby we will figure it out."
Reuse content