What did they mean by that? Did Greece's No voters truly think the creditor nations were bluffing when they said No meant goodbye to the country's membership of the single currency? Or did the majority of voters who marked Oxi on their ballot papers in cities and villages across Greece really want out of the eurozone? We can't be sure. That's the problem with referendums. Plebiscites are presented as the apotheosis of democracy – but they often leave as many questions as answers.
But the question of what the Greek people meant is today of secondary importance. The critical question now is: what do the country's creditors do? If we are to believe the hard rhetoric that has emanated from the capitals of Germany, Italy, Spain and the Netherlands over the past week the process for ejecting Greece from the single currency will shortly begin.
That would very likely start with a decision from the European Central Bank to tighten – or even cut off – the access of Greek banks to the emergency lending lifeline that has kept them solvent in recent months. Without that liquidity lifeline the big four Greek banks that look after the savings of the majority of the population will need to be nationalised and recapitalised with a new de facto alternative currency. Some savers may well see a large bite taken out of their deposits in the process.
The Greek Finance Minister, Yanis Varoufakis, has said that there is no way for the eurozone to force Greece out of the single currency against its will. That's true enough. No one can stop Greece using the euro – just as America can't stop small Caribbean countries pricing goods in dollars.
But if Greece's banks can't borrow from the Frankfurt-based European Central Bank the supply of those euros in Greece will very soon dry up. If the Syriza-led government is to continue paying public sector workers it would need to establish an alternative means of payment. Call it a Greek government "IOU" or call it a new drachma – the effect is the same: Greece is no longer really in the eurozone.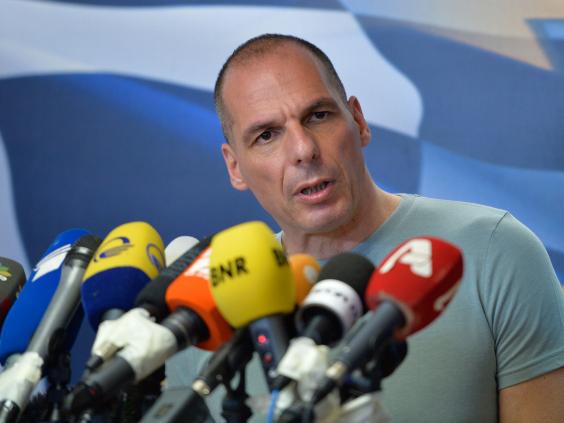 In the end that may be good for Greece. Its stunted exports industry would become more competitive if it introduced a new currency that is weaker than the euro. Its large tourism sector would get a shot in the arm from the devaluation.
But in the immediate term it would be a nightmare for Greece. The currency transition would take time. In the meantime imports of medicines, fuel and even food would dwindle. Businesses – unable to pay their euro-denominated debts – would default. Unemployment would soar and the country's economy would enter a new depression.
In pictures: Greek referendum
In pictures: Greek referendum
1/28 Greece EU Referendum

People celebrate in Athens after the first exit-polls of the Greek referendum

Getty Images

2/28 Greece EU Referendum

A "No" supporter flashes a victory sign before a Greek flag atop the parliament in Athens, Greece July 5, 2015.Greeks voted overwhelmingly "No" on Sunday in a historic bailout referendum, partial results showed, defying warnings from across Europe that rejecting new austerity terms for fresh financial aid would set their country on a path out of the euro.

REUTERS/Yannis Behrakis

3/28 Greece EU Referendum

Supporters of the No vote react after the first results of the referendum at Syntagma square in Athens

AP

4/28 Greece EU Referendum

Supporters of the No vote wave Greek flags after the referendum's exit polls at Syntagma square in Athens

AP

5/28 Greece EU Referendum

Greece's finance minister Yanis Varoufakis casts his vote in the country's referendum

EPA

6/28 Greece EU Referendum

A ballot box is emptied by a voting official at the closing of polling stations in Athens, Greece July 5, 2015. Greece voted on Sunday on whether to accept more austerity in exchange for international aid, in a high-stakes referendum likely to determine whether it leaves the euro-currency area after seven years of economic pain.

REUTERS/Marko Djurica

7/28 Greece EU Referendum

A photographer photographs a man waiting to vote in the referendum at a school in the suburbs of Athens

Getty

8/28 Greece EU Referendum

Greek voters are being asked to choose between backing their creditor's austerity measures or rejecting them

Getty

9/28 Greece EU Referendum

Tourists walk past posters with slogans that read "OXI" (NO) and "NAI" (YES) ahead of the referendum in Athens

AFP

10/28 Greece EU Referendum

Opposition parties to Syriza, including the centre-right New Democracy, are campaigning for a 'Yes' vote in the referendum

Reuters

11/28 Greece EU Referendum

Protesters on both sides of the argument ('No' pictured here) have rallied in Athens

AP

12/28 Greece EU Referendum

Greek Prime Minister Alexis Tsipras has been branded reckless and a feckless liar by EU leaders

Reuters

13/28 Greece EU Referendum

According to polls which surveyed some 1000 people across the country, 41.5 percent of Greeks would support the new bailout measures to avoid an exit from the Eurozone

AP

14/28 Greece EU Referendum

Despite Tsipras's assurances, many Greek people are not certain whether Sunday's referendum is a vote on whether Greece will remain in the euro or not

Reuters

15/28 Greece EU Referendum

The Greek and EU flags flutter in front of the ancient Acropolis hill in Athens. The Greek people have been called upon to show "calm and national unity"

Getty

16/28 Greece EU Referendum

Greek Prime Minister Alexis Tsipras addresses a crowd of 25,000 'No' supporters in Athens' Syntagma Square

YANNIS BEHRAKIS/Reuters

17/28 Greece EU Referendum

Greece's Prime Minister Alexis Tsipras gave a televised address to the nation ahead of the vote. He has called on voters to reject creditors' proposals for more austerity in return for rescue loans

AP

18/28 Greece EU Referendum

Protesters march holding a torn European Union flag during a demonstration for the 'NO' campaign in Thessaloniki

Getty Images

19/28 Greece EU Referendum

Greek Finance minister Yanis Varoufakis has pledged to resign if his country votes "yes" to the bailout plan

Reuters

20/28 Greece EU Referendum

Pensioner wait to get their pensions outside a National Bank of Greece branch in central Athens. Banks only opened for pensioners to allow them to get their pensions, with a limit of 120 euros.

AFP/Getty Images

21/28 Greece EU Referendum

Protesters attend an anti-austerity pro-government rally in front of the parliament building

Getty

22/28 Greece EU Referendum

The possibility of Greece leaving the Eurozone is increasing by the day. Merchandise already exists to accompany the event

EPA

23/28 Greece EU Referendum

An elderly man waits to receive his pension outside the closed National Bank of Greece headquarters in Athens

AP

24/28 Greece EU Referendum

People stand in a queue to use an ATM outside a closed bank in Athens

AP

25/28 Greece EU Referendum

A banner supporting the NO vote in the upcoming referendum hangs from the offices of the Greek Finance Ministry

Getty Images

26/28 Greece EU Referendum

Greeks will be asked whether they accept the austerity terms demanded by the country's creditors

Getty

27/28 Greece EU Referendum

Eurozone finance ministers expressed disappointment at the Greek decision to hold a referendum on the bailout terms

Getty

28/28 Greece EU Referendum

Alexis Tsipras, the Greek Prime Minister, said bailout conditions had 'asphyxiated' his country

EPA
But maybe the ECB will stay its hand for a while. Cutting the throat of Greek banks would be a decision with extraordinarily significant geo-political ramifications. The European Central Bank board, led by Mario Draghi, is nominally independent. But independence has its limits when a currency zone's very existence is at stake. Mr Draghi will want to have the tacit nod of approval from the governments of the eurozone before taking such a step. This is Greece's chink of light.
The French Economy Minister, Emmanuel Macron, has contradicted his German and Dutch colleagues, by saying that Oxi does not mean talks with Greece stop. Could there still, even now, be a high-level compromise involving the two giants of Paris and Berlin that saves tiny Athens? Has Greece jumped over the cliff with a French safety rope attached to its waist? Perhaps there was some bluff in the creditors' tough talk after all. We shall very soon find out. But make no mistake: Greece has taken an almighty and terrifying leap into the unknown.
Reuse content