Jose Mourinho has fiercely hit back at critics of Paul Pogba following his lacklustre performance in Manchester United's FA Cup defeat by Chelsea at the start of the week by insisting the midfielder "doesn't give a s*** to what people say" and accused those questioning his performances of being pundits "in trouble with their lives" needing to express controversial views in order to make a living.
The United manager heavily defended the world's most expensive player after he faced stinging criticism from a number of pundits following Monday's 1-0 defeat at Stamford Bridge, with the France international being outplayed by his compatriot and match-winner N'Golo Kante.
Pogba's performance drew criticism from BBC co-commentator, Martin Keown, and studio pundits Alan Shearer and Phil Neville expressed disappointment in his display as United were knocked out of the FA Cup, failing in their attempt to successfully defend it after last season's triumph.
Perhaps the harshest criticism came from the BBC's Phil McNulty, who labelled it "another miserable night" and noted Pogba for his "dreadful performance" before casting doubt on his £89m price tag that United paid Juventus last summer.
But speaking on Wednesday ahead of United's Europa League last-16 second leg against FC Rostov, Mourinho was in no mood to let Pogba – who turned 24 today – be thrown to the wolves and the Portuguese launched a stern defence of his star midfielder, blaming those who were doubting him for growing "jealous" at the vast sums of money he is earning.
"I feel that the world is losing values and we all know that and envy is coming into certain levels that I am scared about, especially for the next generation if things go in this direction," Mourinho said.
"It's not his fault that some of the pundits are in trouble with their lives and they need every coin to survive and Paul is a multi-millionaire. It's not his fault."
Chelsea vs Manchester United player ratings
Chelsea vs Manchester United player ratings
1/22 Thibaut Courtois – 7 out of 10

Didn't see much action but when called upon to stop from Rashford he was equal to it.

Getty Images

2/22 Cesar Azpilicueta – 6 out of 10

A fairly quiet evening, especially after the sending off, but did his job perfectly as always.

AFP/Getty Images

3/22 David Luiz – 6 out of 10

Had his hands full with Rashford until the red card but an easier task after that, although did sell himself to the teenager to easily in the second half.

REUTERS

4/22 Gary Cahill – 6 out of 10

Rashford gave him a few problems but nothing he was unable to deal with as Chelsea's defence remained in control.

AFP/Getty Images

5/22 Victor Moses – 6 out of 10

Had a good battle with Young and a few efforts on goal that missed the target.

AFP/Getty Images

6/22 N'Golo Kante – 8 out of 10

Was put under a lot of pressure from the start by United but coped well to keep his metronomic style of play ticking over. Scored a cracking goal from outside the area to give Chelsea the lead.

AFP/Getty Images

7/22 Nemanja Matic – 6 out of 10

Sat back and helped break up any attacks and also on help cover any counter attacks that United looked to launch.

AFP/Getty Images

8/22 Marcos Alonso – 5 out of 10

A quiet game, with most of the action coming down the right-hand side, but backed up Hazard well.

Getty Images

9/22 Willian – 7 out of 10

Made a habit of dragging defenders out of position as he drifted inside and drew a number of fouls in the hotly contested match.

Man Utd via Getty Images

10/22 Eden Hazard – 7 out of 10

Was rarely allowed to get up to speed as United chopped him down at every opportunity. Came close on a number of occasions and brought out a lovely turn to get passed Jones.

Getty Images

11/22 Diego Costa – 5 out of 10

Strangely calm in a game which threatened to boil over during the first half and missed a glorious chance to double Chelsea's lead.

AFP/Getty Images

12/22 David De Gea – 7 out of 10

Made two amazing point-blank saves from Cahill and Hazard in the first half to keep United in it when Chelsea threatened to take a first-half lead.

AFP/Getty Images

13/22 Antonio Valencia – 6 out of 10

Started very brightly offensively but the red card changed his role to aid the defence.

Man Utd via Getty Images

14/22 Phil Jones – 5 out of 10

Made a number of stupid fouls on Hazard and should have been booked in the lead up to Herrera's red.

AFP/Getty Images

15/22 Chris Smalling – 6 out of 10

Marshalled the back four well during a tough time when they came under siege in the first half.

AFP/Getty Images

16/22 Marcos Rojo – 6 out of 10

Went close with an early header and had a good contest with Costa – even if it may have overstepped the line on occasions.

AFP/Getty Images

17/22 Matteo Darmian – 6 out of 10

Was dragged out of position on a number of occasions by Willian.

Getty Images

18/22 Ander Herrera – 3 out of 10

Sent off after 36 minutes for two fouls on Hazard. The first was justified, but the second looked slightly harsh, although very stupid.

Getty Images

19/22 Paul Pogba – 5 out of 10

His usual quiet self in the big games. Yet to establish himself against one of the top teams, which he will ultimately be judged upon.

AFP/Getty Images

20/22 Ashley Young – 5 out of 10

Played almost as a wing-back, despite having Darmian behind him. Had a good battle with Moses until he hacked him down in frustration.

Getty Images

21/22 Henrikh Mkhitaryan – 5 out of 10

Sacrificed by Mourinho after Herrera's red card but didn't really get into the game prior to that.

Getty Images

22/22 Marcus Rashford – 7 out of 10

Ran relentlessly and looked sharp despite his illness. Gave Chelsea's defenders a tough time and nearly scoring after a mazy solo run.

AFP/Getty Images
The United manager also highlighted Pogba's rise from growing up on the suburbs of Paris in a family that had three sons all aspiring to play professional football to cater for, and believes that the older generation is dishing out too much criticism because, he believes, "envy is everywhere".
"He deserves respect, his family deserve respect," Mourinho added. "He is a kid who comes from a working family, a family with three boys that I'm sure needed a lot of food on that table every day because they are big giants. So I'm sure the mum and dad had to work hard for many years for them.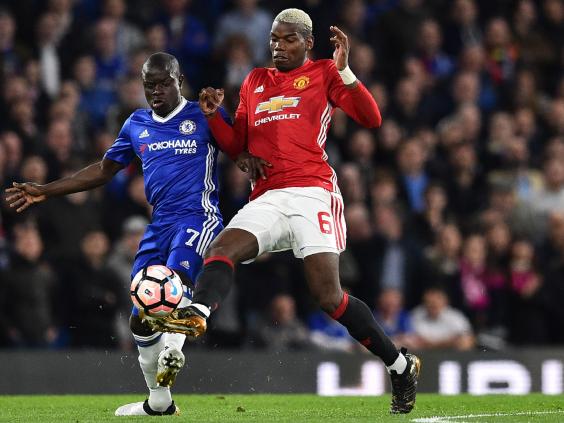 "A kid who came to Manchester as a teenager who fought for his career here, who wasn't afraid to move and go to another country and look for better conditions.
"A kid who reached the top of the world with his work. Nobody gave him anything. I'm really, really worried with the previous generations because things are going in such a direction that envy is everywhere.
"I'm very happy with Paul, the club is very happy with Paul. A good thing is that because of his personality he doesn't give an "S" to what people say."
Reuse content