20 pledges for 2020: Picking blackberries just minutes away from the supermarket makes foraging even sweeter
Emma Snaith: The short-lived heatwave has left its mark on our hedgerows, so I'm making jam as part of my pledge to eat local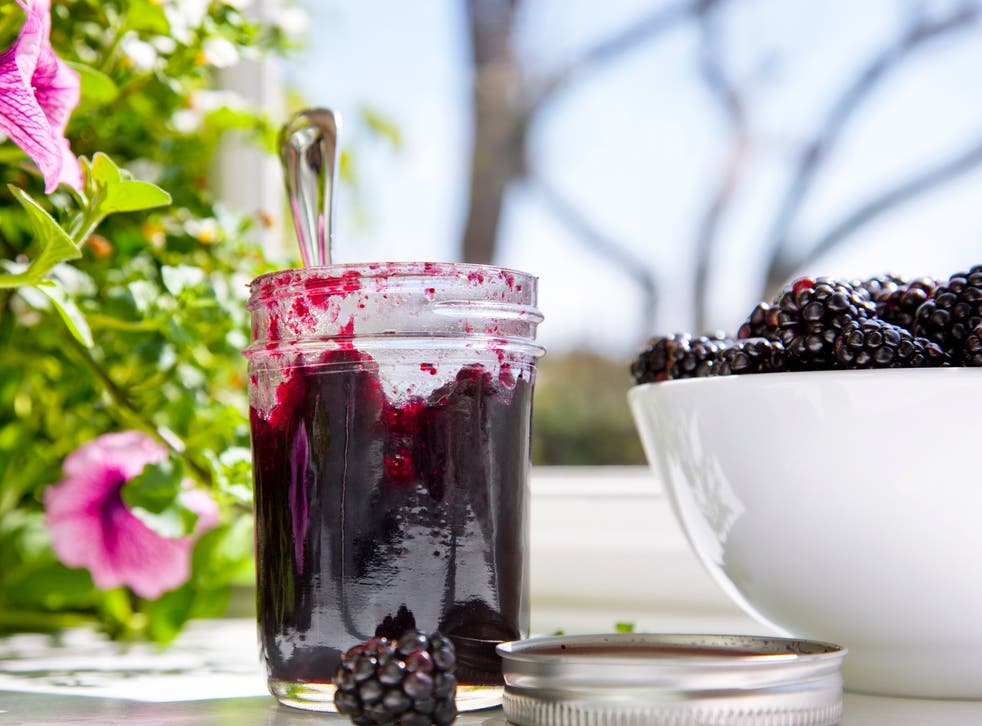 The heatwave earlier this summer might have made for a very sticky and uncomfortable working-from-home experience, but it seems to have left its mark on hedgerows in south London.
The spiny vines are now speckled with ripe blackberries. And once you spot one hedgerow, you start to notice them everywhere.
There's something very satisfying about collecting a tupperware-full of berries down the road from a supermarket that's selling punnets for £1.99 which have been flown in from Mexico.
Blackberries ripen from July to mid-September, but for the last few years the average date submitted to the Woodland Trust's Nature's Calendar has been in July. It's likely that this is due to climate change.
Picking the berries is a surprisingly soothing and meditative activity, even if you might be left with a few scratches and juice-stained fingers at the end of it. Just be sure to avoid picking fruit by busy roads and from lower branches, which may have been peed on by dogs.
Superstition holds that that blackberries shouldn't be picked after the end of September, when the Devil urinates on them. Either way, you should always wash your berries in cold water before refrigerating or freezing.
While the wild berries you can forage might be sourer than the farmed varieties, it turns out this has an added bonus for jam making - they contain more pectin. Pectin is the carbohydrate that makes jam jammy and not runny. Without pectin, your jam won't set.
I discovered it was far easier than I thought to make a small batch of jam with wild blackberries using simply a pan, a few old jars and three ingredients - blackberries, sugar and lemon.
Small-batch blackberry jam recipe
Ingredients
Around 450g of blackberries
Equal amount of sugar
Juice of 1 lemon
Method
Wash the berries, place in a saucepan, stir in the sugar and lemon juice and leave for an hour or two.
Once the sugar has drawn out the blackberry juice cook on low heat and stir frequently to dissolve the sugar.
Place clean jam jars in a low oven to sterilise .
Turn the heat up and bring the fruit and sugar to a boil, boil for 10–15 minutes until setting point has been reached (you can look up simple methods to test for setting point including the flake test and cold plate test).
Once the jam has reached its setting point, allow it to cool for a few minutes, then spoon into jars and replace the lids
I've hesitated to mention my local foraging spot in south London, as it's been wonderful to have the pick of the juiciest berries. But really, there's enough for everyone. Where's the best spot you know of to pick blackberries?
Register for free to continue reading
Registration is a free and easy way to support our truly independent journalism
By registering, you will also enjoy limited access to Premium articles, exclusive newsletters, commenting, and virtual events with our leading journalists
Already have an account? sign in
Register for free to continue reading
Registration is a free and easy way to support our truly independent journalism
By registering, you will also enjoy limited access to Premium articles, exclusive newsletters, commenting, and virtual events with our leading journalists
Already have an account? sign in
Join our new commenting forum
Join thought-provoking conversations, follow other Independent readers and see their replies