The Independent's journalism is supported by our readers. When you purchase through links on our site, we may earn commission.
20 Pledges for 2020: A gift guide for the sustainably-minded foodie
Julia Platt Leonard is making her kitchen and her cooking more sustainable in 2020, one meal at a time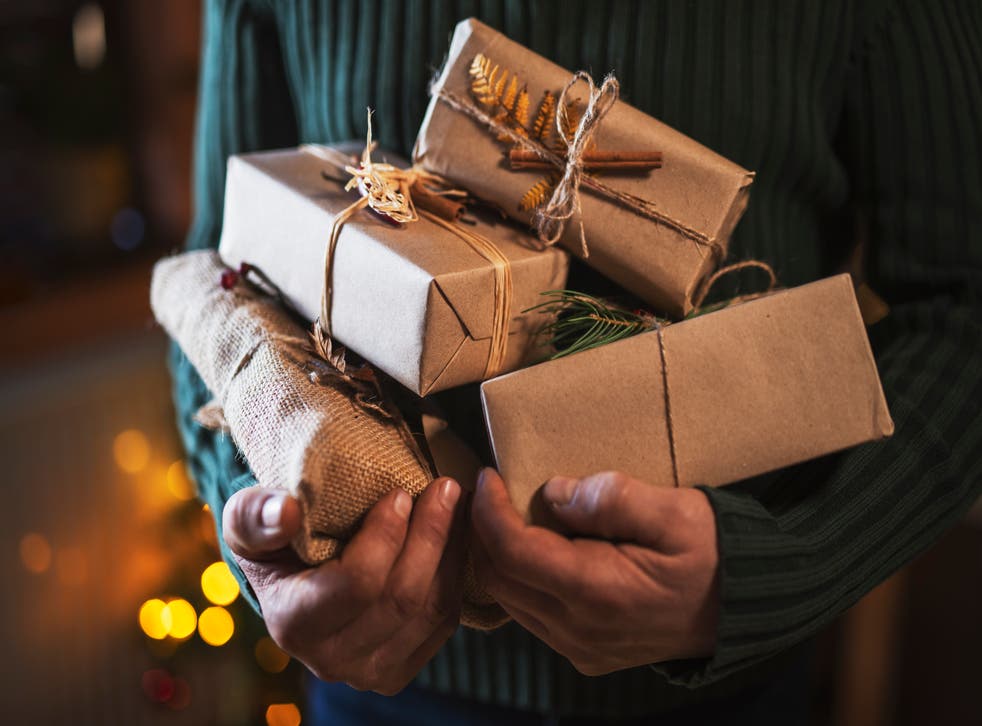 If you have a sustainably-minded foodie on your gift list this Christmas, then you're in luck. Here are twelve top picks of great gifts for the keen cook and food lover that are gentle on the planet.
1. Black Horse Lane apron
Kit out your favourite cook with a smart denim apron from London-based Black Horse Lane Atelier. They're known for their eco-conscious jeans that come with a lifetime repair policy to discourage fast fashion. Their aprons are made with offcuts from their jeans production so nothing is wasted. Smart design with a hang loop for a dish towel, plus large and small pockets for kitchen tools.
Indigo Heavy Weight Raw Selvedge Soho apron, £70
2. Solitary bee house
Honey bees aren't the only busy bees that pollinate flowers, fruits and vegetables. Solitary bees do their part and a bee house makes a back garden a bee magnet. Solitary bees are friendly, don't swarm and are safe around kids and pets. They're naturally drawn to the holes in this wooden bee hotel, made from durable FSC timber.
Solitary Bee House, £29.99
3. A Taste of the Unexpected seed collection
Give the budding veg gardener a seed collection from Otter Farm. 'A taste of the unexpected collection' gets my vote with a selection of seeds for ten unusual vegetables. It's got everything from callaloo – a beautiful leafy veg, popular in the West Indies – to kai lan – think a cross between asparagus and sprouting broccoli. It even comes in a smart gift box, ready to be tucked into a stocking.
A Taste of the Unexpected, £20
4. Wild cherry cooking spoon
The gift of a cooking spoon is an ancient symbol of good luck and prosperity. Make it extra special with a handed-carved wild cherry spoon from spoon carver Anna Casserley. Each one measures around 26-28cm, is super sturdy, and has a unique shape so you can easily get into the fiddly corners of a pan. All the wood comes from her husband's work as a tree surgeon, so it's a recyclers' dream.
Wild cherry cooking spoon, £28 + postage & packaging
5. Golden raspberry & apache chilli vinegar
Bring a smile to your food lover's face with the gift of a bottle of golden raspberry & apache chilli vinegar from Womersley Foods. Both the raspberries and chilli are British grown, reducing food miles. Suitable for vegetarians and vegans, with a hint of heat balanced with sweetness.
Golden raspberry & apache chilli vinegar from £5.69
6. Wormery
Help your favourite sustainable foodie reduce kitchen waste with a wormery. Not only do worms nibble away at unwanted fruit and veg scraps, they thank you by creating rich garden compost. Wormcity wormeries are made in the UK from recycled plastic and come in a range of sizes to fit any garden.
From £70 + delivery, www.wormcity.co.uk
7. The Botanical City
The Botanical City is a guide to the amazing plants you can find, eat and grow in the city. Inspired by William Curtis' (1746-1799) epic botanical study, Flora Londinensis, The Botanical City features a stunning selection of plates from his original work. There's a hefty section on eatable plants – everything from dandelion to nettle. Beautiful yes, but also a handy reminder of the botanical bounty just waiting to be discovered.
The Botanical City, Hoxton Mini Press, £25
8. Pressure cooker
For the keen cook, splurge on a pressure cooker this Christmas. Pressure cookers cook food – anything from a risotto to a stew – faster and use less energy, which is a win-win. They're perfect for making stock with chicken bones left over from a Sunday roast, so throw in a copy of Mastering Stocks and Broths for added inspiration.
Kuhn Rikon Duromatic pressure cooker, from £125
Mastering Stocks and Broths, Chelsea Green Publishing, £27.50 
9. Clip & seal lunchbox
Bin the bag with an Elephant Box, a clip & seal 'lunch box for life', that is leak proof, airtight and made of stainless steel so it's easy to clean. They're lightweight and durable (they have a 15-year warranty) and you can even heat precooked meals in the oven. Comes with a handy internal divider so you've got space for your sandwich and a salad.
Elephant Box Clip & Seal Leak Proof Lunchbox, from £29.50 
10. Nose to Tail Pork Meat Box from Pipers Farm
Waste not, want not with a gift of Pipers Farm Nose to Tail Pork Meat Box. The perfect gift for the ethical omnivore, it includes a curated selection of cuts from their slowly reared Saddleback pork including a roasting joint, pork steaks, pig cheeks, bacon and offal.
11. Vegan JapanEasy
Give the vegan on your list some culinary inspiration with a copy of Tim Anderson's (of MasterChef fame) latest, Vegan JapanEasy. No sad substitutes, just tasty fare with dishes like cauliflower katsu curry or mushroom gyoza. Throw in a watermelon mojito and a soy sauce butterscotch brownie and even the most committed carnivore will be sold.
Vegan JapanEasy, Tim Anderson, Haride Grant, £22
12. Epicurean chopping boards
Upcycling at its best, Epicurean chopping boards are made from the off-cuts of a wood composite used to make skate boarding ramps. I fancy the straight-edged style in sleek matt black.
Epicurean chopping boards, available in four sizes, prices start at £18.75
Register for free to continue reading
Registration is a free and easy way to support our truly independent journalism
By registering, you will also enjoy limited access to Premium articles, exclusive newsletters, commenting, and virtual events with our leading journalists
Already have an account? sign in
Register for free to continue reading
Registration is a free and easy way to support our truly independent journalism
By registering, you will also enjoy limited access to Premium articles, exclusive newsletters, commenting, and virtual events with our leading journalists
Already have an account? sign in
Join our new commenting forum
Join thought-provoking conversations, follow other Independent readers and see their replies