20 Pledges for 2020: I'm reducing my plastic packaging, but I've already failed... on a technicality
It's made near impossible by 'online exclusive' products and the necessity of having to dress my bridesmaids
Wednesday 19 February 2020 17:09
Comments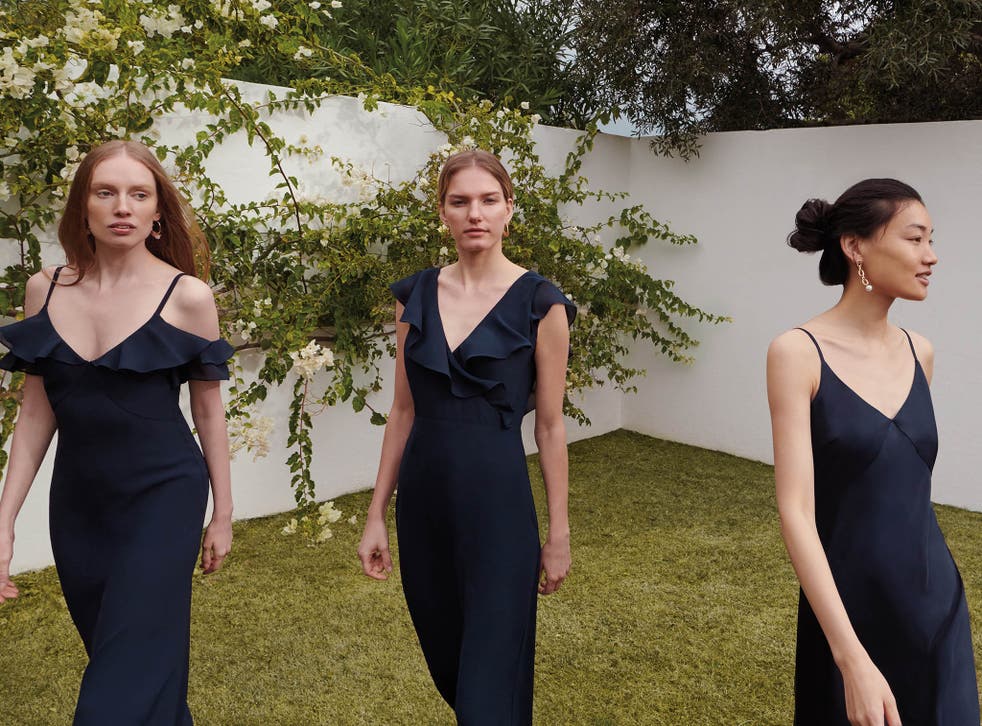 It's only month two of 2020 where I'm trying to give up plastic packaging from online shopping and I've failed – technically.
I'm classing it as a technicality – and I'm clinging on to that definition – as I feel it's actually warranted because it's all in the name of marriage.
I'm getting married later in the year and I've been trying to find my bridesmaids something to wear on the big day. And that is not as easy as it sounds.
I'd been waiting for high street shop Warehouse to release its new line of bridesmaid dresses for spring.
When it did, to my delight, it was the colour I'd been after, and also had variation of styles in the same colour, which I also wanted. Great. But you could only buy them online. The dresses are "online exclusives" and not available in shops to try on. Not so great.
But they were exactly what I'd been after. I went for it. I ordered 14 dresses. Yes: you read that correctly one, four. No, I am not (heaven forbid) having 14 bridesmaids. But people are different sizes in different shops – another matter altogether.
After I ordered, I hated myself, and I knew exactly what it meant. Every single one of those dresses would come wrapped in a non-recylable plastic wrapper.
Then the emails kept coming. Four emails for the entire order, telling me when the order had left the warehouse, another four when it had been picked up for delivery, four more notifying me about when I could expect it to be delivered to my house.
All of those emails meant there were four packages (and amazingly more emails than there were dresses). And after they arrived at my house, I had a final four emails telling me they had been delivered (just think of the energy wasted in all those emails). I was being trolled by Warehouse and the delivery company. Both knew my guilt.
Senegal's plastic waste crisis

Show all 10
When the dresses arrived – all four boxes – they sat in my bedroom for a couple of days before I could bear to open them and deal with it all.
After two days I unpacked them and sorted them out for each bridesmaid to try on (that took ages in itself). I was quite literally drowning in plastic bags.
The very fine silver lining of this escapade is that the dresses were a winner.
I can understand why high street brands like Warehouse don't want these dresses hanging in their shops, where they can be tried on numerous times, accidently dropped on the floor and open to general wear and tear.
But having an items as "online exclusives" opens up to this excessive over ordering – again, another issue that brands are struggling with.
Warehouse is, later this year, planning to "close the loop" on its use of plastic bags "to ensure it doesn't end up in the natural environment", says Tristan Edmondson, sustainability manager at Warehouse. That's a tick.
In order to recycle and reuse these bags, it's currently testing a machine "that accepts all types of polyethene bags... and it doesn't matter it they are ripped. We will accept cusomters' bags in store or sent in the web order returns bags".
But, much like Asos's committment to using less plastic, which I wrote about in my last piece, Warehouse is working towards 2025 to ensure "100 per cent of our packaging is made from sustainable materials", as well as reducing the "volume of packaging by 50 per cent."
Edmondson also says that Warehouse is working on a guide for suppliers, to be published towards the end of this year, with "instructions on how to eliminate unnecessary product packaging, how to reduce packaging weight where possible and how to ensure packaging is either made of recycled material, made of recylable plastic for our closed loop programme or made of FSC card or paper".
But between now and five year's time, there's still an obscene amount of plastic packaging going to be used, most likely not recycled, and there's going to be just as many people ordering bridesmaid dresses. I can assure you.
Register for free to continue reading
Registration is a free and easy way to support our truly independent journalism
By registering, you will also enjoy limited access to Premium articles, exclusive newsletters, commenting, and virtual events with our leading journalists
Already have an account? sign in
Register for free to continue reading
Registration is a free and easy way to support our truly independent journalism
By registering, you will also enjoy limited access to Premium articles, exclusive newsletters, commenting, and virtual events with our leading journalists
Already have an account? sign in
Join our new commenting forum
Join thought-provoking conversations, follow other Independent readers and see their replies