20 pledges for 2020: How to eat out sustainably
Emma Snaith: I have pledged to buy only locally produced food and eat what is in season. That means coffee, olive oil and bananas are all off the menu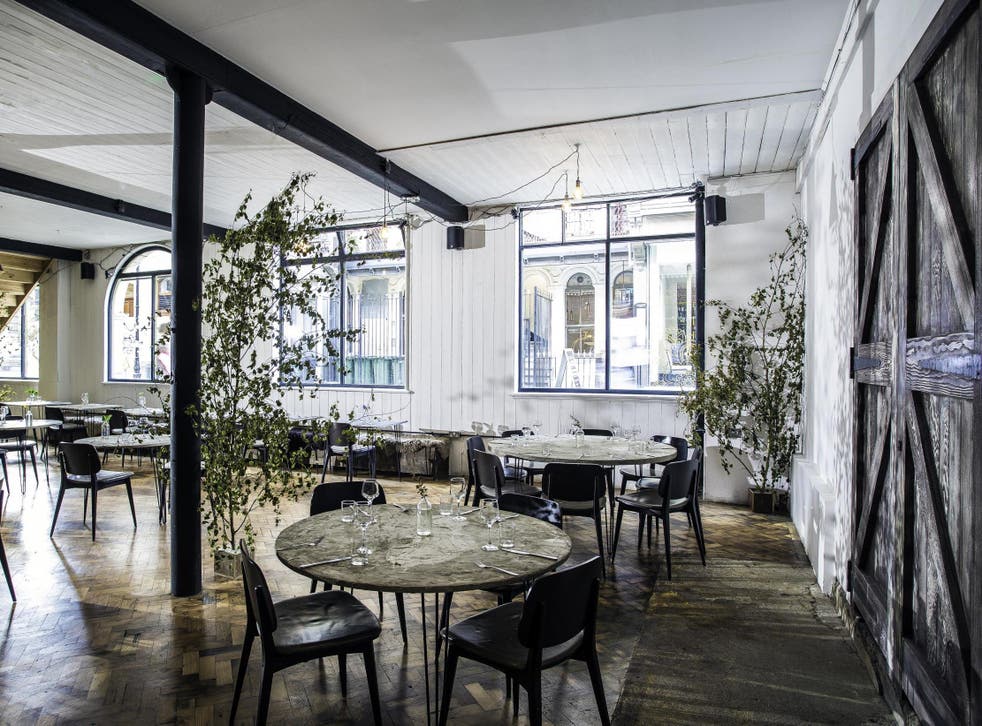 From trying to order only seasonal vegetables to working out if the fish on the menu is dolphin-friendly, eating out sustainably can be a minefield.
Even finding a sandwich that is completely locally sourced can seem an impossible task, let alone ordering an entire meal.
However, as consciousness has grown in the restaurant industry about the importance of sourcing ingredients ethically, a bevy of sustainable restaurants have cropped up in recent years.
After pledging to eat only seasonal local food for a year, I was pleasantly surprised to discover that eating out doesn't have to cost the earth (figuratively or literally).
It is possible to find restaurants all over the UK that are committed to sourcing ingredients locally. At The Pig restaurants (with locations across the UK, from Cornwall to the New Forest), most of the ingredients on the menu are grown in the attached kitchen gardens. If an ingredient can't be grown there, then it is sourced from within a 25-mile radius.
Likewise, at the Woodlands restaurant in Dumfries House in Scotland, the majority of ingredients are grown in the kitchen garden with a locally-blended whisky served as a post-meal nightcap. And at Gamba in Glasgow, not only is the fish caught locally, only species in plentiful supply are served.
Some restaurants are also committed to including as many foraged wild ingredients on their menu as possible. Among the dishes served at Native in south London are Cornish pollock seasoned with foraged hogseed vadouvan, house-baked focaccia with wild garlic oil and meadowsweet custard.
While others take a zero-waste approach like Silo in east London, which does not even have a bin in its kitchen. They use every part of the vegetables and animals they source, pickling and fermenting lots of ingredients to make them last longer. At the 3FE cafe in Dublin, leftover coffee grinds are offered to all customers and suppliers to take for their own compost.
Two months into my challenge, I've discovered that not only is carefully sourced food more ethical – it tastes better too. Here are my top picks of sustainable restaurants.
Nest in east London
This charming east-London spot serves a ten-course tasting menu using seasonal locally sourced produce. The menu features only one meat at a time to reduce waste and showcase rare breed meats, from kid goat to Goosnargh duck.
But on the night of my visit, it was vegetables season. Winter is the trickiest time to base a menu around seasonal vegetables, which made the meal all the more impressive.
Humble root vegetables were transformed in playful and inventive dishes such as a tangle of celeriac "tagliatelle" topped with shaved truffle. A rich vegetable broth was poured from a glass teapot and filtered through foraged moss in a theatrical flourish, while a cloud of mashed potato was elevated with hay-smoked butter and a sprinkling of fragrant rosemary.
Thick slices of soda bread with hand-churned butter and a micro-sized muffin with chopped devilled eggs and topped with a thick layer of melted, tangy Westcombe cheddar were also among the standout dishes of the night. The meal was rounded off beautifully with another celeriac-based dish - this time slices were baked in a terrine drenched in a calvados and wild cider vinegar caramel and accompanied with hazelnut ice cream.
The menu was perfectly paired with a wine flight featuring low-intervention British wines and a few selections from the continent. A particular highlight was a wonderful sparkling wine from East Sussex with a toasty apple flavour. Luke Wasserman, one of Nests co-owners, practically fizzed with enthusiasm as he talked to us about the small-scale producers featured on the wine list and their biodynamic farming methods.
Nest takes the best of seasonal British produce and elevates it further with a playful yet unpretentious menu that lets the ingredients sing. They prove that making a serious commitment to sustainability can be exciting.
The Pig (locations across the UK)
The menu at most of The Pig restaurants is centred around their attached kitchen gardens, with many of the dishes containing ingredients picked just hours before. The other ingredients on the menu are all sourced from a 25-mile radius. Eating at a Pig is as close as you can get to zero food-miles dining.
And it's not just their commitment to local produce that makes these restaurants special. Many are located in beautiful country estates, including the Pig I visited - Bridge Place in Kent. The Grade I-listed Jacobean mansion once played host to gigs by Led Zeppelin and The Kinks in its rock-and-roll heyday.
The restaurant itself has an eclectic interior with colourful Belgian floor tiles, huge stained glass windows and mismatched wooden furniture. Terracotta pots brimming with homegrown plants are dotted throughout.
For meat-eaters the draw is definitely pork or "piggy bits", in all their various forms. But vegetables or "garden bits" are just as central to the menu. We started our meal with tempura kale and lemondrop chilli dip (even the chilli is grown on site) and devilled whitebait. We also tore into bread baked in nearby Folkstone, accompanied with aromatic herb oil and salt smoked in the kitchen garden.
We then moved onto beetroot carpacci with soft goats cheese, alongside rabbit terrine with homemade piccalilli. As the Bridge Place Pig is so close to the coast, we decide to go for fish for mains - pollock with a lobster sauce and monkfish, as well as thrice cooked chips, perfectly charred purple sprouting broccoli and tobacco onions (flavoured with tobacco leaves grown in the greenhouse). To round off the meal I choose a wonderful frangipane tart with homegrown pears while my dining partner ordered the local cheese, all washed down with a big pot of mint tea made from herbs picked that morning in the garden.
We paired the meal with a selection of British wines, many from within the same 25-mile radius. The sommelier steered us towards some lovely choices including Gusbourne chardonnay, a Kentish sparkling wine with an apple and lemon aroma and Simpsons' rabbit hole, a smooth and juicy pinot noir produced in the North Downs of Kent.
After our meal, it was just a short walk to the kitchen garden to see exactly where the food on our plates had come from. The hotel manager and gardener showed us around the beautifully maintained and extensive gardens, complete with a mushroom house, smoke house and quail house. We even got to sample some of the more unusual herbs being grown including the uncanny seafood-flavoured oyster plant and parcel (which looks like parsley but tastes like celery).
Whichever of the litter you choose to visit, a meal at The Pig is a charming country house hotel experience and as close as you can get to zero-food-mile dining.
Native in south London
Borough Market's Native celebrates British wild food with a minimal waste ethos. The menu is playful but strictly seasonal, changing according to what's available that day.
The spacious dining room matches the modern yet rustic dishes, with whitewashed brick walls, reclaimed parquet flooring and enchanting indoor trees.
You can opt for two or three courses or the full six-course tasting menu, all of which come with snacks. These are often made with ingredients that might otherwise be thrown away – like fish trim toast.
We began our lunch with wonderfully pillowy focaccia dipped in aromatic wild garlic oil and Native's iconic deerstalker pie. The bite-sized pie is made with slow-braised leftover venison meat with onion purée layered inside a cheesy pastry case and topped with rich bone marrow breadcrumbs. We also tried the delicate potato risotto followed, topped with purple potato crisps and drizzled with truffle oil.
More vension followed for main, accompanied with heritage carrots deep-fried carrot top. We also went for Cornish hake which came with earthy parsnip puree, brown butter sauce and foraged sea purslane.
But the most exciting part of the meal was saved for dessert, as we tucked into the the devilish Marrowmel Bone. The white chocolate and bone marrow caramel was served in a sawn off bone laid on a bed of hay (think creme-brulee but with a richer, umami flavour). The rhubarb and rosemary compote with foraged meadowsweet custard and coriander honeycomb was equally swoon-worthy.
Speaking to co-owner Imogen Davis after the meal, it's clear that Native is a labour of love. Her infectious passion and knowledge about sourcing the best wild and seasonal ingredients is inspiring. Imogen even sends me away with a sample of Alexanders seeds foraged in south-East London, which can be used to spice dishes like black pepper.
If you're looking for smart, creative cooking that celebrates the best of wild and seasonal food, you can't go wrong with Native.
Register for free to continue reading
Registration is a free and easy way to support our truly independent journalism
By registering, you will also enjoy limited access to Premium articles, exclusive newsletters, commenting, and virtual events with our leading journalists
Already have an account? sign in
Register for free to continue reading
Registration is a free and easy way to support our truly independent journalism
By registering, you will also enjoy limited access to Premium articles, exclusive newsletters, commenting, and virtual events with our leading journalists
Already have an account? sign in
Join our new commenting forum
Join thought-provoking conversations, follow other Independent readers and see their replies