The Independent's journalism is supported by our readers. When you purchase through links on our site, we may earn commission.
20 pledges for 2020: Supermarket plastic bags in deliveries are contributing to 'Covid-waste'
When securing an online food delivery was like gold dust during the height of lockdown, opting out of plastic bags were taken away from shoppers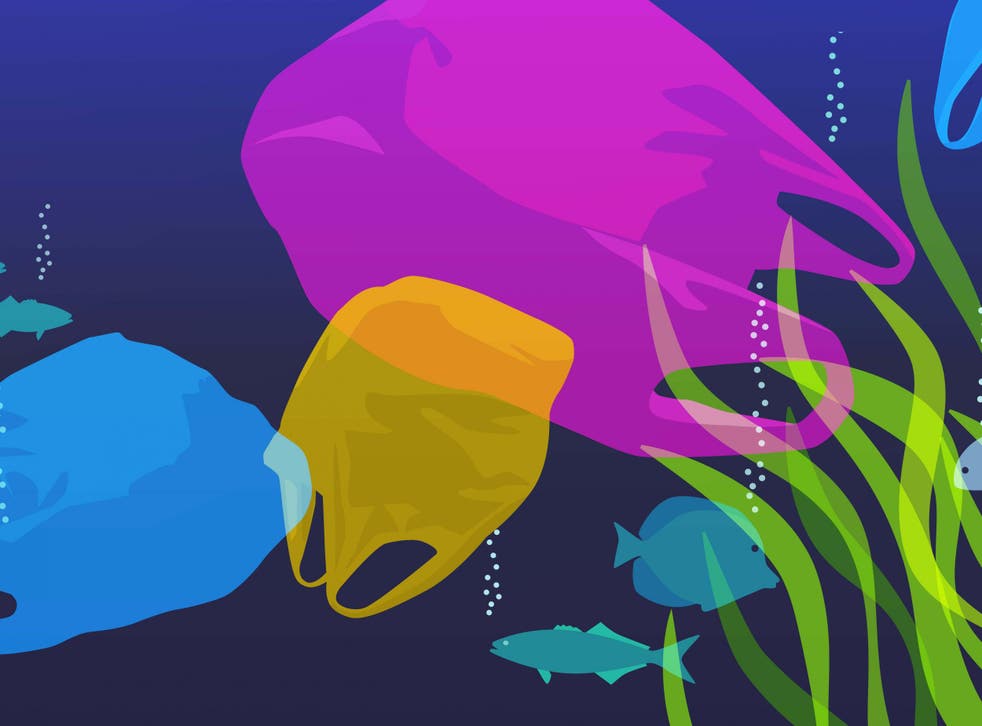 Things were looking up for the environment at the start of this year: us shoppers were well in the swing of using our reusable bags and coffee cups, which was contributing to preventing tonnes of plastic entering landfill.
On March 11, just shy of lockdown, Chancellor Rishi Sunak announced in the budget a tax on plastic packaging containing less than 30 per cent recycled content, which would come into force in April 2022. It was a positive move to encourage big companies to use less virgin plastic for its packaging and to keep more in circulation, as well as making them responsible for it, rather than the consumer.
But then, coronavirus took hold of the world. It has since consumed millions of lives, shut down countries and changed practically everything.
Of course the main issue throughout this pandemic has been people's lives. Not only those lost, but those risking their lives to help others. And now that we are coming out of the height of the pandemic and we look to ways of protecting ourselves and others around us, face coverings have become essential in England and Scotland on public transport, meaning many of us will be wearing them daily for the foreseeable.
But it's not taken long for these masks – many of them single use and made with plastic fibres – to be found in our oceans.
What's being described as "covid waste", is made up of plastic single-use gloves, masks and bottles of hand sanitiser which are finding their way into our oceans.
Opération Mer Propre, an ocean clean up operation in France, who pick up litter, have found plenty of this sort of waste. The organisation even said that soon there could be more masks in the ocean than jellyfish.
This type of waste isn't the one of its kind that's come off the back of Covid-19 though. As lockdown began back in March, like hundreds of thousands of other people, I turned to trying to do my food shopping online.
Trying is the operative word here though, as at one point, securing an online food delivery slot was like gold dust. Then the government rightly prioritised people who could not visit the shops. I managed to get about four online food deliveries either from Morrisons, Sainsbury's or Tesco during the peak of lockdown. That seemed lucky. And one thing was the same - all of them came in plastic bags.
Coronavirus: The global gap in education

Show all 12
Rewind back to 2015 when the government implemented the 5p charge or single-use carrier bags in all large shops in a bid to encourage people to reuse their bags. Last year, the sales of these bags in our supermarkets were down 90 per cent.
Government figures showed that Asda, Marks & Spencer, Morrisons, Sainsbury's, Co-op, Tesco and Waitrose sold 490 million fewer single-use plastic bags during 2018/19. The average person in England now buys just 10 bags a year from the main supermarket retailers, compared with 140 bags in 2014 before the charge was introduced.
How, I thought, have we gone backwards. The few times before coronavirus that I had done an online shop (being more of a "pick up on the day" type of person) in the past year, I was sure you could opt out. But during the pandemic, I was pretty positive I'd not seen an option at checkout to select not receiving plastic bags. After each delivery, the plastic delivery bags sat for more than a week next to the recycling bag. An irony not lost on me.
Prior to the pandemic, Sainsburys has offered online customers bagless deliveries, or you could choose to have plastic bags for 40p. Tesco also removed plastic shopping bags from online shops last year, but has also reintroduced them (at no extra cost though…).
Now, the bags had been brought back for a reason. And that was to save time, as well as preventing the spread of germs. Without them, the delivery person must wait for the customer to unload their shopping out of the crates before being able to leave: that takes time.
Many of the supermarkets increased their delivery slot capabilities by tens of thousands in order to try and reach the demand. Tesco more than doubled its delivery slot availability to almost 1.2 million a week, Sainsbury's had around 600,000.
But with all the extra slots, and the millions of deliveries, which undoubtedly helped saved lives, it still comes at a cost, which is pollution. We can of course take these bags back to the larger stores, but the onus is on the customer, not the retailer.
In my most recent Sainsbury's shop, I received eight plastic bags, and it was only a small shop. None of them were Sainsbury's bags - two were actually Waitrose bags, while the rest were plain white. It seems the supermarket is using so many bags it's run out of its own. Three of the bags had just one or two items in them. The loaf of bread (already coming in its own plastic wrap) came in another bag. There was also an unused bag thrown into one of the other mags, just for good measure apparently. Was someone trolling me?
A spokesperson for Sainsbury's said it was "investigating why the bags were used in this way". With the increase in online shopping, and the virus still on the horizon, our consumption of these bags is increasing, and is not helped by misuse of the bags by the supermarket.
The panic buying is long over, but queues and online demand still remain. But we cannot return to the way we previously used plastic bags, where at our worst we used an estimated trillion plastic bags in a single year around the world.
It's too early to tell what the damage is, but a reversal of the positive habits we were starting to form can never be a good thing.
Register for free to continue reading
Registration is a free and easy way to support our truly independent journalism
By registering, you will also enjoy limited access to Premium articles, exclusive newsletters, commenting, and virtual events with our leading journalists
Already have an account? sign in
Register for free to continue reading
Registration is a free and easy way to support our truly independent journalism
By registering, you will also enjoy limited access to Premium articles, exclusive newsletters, commenting, and virtual events with our leading journalists
Already have an account? sign in
Join our new commenting forum
Join thought-provoking conversations, follow other Independent readers and see their replies