'We were all so ignorant about HIV, and the prejudice is still with us'
Kyiv Mayor Vitali Klitschko endorses the Independent's Christmas campaign, raising funds for the Elton John AIDS Foundation
Vitali Klitschko
Kiev
Tuesday 18 December 2018 12:05 Comments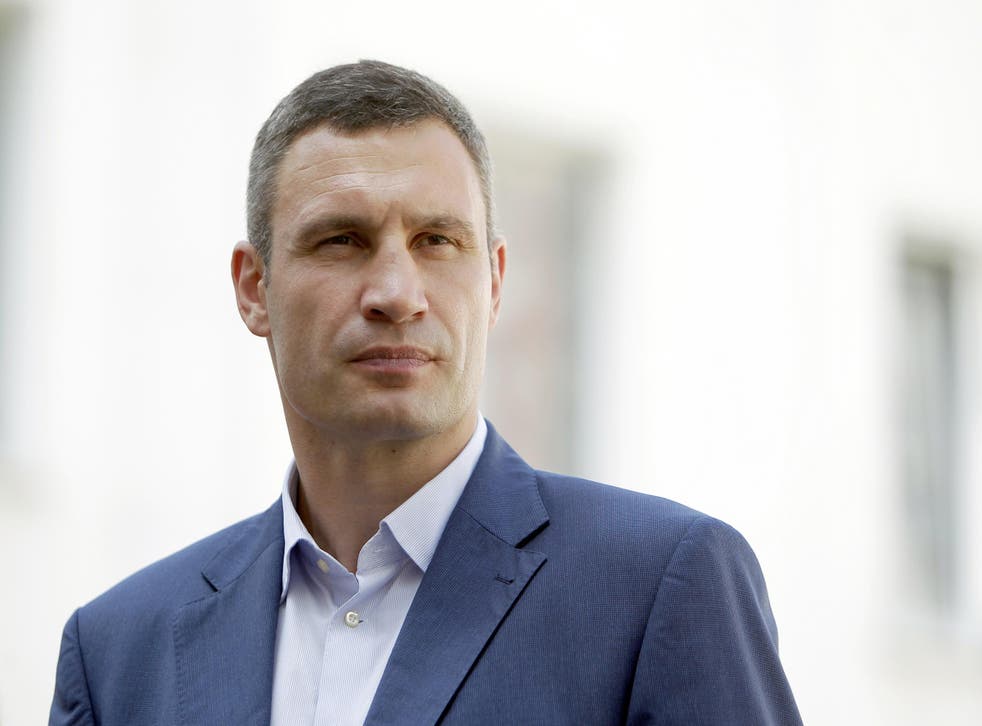 When I was growing up in Kyiv, HIV was always talked about as a capitalist disease. It was the disease of capitalist countries and of loose moral values. For the majority of Ukrainians, HIV positive citizens were simply written off as people with no chance of survival, a danger to society.
The fear was everywhere, and we were all so ignorant. I remember being too scared to use a pop vending machine in school because it meant drinking out of communal glasses.
Thirty decades on, the ignorance is still with us. Only 23 per cent of our those aged between 15 and 25 know about HIV. The Ukrainian school curriculum does touch on sexually transmitted diseases, but it covers contraception, teenage pregnancy and sexual abuse only superficially. Some teachers find these issues too difficult to talk about; for others religion gets in the way.
Prejudice is still with us too. Not only is it wrong on a moral level, it also gets in the way of progress. It hinders us from making the right policy calls, and achieving diagnostic success and successful treatment.
According to statistics in 2014, every fifth Ukrainian living with HIV is subjected to threats, verbal abuse and aggression. In another survey, 65 per cent said they would refuse to buy vegetables from a seller in the markets if they knew he/she had HIV.
We see it in Kyiv. Casual stigma and discrimination mean people, especially young people, are scared to get tested and receive treatment. This fear leads to deaths from AIDS, new infections, and to the spreading of the virus.
Ukraine's epidemic remains serious, but most often, silent. Worryingly, one in two people do not know they are living with the virus. Diagnoses are usually made far too late.
We also know the nature of our epidemic is changing. Before, HIV mainly affected people who injected drugs. Today, heterosexual sex transmission represents the main route of transmission.
The war in the East has also had an impact, with the internal displacement of about 1.7 million people leading to a redistribution of the virus. Approximately one in four Ukrainians with HIV live in the Donbass, for example.
But there are positive trends too, and I'm cautiously optimistic about our efforts to fight the epidemic.
Young people, for a start, are beginning to demand better sexual education in schools. They understand it concerns their health.
Ukraine healthcare is also going through a process of reform, and has radically changed the way it delivers medical care. The system has become more flexible and much more efficient. We are now able to give Ukrainians living with HIV the very latest advances in medical care.
Slowly and surely, we are also beginning to reach those at the highest risk of infection. We've put a lot of efforts into distributing free condoms, and introducing rapid home HIV tests, as recommended by WHO.
Over the last few years, we have benefited from breakthroughs in diagnosis and treatment regimens.
In 2016, my administration signed up to the World Health Organisation's 90-90-90 goals. That is to say we want 90 per cent of people with HIV to know about their status. We want 90 per cent of those to be receiving effective therapy. And we want 90% of those to have undetectable viral loads.
We're making reasonable progress. On year to date, we've managed to diagnose 61 per cent of all infections (year-end target of 73.7 per cent), treat 68 per cent (year-end target of 88 per cent), and suppress the virus in 83 per cent of cases (year-end target of 88 per cent.)
But we still have three main problems.
First, Ukrainian society remains fixed in the view that HIV is a problem for marginal groups. Ukrainians simply believe this problem will never affect them.
Second, many patients who start therapy find it difficult to keep the regimen, and stop taking the medicine. This creates the perfect conditions for the virus to mutate and become more resistant.
Third, there is a lack qualified social workers and medical professionals with experience of HIV.
AIDSfree: Vulnerable children in Ukraine supported by Independent Christmas campaign
It's hard to overestimate the contribution these people make in resolving emotional and psychological problems connected with HIV. In many respects they determine the future fate of these patients.
So we're doing our best to recruit more, and to train them in testing and treatment.
Not everything, of course, depends on the medical profession. Above all else, Ukrainians to take responsibility about their own health. Education is a very important part of our struggle.
People need to know that early detection and treatment can help save lives. That it can help make lives longer and healthier. And it can significantly reduce the risk of further transmission.
I am sure that The Independent and Evening Standard AIDSfree Christmas Appeal will help raise global attention and reduce the problem of discrimination of those living with the virus. It will help raise funds for new testing systems and therapy, as well as giving other cities the opportunity to adapt "90-90-90" goals.
I hope that together we can take another step towards overcoming this epidemic.
Register for free to continue reading
Registration is a free and easy way to support our truly independent journalism
By registering, you will also enjoy limited access to Premium articles, exclusive newsletters, commenting, and virtual events with our leading journalists
Already have an account? sign in
Join our new commenting forum
Join thought-provoking conversations, follow other Independent readers and see their replies