31 beautiful vintage photos show what New York City looked like in the 1940s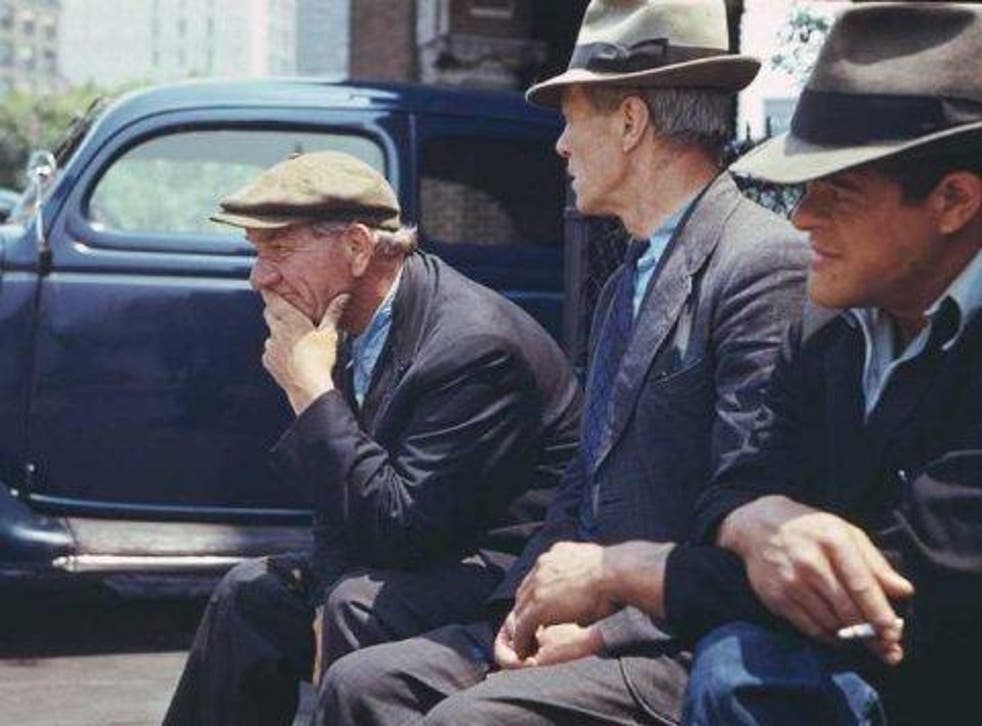 Amateur photographer Charles W. Cushman traveled extensively in the US and abroad from 1938 to 1969, capturing beautiful portraits of everyday life.
His archive has been donated to and maintained by Cushman's alma mater, Indiana University, which has kindly given us permission to publish his gallery of New York City photos taken in 1941 and 1942.
These images give a great glimpse into what everyday life in Chinatown, the Financial District, and Midtown was like over 70 years ago.
Kamelia Angelova contributed reporting to an earlier version of this story.
The old Fulton Market on Manhattan's Lower East Side wasn't quite so bustling on this Saturday afternoon in 1941.
There were still traffic jams on South Street along the East River in 1941.
Here, a view of the East River and the majestic Brooklyn Bridge.
Here's a closer view of the South Street Manhattan tower of the Brooklyn Bridge. The tower, which weighs 90,000 tons, helps support over 14,000 miles of wire.
Three men sit on a bench in Battery Park during lunch hour.
Cushman snapped this spectacular view of Lower Manhattan from across the water in Jersey City.
Here's a view of skyscrapers from Wall Street in the Financial District.
Cushman took this from onboard a ferry that was approaching Liberty Street in September 1941.
This is a view of the Financial District from the South Ferry port.
This is a glimpse down Fulton Street, which goes through Manhattan's Financial District, from South Street in 1941.
Up in Harlem, just north of George Washington Bridge, Cushman captured a shot of Riverside Drive.
Residents socialize on Clinton Street on Manhattan's Lower East Side on a Saturday afternoon.
Children and adults gather outside various storefronts near the corner of Broome Street and Baruch Place on the Lower East Side.
This horse-drawn carriage waits for passengers in Bowling Green.
The men pictured here are collecting wartime salvage left outside on the streets of the Lower East Side.
The hot-dog carts in New York City have only gotten bigger and more elaborate since 1942. Here, a vendor waits for business in Bowling Green.
McSorley's Old Ale House is the city's oldest Irish pub. Located on East 7th Street between Second and Third Avenues, it's been open since the 1800s.
The Red Cross station on the Lower East Side offers locals various free items during salvage collection.
Here's a view of the Empire State Building from 28th Street in 1942, 11 years after it was completed.
This Italian bakery was open for business at 58 Mulberry Street, south of Canal Street.
Three girls talk outside a candy shop in Lower Manhattan.
This scene from the Lower East Side looks straight out of a movie.
Cushman captioned this 1942 image "Sunday afternoon gossip."
Today the northeast corner of First Street and Bowery is filled with shops and bars.
Here's a view of the other side of the street, at the southeast corner of the intersection. The pictured barbershop is now a boutique clothing store.
Cooper Union, pictured here on the right, opened in 1859.
New Yorkers hurry along an undisclosed block between Avenues A and B in 1942.
You can see an advertisement for Horton's Ice Cream on this corner of Canal Street. Back in the early 19th century, Horton's supplied over half of New York City's ice cream.
A statue of Abraham de Peyster, who was mayor of New York City from 1691 to 1694, is seen in Bowling Green.
This woman enjoys her Sunday newspaper on a stoop in the Lower East Side.
This is a corner on Pearl Street, which runs south through what is now Manhattan's Financial District.
Read more:
• This chart is easy to interpret: It says we're screwed
• How Uber became the world's most valuable startup
• These 4 things could trigger the next crisis in Europe
Read the original article on Business Insider UK. © 2016. Follow Business Insider UK on Twitter.
Register for free to continue reading
Registration is a free and easy way to support our truly independent journalism
By registering, you will also enjoy limited access to Premium articles, exclusive newsletters, commenting, and virtual events with our leading journalists
Already have an account? sign in
Register for free to continue reading
Registration is a free and easy way to support our truly independent journalism
By registering, you will also enjoy limited access to Premium articles, exclusive newsletters, commenting, and virtual events with our leading journalists
Already have an account? sign in
Join our new commenting forum
Join thought-provoking conversations, follow other Independent readers and see their replies