The ten best underrated buildings in Britain
A new exhibition tells the story of of our modern nation via 100 of its most inspiring buildings. Here we pick our 10 favourite "wildcards"
Christopher Beanland
Monday 06 October 2014 15:09 Comments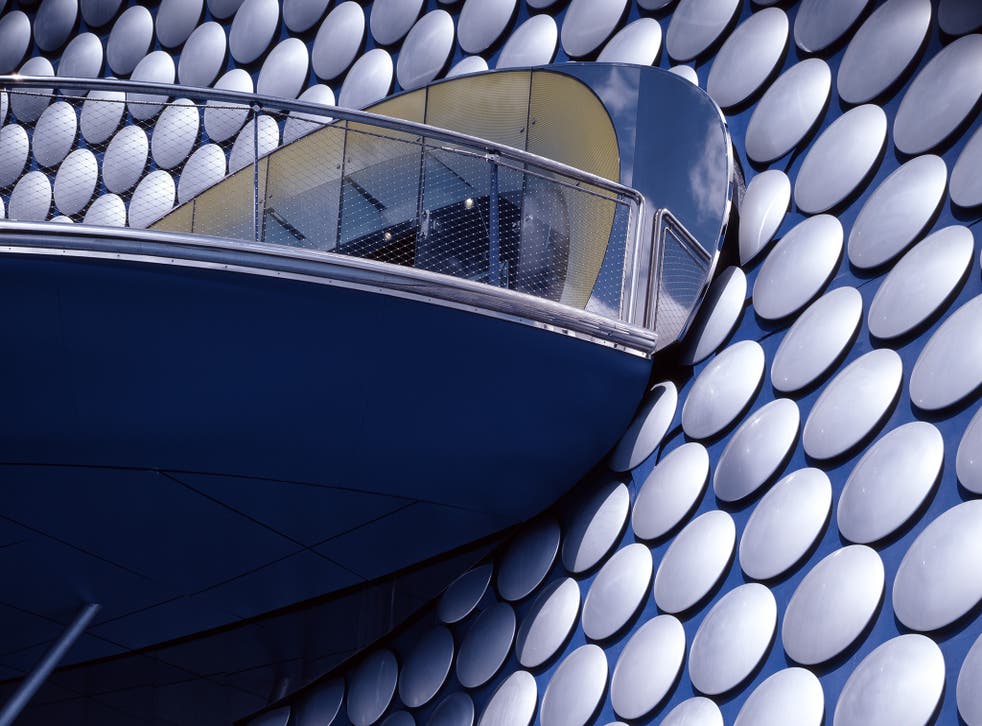 Are we beginning to see that Britain's most beautiful, useful and inspiring buildings can be from decades rather than centuries ago?
There seems to have been a sea-change in attitudes towards 20th-century architecture in recent years, and that's in no small part down to the 20th-Century Society – a conservation charity, founded in 1979, that campaigns against the wanton destruction of modern buildings and public art. Last year, it helped to get Grade II listed status for Preston Bus Station, thus halting its planned demolition, and it continues to support the campaign to prevent Birmingham's Central Library from being bulldozed. Both are buildings that take effort to understand, as much as any Shakespeare play, and the society encourages this public engagement by running tours and talks about how to read modern buildings and empathise with them.
To celebrate the century of architecture under its remit – it aims to protect buildings from 1914 on – it is putting on a show at the Royal Academy. Opening next week, 100 Buildings 100 Years will tell the story of our modern nation via 100 of its most inspiring buildings, one from each year. But although many architectural stars feature on the list, from the De La Warr Pavilion (1935) to the Eden Project (2001), more interesting are those unsung gems of 20th-century architecture that are finally being given their due. Here are 10 of my favourite "wildcards":
1. Odeon, Bradford (1930)
Cinemas and pubs are social spaces that have defined the lives of ordinary Britons for the past 100 years – though as habits change, many are closing their doors. Bradford's huge cinema, latterly owned by the Odeon chain (noted for its own Art Deco picture palaces), is a brick behemoth topped with domes. Despite being disused for 14 years, it is much cherished by Bradfordians. Locals rallied round recently to try to turn this derelict old dame into the largest independent live music venue in the North. Instead, it looks set to be taken over by a big-time commercial venue operator.  
2. Finsbury Health Centre, London (1938)
This was more than just a doctor's surgery. Berthold Lubetkin's north London health centre presaged the NHS by a decade and, indeed, helped to inspire it. Inside this building, ordinary people were able to access all sorts of free health care in a clean, fresh and modern environment. The building, and the idea of it, should be a source of immense pride as a symbol of what the country achieved when it set its mind to caring for all of its people equally.
3. Smithdon High School, Hunstanton (1954)
The architects Peter and Alison Smithson get a lot of stick for being wordy theorists. They certainly wouldn't win friends on Twitter today, but ultimately we should be grateful for the way they shook things up, forming a kind of British avant-garde with collaborators such as the artist Eduardo Paolozzi and the writer B S Johnson. One of their most striking achievements was this secondary school atop rolling Norfolk hills near the sea at Hunstanton. It is low, black, brooding and provocative. 
4. Our Lady Help of Christians, Tile Cross, Birmingham (1967)
Basil Spence's rightly-celebrated post-war reconstruction of Coventry Cathedral is only a few miles down the A45, but it's worth remembering that Britain was building churches all over the place well into the Swinging Sixties. Here, at Tile Cross, east of Birmingham's city centre, Sir Giles Gilbert Scott's son Richard built a Catholic church topped with a swooping concrete-and-copper roof that wouldn't have looked out of place at the new motorway service stations that were popping up at the same time.
5. Newcastle Civic Centre (1968)
Notorious 1960s Newcastle council leader T Dan Smith acted like the king of the city. Apt, then, that the council HQ he dreamt of was finally opened, three years after the end of his stint, by Olav V, the actual King of Norway. The offices were part of Smith's vision of regenerating the city centre as the "Brasilia of the North" and assert the power that city councils had back in 1960s Britain. 
6. Preston Bus Station (1969)
In the 1990s, abstract brutalist megastructures fell dramatically from fashion, meaning the end for Portsmouth's Tricorn and Gateshead's Trinity Square shopping complexes. Today, brutalism is valued once more and Preston's bus station – topped with that long layer cake of curved-concrete car park decks – is listed. Built by local firm Building Design Partnership, it lionised both road transport and Preston's push for progressiveness.
7. Trellick Tower, London (1972)
J G Ballard's dystopian 1975 treatise High Rise (currently being filmed by Sightseers director Ben Wheatley) must have been influenced by this beast of a block of flats that he passed on his drive home to Shepperton. The architect in High Rise is obviously based on Trellick's mastermind Erno Goldfinger, who embraced a future of sci-fi, of concrete, of affordable homes for everyone. Today, the once-hated block is a highly sought-after place to live.
8. Central Milton Keynes Shopping Centre (1979)
Decanting inner-city residents to outer-city estates can play havoc with people's spirits, as Lynsey Hanley detailed in her brilliant book Estates. But new towns, especially Britain's final stab, Milton Keynes (butt of jokes, home to concrete cows), could work. Residents liked their life with a garden here. And they liked shopping in the bright, airy mall by Stuart Mosscrop and Christopher Woodward, which originally had no outside doors so you could stroll in at any hour. It's also notable for its graceful portes-cochère – pavement shelters to stop road-crossing pedestrians getting drenched.
9. New Art Gallery, Walsall (2000)
Galleries were the sine qua non of millennial regeneration and Walsall's was an attempt to create a Guggenheim Bilbao in the Black Country. Nearby West Bromwich had the same light-bulb moment with its (now closed) arts centre, The Public, which saw its architect Will Alsop have a rare off-day. But, up the A4031, Caruso St John succeeded with a neat, boxy little building by the canal which houses good art too – the Garman Ryan Collection, with works by Degas, Monet, Picasso and Turner.
10. Selfridges, Birmingham (2003)
It's a monument to consumerism and narcissism. But what a building Birmingham Selfridges is! Outside: thousands of discs on a curving façade shaped like a bottom. Inside: thrilling plastic escalators, white walls and a huge skylight. The only pity is that Jan Kaplicky and Amanda Levete's stylish contribution to Brum's new Bull Ring Centre meant the end of its equally interesting 1960s predecessor.
'100 Buildings 100 Years' is at the Royal Academy, London. 11 Oct to 1 Feb 2015 (royalacademy.org .uk/exhibition/100-buildings-100-years)
Register for free to continue reading
Registration is a free and easy way to support our truly independent journalism
By registering, you will also enjoy limited access to Premium articles, exclusive newsletters, commenting, and virtual events with our leading journalists
Already have an account? sign in
Register for free to continue reading
Registration is a free and easy way to support our truly independent journalism
By registering, you will also enjoy limited access to Premium articles, exclusive newsletters, commenting, and virtual events with our leading journalists
Already have an account? sign in
Join our new commenting forum
Join thought-provoking conversations, follow other Independent readers and see their replies