Los Angeles mayor announces end to 'stupid' building height regulations, meaning City of Angels will get its heavenly skyline
Eric Garcetti has says he is 'taking the handcuffs off architects'
Tim Walker
Sunday 05 October 2014 09:05 Comments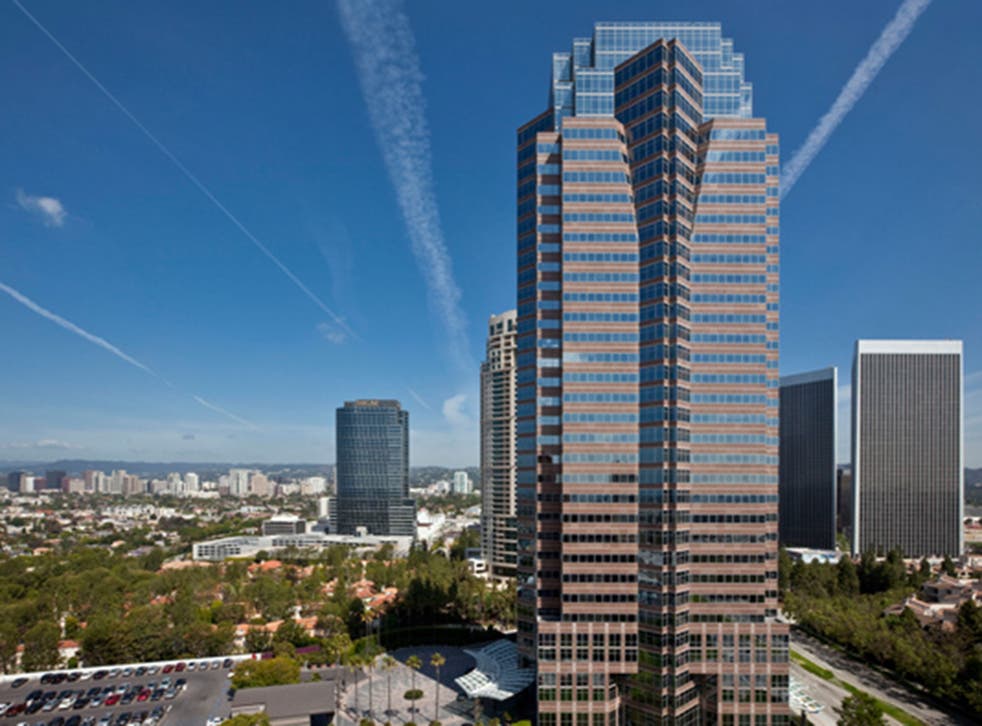 London has the Shard; New York, One World Trade Center; Dubai, the Burj Khalifa. And LA has... the US Bank Tower?
But the city could be about to grow up, as a decades-old law has been lifted, potentially breathing new life into the Downtown skyline. Since 1958, antiquated fire regulations have required every building in Los Angeles of 150 feet or more in height – the maximum length of a fire brigade ladder and hose – to have a flat roof with a helicopter landing pad. The rule has limited architects and led to a stunted cityscape resembling the last desperate moves in a game of Tetris.
In a press conference on Monday, held on the flat roof of the city's 32-storey AT&T Center, Mayor Eric Garcetti announced the law's demise, describing it as "one more stupid rule in Los Angeles".
The change was catalysed by the construction of the 73-storey Wilshire Grand Hotel, commissioned by Korean Air and designed by the California firm AC Martin. It is expected to open in late 2016 – with a spire, a sloping top and a so-called "tactical approach" helipad. Its architects undertook several studies with the fire department, to convince the city to do away with its flat-rooftop rule.
Mayor Garcetti called the decision "a sea change", saying he wanted to encourage "innovative design" and promising architects: "We are going to take the handcuffs off you."
In traditional skyscrapers such as the Chrysler Building in New York, the top section has always been an architect's opportunity to add a signature flourish, explained Gail Borden, associate professor of architecture at the University of Southern California in Los Angeles.
"In most contemporary high-rise design, everything else about a building is so pre-programmed that there's not a lot of room for architects to play, except with the top," Professor Borden said. "And over the past 10 years, people have started to re-examine the whole form – such as with the Gherkin in London. But LA has been completely handicapped by the flat-rooftop law."
World-class contemporary architects are responsible for many of LA's tallest buildings, but thanks to the flat-roof rule the results are somewhat anonymous. César Pelli designed the Petronas Towers in Kuala Lumpur, the world's tallest buildings until 2004 – but what layman would recognise his LA monolith, the 777 Tower? The late William Pereira designed the Transamerica Pyramid, the most distinctive skyscraper in San Francisco – but also the boxy AT&T Center, where Mayor Garcetti made his announcement.
The only famous modern skyscrapers in LA are those featured in Hollywood blockbusters, such as the Nakatomi Plaza from Die Hard (1988) – which is in fact the Fox Plaza in Century City, out of Downtown. The US Bank Tower, meanwhile, might be familiar to non-Angelenos as the first building destroyed by the aliens in Independence Day (1996).
"Without Hollywood," Professor Borden said, "our Downtown would be totally forgotten."
Register for free to continue reading
Registration is a free and easy way to support our truly independent journalism
By registering, you will also enjoy limited access to Premium articles, exclusive newsletters, commenting, and virtual events with our leading journalists
Already have an account? sign in
Join our new commenting forum
Join thought-provoking conversations, follow other Independent readers and see their replies