Could the demand for affordable housing be solved by going back to tents?
As the BBC investigates tents in a Culture Show special, Christopher Beanland wonders if the earliest form of architecture could have us all pitching in
Christopher Beanland
Friday 13 June 2014 00:16 Comments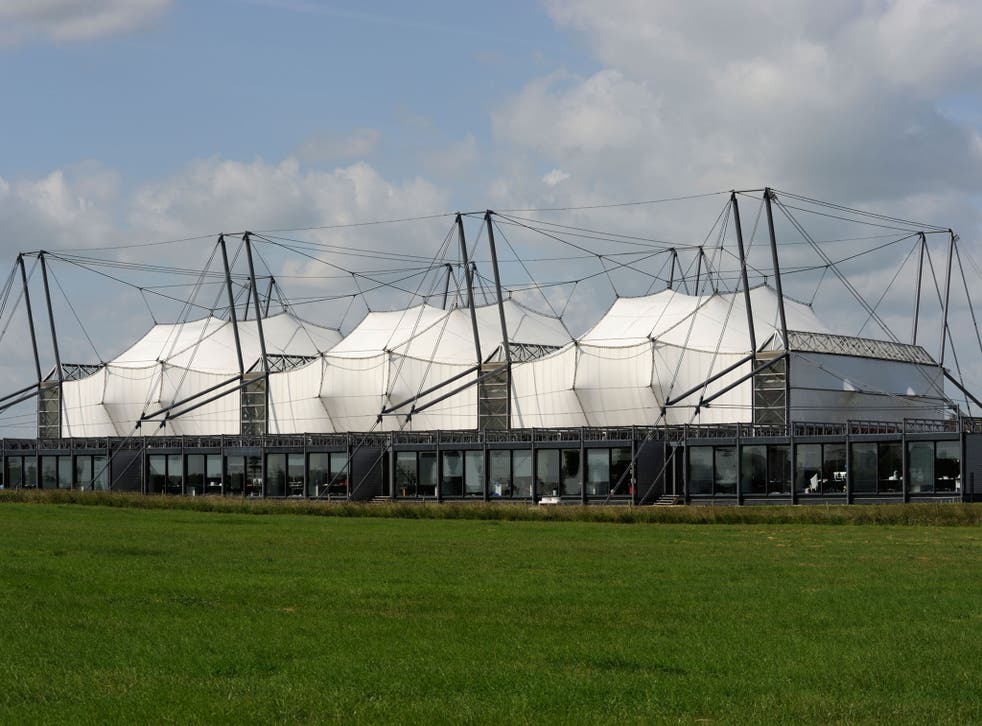 Tents have been around for as long as humans have wanted to swap caves for something with more mod cons. From the goatskin yurts of our nomadic ancestors to the annual two-mans we pitch (and then often discard) at festivals, camping refuses to go away. In a Culture Show special, Tents: The Beginning of Architecture, to be broadcast next week on BBC2, Tom Dyckhoff wonders whether tents could be a solution to today's housing crisis. The presenter seems to think that tents – or at least more comfortable, more modern, and bigger versions – might be an option if we can't build enough flats and houses. Maybe one of architecture's oldest forms could have a life past festival season?
In the 1960s, as concrete was taking its turn in the limelight, tents also began to fire up architects' imaginations. "Take Frei Otto's German Pavilion for the Montreal World's Fair in 1967 and those roofs at Munich for the 1972 Olympic Games," says Philip Drew, author of New Tent Architecture. "This renewed interest led by Otto after the Second World War, supported by the advent of new durable synthetic fabrics, glass fibre and membranes, revolutionised lightweight tensile architecture. These modern tents with their spectacular shapes and structural economy acted as advertisements for big events."
As Glastonbury proves, thousands of us are still willing to sleep in chilly fields under a stretch of a fabric, if only for a few nights a year. "There are few greater pleasures than camping under the stars on a summer's night," believes Chris Swindells, editor of Virtualfestivals.co.uk and a camping festival veteran. "That sense of freedom and feeling of escapism from the malaise of urban living is what festivals can arouse in us."
But for those willing to pay a premium, festival options have gone upmarket: "The bedouin, yurt and bell tent have all seen a renaissance," points out Swindells. At Coachella – bathed in the Palm Springs sun – the £4,000-per-couple safari tents come with kingsize beds, Shaker furniture, fridge, floor, air con and a promise that it won't ever rain.
Tents can have a political message, too. Peace camps and green protesters pioneered the idea of using tents as a potent symbol. The late protester Brian Haw camped in Parliament Square, in London's political power bullseye, for almost a decade. For the Occupy movement, who built tent cities in New York, London and elsewhere, the tent was a way of reclaiming a privatised space as a public, non-commercial one. Because they're quick to erect and cheap, tents represent a kind of democratic architecture of the moment.
Future tents: Life under canvas

Show all 4
Today, tents are still one of the most widespread forms of emergency shelter, housing civilians whose lives who have been torn apart by war. At Dar Al-Salaam camp in Sudan, Tindouf in Algeria, and Zaatari in Jordan, huge tent cities remain. Whole families are supposed to live in these tents for less than a year – but sometimes this life under canvas can stretch way beyond that.
"A tent is better than nothing, but it's not a home," mulls Sarah Gate of the Human Relief Foundation, who recently returned from helping Syrian refugees in Jordan. "As a temporary solution, most people seem to feel lucky to just have somewhere dry, somewhere that is theirs. For long-term refugees, though, tents become frustrating. A tent is a constant reminder for refugees of everything that they've lost."
But architects are turning their attention to these temporary fabric homes, too. Architecture for Humanity and its partners are raising funds for a project that aims to create a "series of welcoming, safe spaces that can act as nodal points within Syrian refugee camps". Dutch firm DUS Architects has a concept for a 3D printer that can whip up a temporary house, while Ikea brainstormed a flatpack shelter.
Tents can be romantic, politicised or life-saving – but also sinister. The inside of Denver Airport's tented terminal is y filled with frightening art, such as murals of an apocalypse and statues of animals with glowing red eyes that conspiracy theorists insist mean something unsavoury. Tents shroud the activity inside, they project ghostly shadow puppet plays. But canvas can also be beautiful – as at Munich, or with Michael Hopkins' Schlumberger Building in Cambridge, with its wonderful roof.
Could we all be living in tents in the future as Dyckhoff claims? "The tent is lightweight, mobile, flexible and easy to change, easy to self-build and not based on owning the patch of land beneath your feet," he explains. "In the film, we challenge some young architecture students to see if there's something in this ancient form of shelter that might offer the next generation a more optimistic future."
Canvas has its benefits but compared to bricks and mortar, camping all year round might be a tough pitch.
Register for free to continue reading
Registration is a free and easy way to support our truly independent journalism
By registering, you will also enjoy limited access to Premium articles, exclusive newsletters, commenting, and virtual events with our leading journalists
Already have an account? sign in
Join our new commenting forum
Join thought-provoking conversations, follow other Independent readers and see their replies