Frank Gehry to co-design Battersea Power Station redevelopment
The acclaimed architect will work on the project alongside Lord Foster
Jonathan Brown
Wednesday 23 October 2013 17:31 Comments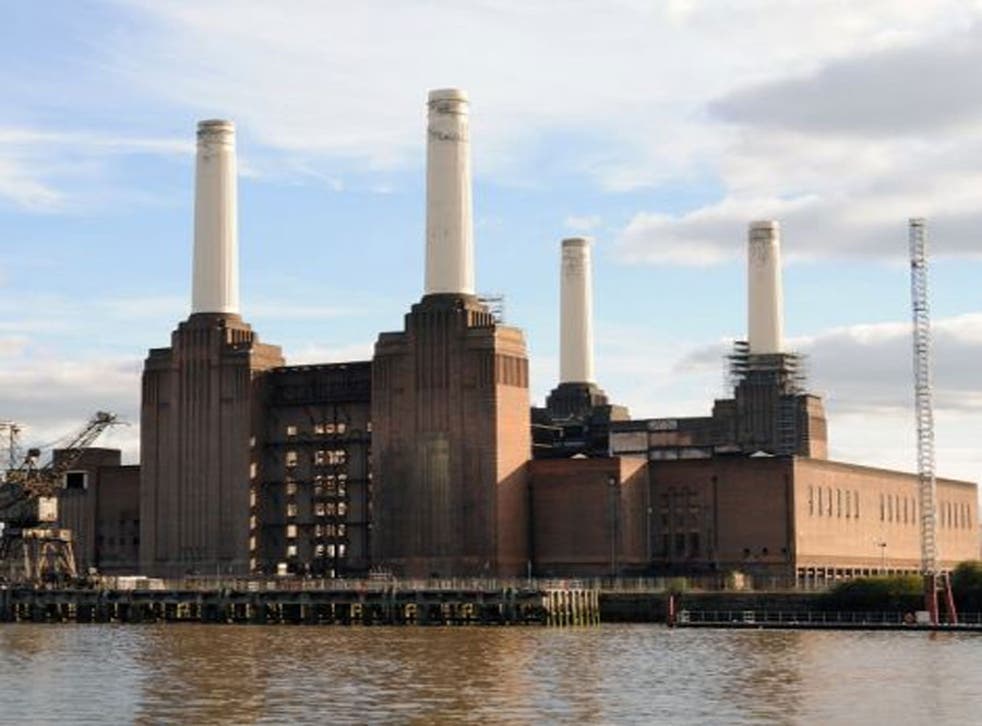 Until now his only British building has been a modest if exquisitely realised cancer centre in Dundee.
Yesterday however, it was announced that Frank Gehry - regarded by many as the world's most innovative architect - is to co-design part of the landmark £8bn project to redevelop London's Grade II-listed Battersea Power Station.
The Canadian-American will jointly create a new shopping street and surrounding homes at the iconic site on the banks of the Thames with British architect Lord Foster.
The two men were both instrumental in helping reinvent the post-industrial Spanish city of Bilbao in the 1990s. Gehry's sweeping titanium-clad Guggenheim Museum was universally hailed as a masterpiece whilst Lord Foster oversaw the rebuilding of the city's underground system.
Both men will work under Rafael Vinoly creator of the so-called Walkie-Talkie in Eastcheap, which earned international notoriety this summer when its glass façade was alleged to have scorched fabric and melted part of a Jaguar car by concentrating the rays of the sun.
Mr Gehry said he has been a long-standing admirer of Giles Gilbert Scott's art deco structure, Europe's largest brick building, which closed in 1983 and has since fallen into increasing disrepair despite a number of bold schemes to redevelop it.
"Our goal is to help create a neighbourhood and a place for people to live that respects the iconic Battersea Power Station while connecting it into the broader fabric of the city. We hope to create a design that is uniquely London, that respects and celebrates the historical vernacular of the city," he added.
The third phase project will comprise two residential zones on either side of a central high street each with 1,200 homes as well as a hotel, shops and restaurants.
One side will be designed by Foster+Partners, whose studio is situated in Wandsworth, south London and the other by Mr Gehry and his team who are based in Santa Monica in California.
Whilst unlikely to aim for the dizzying audaciousness of the Guggenheim or his Walt Disney Concert Hall, it is expected that all the homes will offer "power station views" and Mr Gehry is planning a second sculptural object which he described as a "flower" to create a unique living experience.
The 39-acre site at Battersea, was purchased last year by a Malaysian consortium. It had been feared that its quartet of chimneys might be lost but developers have confirmed they will remain under the new scheme.
A planned 3,400 homes will be served by a new spur of the Northern Line. Rob Tincknell, chief executive for Battersea Power Station Development Company said the designs would be "groundbreaking and wonderful".
He added: "This clearly demonstrates both the quality and the design aspirations which our shareholders are determined to achieve, as well as the extraordinary design solutions which the site deserves."
Among previous plans for the Battersea site have been an indoor theme park, a retail and housing complex, an urban park and latterly a new home for Chelsea Football Club.
Mr Gehry's only other completed building in Britain is a Maggie's cancer care drop in centre in Dundee. It was opened in 2003 and was the following year named Building of the Year by the Royal Fine Art Commission for Scotland.
Register for free to continue reading
Registration is a free and easy way to support our truly independent journalism
By registering, you will also enjoy limited access to Premium articles, exclusive newsletters, commenting, and virtual events with our leading journalists
Already have an account? sign in
Join our new commenting forum
Join thought-provoking conversations, follow other Independent readers and see their replies