Gasometers: Icons of energy architecture
The National Grid will be turning derelict gasworks into thousands of new homes. But that's not the only use for these haunting structures, discovers Christopher Beanland
Christopher Beanland
Tuesday 11 November 2014 20:46 Comments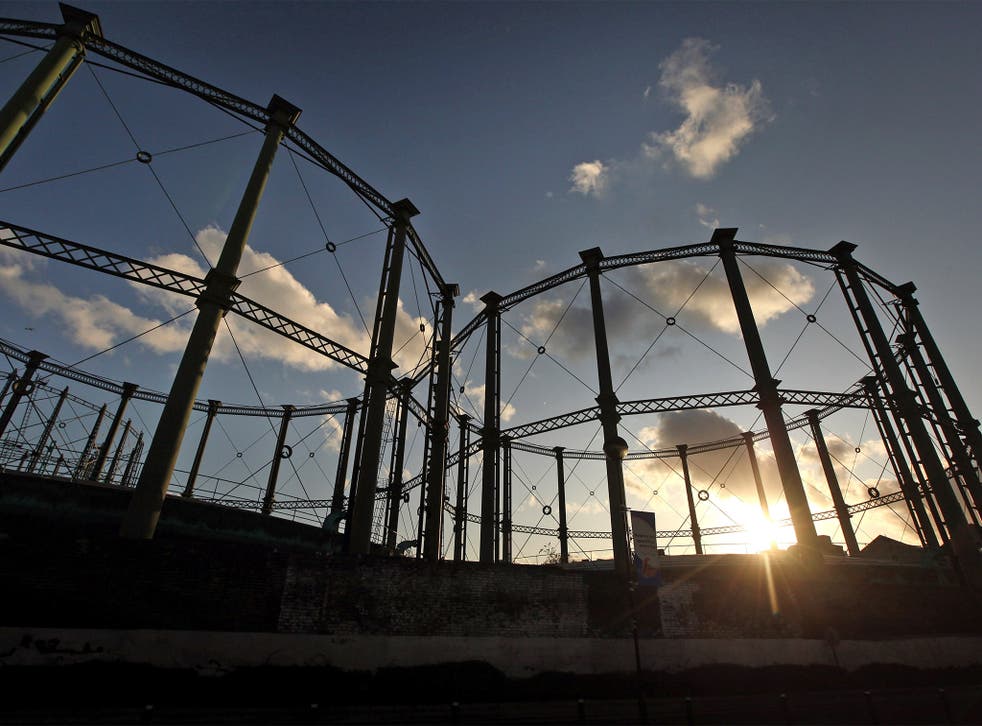 Like monstrous Meccano sets, gas holders dominate the skyline of our towns. But these huge metal frames are disappearing. We've all seen gas holders, whether with the naked eye or perhaps watching cricket matches at the Oval on TV, where they glower over the ground. Yet many of us would be hard pushed to describe what these unapologetic beasts actually do.
They were built by the Victorians simply to store gas – the giant cylindrical can in the middle would rise when the holder was full. As gas was pumped out to heat houses, the can would fall. Much of our gas was made, incredibly, by burning coal – "town gas" cooked up on the fly by local gas boards. An eggy smell was assured. Nowadays, it is piped from the North Sea or Europe to space station terminals such as Bacton in Norfolk, or brought in ships from Qatar. Either way, it is sent by plastic pipe around the country. And it has been this way for a while. It is surprising that the redundant gas holders, also known as gasometers, have lasted this long – but there's clearly something intoxicating about these strange structures.
Every time plans are mooted to knock them down, opposition foments. The gas holders next to Regent's Canal at Bethnal Green, east London, are next on the chopping board. The newspaper Dalstonist humorously reported that the move was "a blow to Instagrammers", referencing how often they're snapped.
"These gasometers are not eyesores," argues Ian Shacklock, chair of the Friends of Regent's Canal. "They are well engineered icons."
"The gasometers are an integral part of the distinctive identity of the place," adds the anonymous editor of the Spitalfields Life blog. "They offer intricate three-dimensional patterns against the sky that frame our ever-changing northern cloudscapes to spectacular effect."
"London was the birthplace of the gas industry," agrees Tom Ridge of the East End Waterway Group. "It's important to keep very good examples."
The firebrand critic Ian Nairn liked them. In Nairn's London, his cult 1966 guide (notoriously out of print until it was re-published by Penguin last week) he described the now-demolished gas holders at Stepney as "like keeping a hippo in a patio garden". In Liverpool, the Garston gas holders are also threatened. "They would make a brilliant piece of public art," mulls artist Alex Corina, whose Mona Lennon collage was a memorable image of Liverpool's 2008 City of Culture celebrations. "It would be tragic if it was demolished and replaced by something else pretty anonymous." Indeed, Corina tells me that he suggested displaying some neon art at the Garston gas holders himself.
The National Grid owns both Bethnal Green and Garston gas holders. Richard Alden, their head of commercial property, says: "The gas holders occupy large areas of land which can be redeveloped to provide much needed housing and facilities." Let's hope it will look as good as Kensal House, London, which the Gas Light & Coke company commissioned architect Max Fry to build in 1937. It was a whitewashed, utopian block which showcased gas as the clean fuel of the future.
Many people feel that we should preserve our energy architecture. The "Three Sisters" cooling towers at Didcot Power Station were demolished last summer, and the enormous "Windscale Piles" chimneys at Sellafield Nuclear Power Station in Cumbria are being dismantled. But gas holder aficionados have something to smile about: Dublin and Vienna have turned theirs into flats. And next year, a restored Gasholder No. 8 at King's Cross will live on as a neat new circular park.
Register for free to continue reading
Registration is a free and easy way to support our truly independent journalism
By registering, you will also enjoy limited access to Premium articles, exclusive newsletters, commenting, and virtual events with our leading journalists
Already have an account? sign in
Join our new commenting forum
Join thought-provoking conversations, follow other Independent readers and see their replies