Kinmel Hall: The 'Welsh Versailles' lies derelict and unloved – who will come to its rescue?
122-room mansion has been named one of Britain's most endangered buildings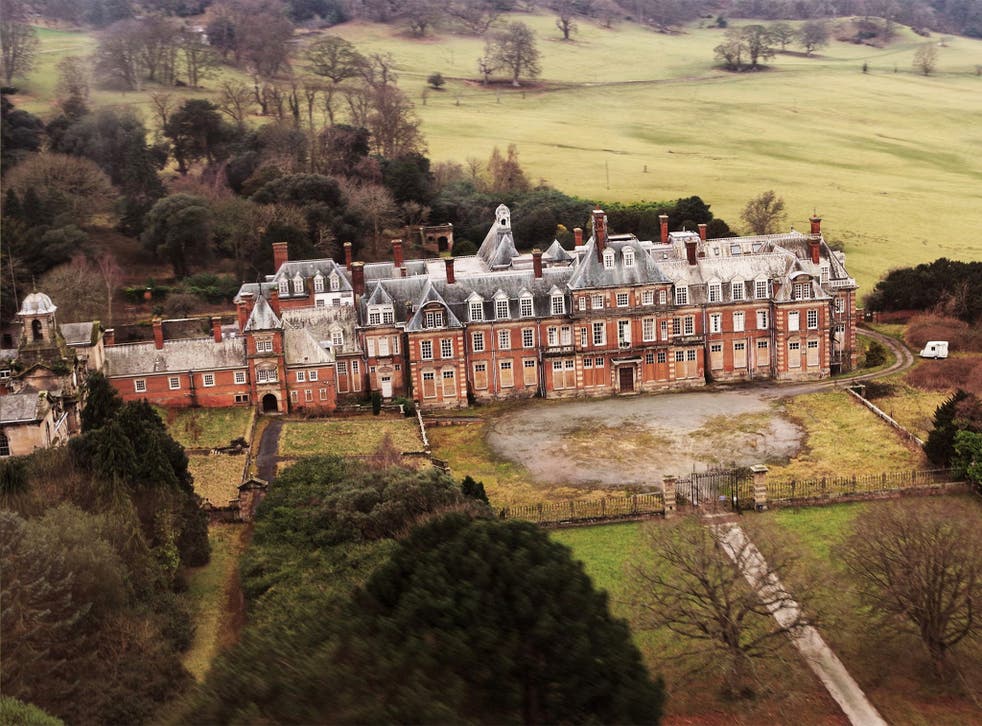 It is a sprawling 122-room Victorian mansion nicknamed the "Welsh Versailles" .
But while other historic homes are conserved for the pleasure of daytrippers, Kinmel Hall lies derelict and unloved - and is today named by the Victorian Society as one of Britain's 10 most endangered buildings.
To complicate matters, no one knows the identity of the current owners as they are masked by a company registered in an offshore tax haven. The opaque ownership structure highlights the problems caused by the flood of foreign money into UK property.
Christopher Costelloe, director of the Victorian Society, said: "Kinmel Hall is in trouble; it is just sitting there slowly decaying. From the information we've got it's in a poor but not disastrous state. It's at that tipping point where restoration is a reasonable proposition."
But in another five years "the sums would be so vast it would be almost impossible to restore," he warned.
10 most endangered Victorian and Edwardian structures

Show all 10
The Hall, near Abergele, in Conwy, is Grade I-listed and set in 18 acres of garden. Once one of the great houses of Wales, it has recently been dubbed the "discount Downton".
Matthew Beckett, architectural historian who writes The Country Seat blog, said Wales had lost a lot of country houses already. "This is a really important house by a really important architect. The architectural heritage of North Wales would be much the poorer if it were lost."
A private home has been on the site of Kinmel Hall since the 12th century. The present building was finished in 1876 and funded by Robert Hughes, heir of a huge copper mining fortune. It had 50 bedrooms and 60 quarters for the live-in servants. There was even a room dedicated for the ironing of the family's daily newspaper.
It was the family's home until 1929 and went on to be a boy's school, a health spa and then a military hospital. In 1946 it became a hotel and osteopathy centre and then Clarenden Girls School. After a fire in 1975 it was bought by local businessman Eddie Vince who used it as a Christian conference centre.
The property has seen seven different owners since the freehold was bought in 1999, all of whom said they would turn it into a hotel. The Hall is now owned by Acer Properties Limited, which is registered in the British Virgin Islands, though the identity of the actual owner is unknown. It was put up for sale at £1.5m in 2011.
Mr Costelloe said: "It is a problem as you can't just phone up the owner as no one knows who it is. For the council to serve notices it becomes more complicated."
Michael Tree, chairman of Historic Houses Association in Wales, said: "It is one of the great houses of Wales and has languished for too long. It is hugely important to the identity of the region and should be earning its keep by being in full use."
Dickon Fetherstonhaugh, a neighbour who has family connections to the mansion, said: "A far as I can see finding a use for it is next to impossible. It is vast, but probably too vast, and it's in the wrong place to pay for itself." He added: "I fear for it and it would be a massive shame if it was lost."
Mark Baker, an architectural historian, who visited last month said the building was now secured and was surprised the condition was as good as it was, but added it remained " terribly at risk".
Other buildings on the Victorian Society's endangered list include the Boat Store at Sheerness, Madeira Terrace in Brighton, believed to be the longest continuous iron structure in Britain, as well as the Central Plaza Hotel in Carlisle and the last and largest of Leed's great flax-spinning mills Hunslet and Victoria Mills finished around 1842.
Join our new commenting forum
Join thought-provoking conversations, follow other Independent readers and see their replies