Prince Charles has 'veto' over major new developments, claims leading architect
Richard Rogers says developers now check with Prince before committing investment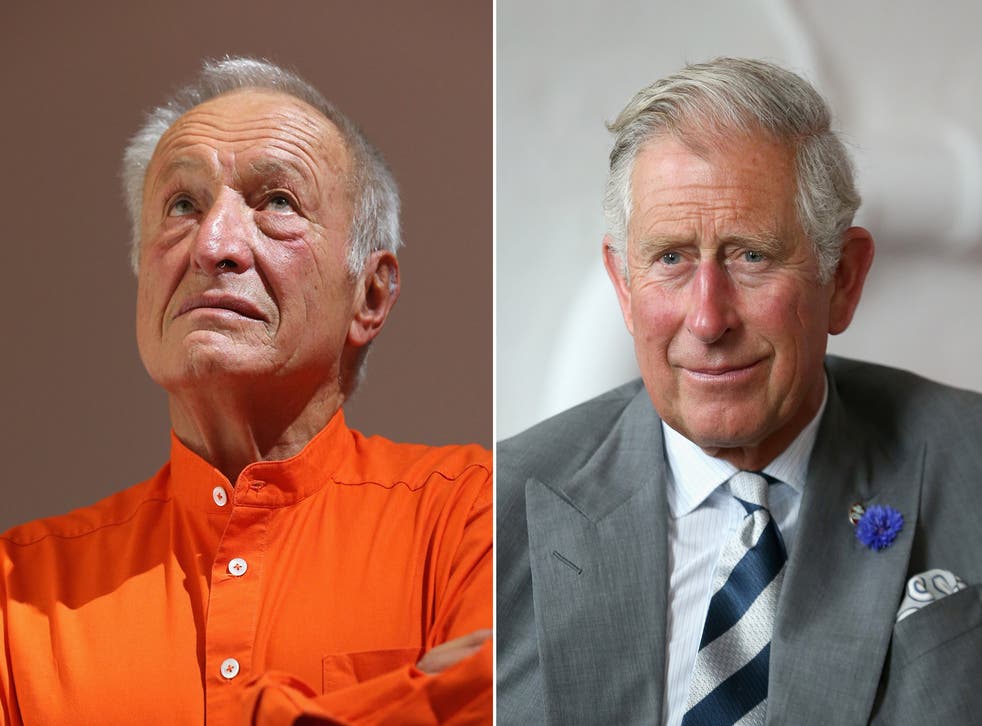 The influence of the Prince of Wales over major construction projects has become so great that developers now seek prior approval from Clarence House before making any commitment, the leading architect Richard Rogers has claimed.
Lord Rogers of Riverside, who has previously clashed with Prince Charles over his modernist designs, believes that his nemesis now has an effective veto over any significant additions to the capital.
Developers must square projects with the heir to the throne first to avoid the financial risk of a major undertaking being scuppered by a direct intervention from the great opponent of architectural novelty, who has succeeded in blocking several building plans.
In a New Yorker magazine profile of Rogers, the architect reveals his delight at being invited to collaborate on a new central London development "likely to involve several hundred million dollars".
The article claims that Rogers was "a little surprised to have been asked, given his troubled relationship with Prince Charles… According to Rogers, developers now tend to check in with the Prince before committing to any major construction."
The architect called it "an amazing situation! But they're into minimising risk - and Prince Charles is a risk."
Rogers, 80, saw his proposed £3 billion redevelopment plan for Chelsea Barracks abandoned after a lobbying campaign by the Prince, who wrote to the Emir of Qatar complaining that the "brutalist" scheme for 552 glass and steel flats at the prime London site "made my heart sink".
In 2011, the Qataris blocked Rogers' plan and backed an alternative development, supported by the Prince, although the site remains a windswept wasteland with little progress made since Westminster Council granted planning permission for the development.
Lord Rogers accused the prince of "an abuse of power" and called his exercise of behind closed doors influence with the Qatari royal family "unconstitutional" behaviour.
Developers have sought to avoid incurring the Prince's wrath ever since his notorious 1984 broadside against modernist architecture, in which he attacked a "monstrous carbuncle" planned for the National Gallery.
Architects given the Prince's blessing for their incorporation of his favoured classical style would be attached to projects. Even when Charles did not succeed in getting a development dropped, his intervention could prompt expensive delays, sometimes for years.
Clarence House said that the Prince's Foundation for Building Community, the independent charity established by Charles "is often approached for advice and works with local authorities to encourage sustainable development built around people."
However Clarence House said it had no evidence that developers were directly seeking Charles's approval for building projects. A spokesman for the Prince said: "Developers do not seek planning approval from the Prince of Wales as planning development approvals lie with local planning authorities. If developers choose to send the Prince of Wales information about upcoming developments that is up to them but the Prince does not, and cannot, grant planning permission."
The spokesman added: "The Prince does regularly receive letters from members of the public complaining about developments and planning decisions. The Prince has received this sort of feedback from the public for decades, which is why his interest in the built environment goes beyond individual developments and architectural style to encouraging a sense of community and pride of place and improving the quality of people's lives overall."
Lord Rogers's claim that the Prince's pre-emptive approval is now mandatory for developers reflects wider concerns over the influence that Charles wields in public life.
It emerged this week that three members of the Prince of Wales's staff were seconded to work fulltime in Whitehall. Labour MPs accused the Prince of using them to "advance his own private agenda."
Previously, House of Commons records showed that six government departments sought the heir to the throne's consent before proceeding with Bills on a wide range of issues including the London 2012 Olympics, gambling, road safety and even shipwrecks since 2005.
Prince Charles's wrecking balls:
Describes plans for Peter Ahrends' modernist new wing of the National Gallery as a "monstrous carbuncle on the face of a much loved and elegant friend" in 1984 speech. The wing was scrapped.
Called plans for skyscraper by German-born modernist Mies van der Rohe at One Poultry, London a "glass stump" which would "ruin" the skyline. Plans were replaced by a Sir James Stirling design which Charles said "looks rather like an old 1930s wireless."
Claimed the Luftwaffe had done less damage to London than a Richard Rogers's scheme designed for Paternoster Square, next to St Paul's Cathedral. The Rogers plan was dropped but the Prince failed to impose his own classical solution in 1996.
Warned Cardiff Bay redevelopment against replicating London's Docklands where warehouses were "wantonly destroyed". Plans for an opera house in the Wales Millennium Centre area by modernist Zaha Hadid were scrapped.
Calls 2003 Renzo Piano design for 1,000ft Shard of Glass "an enormous salt cellar" in a London Bridge Tower speech but doesn't actively seek to prevent building of Europe's tallest skyscraper.
Join our new commenting forum
Join thought-provoking conversations, follow other Independent readers and see their replies