Tower blocks: do we love them or hate them?
High-rises are now shunned by all but the super-cool, yet a new project is celebrating the remaining stock
Christopher Beanland
Tuesday 17 February 2015 21:05 Comments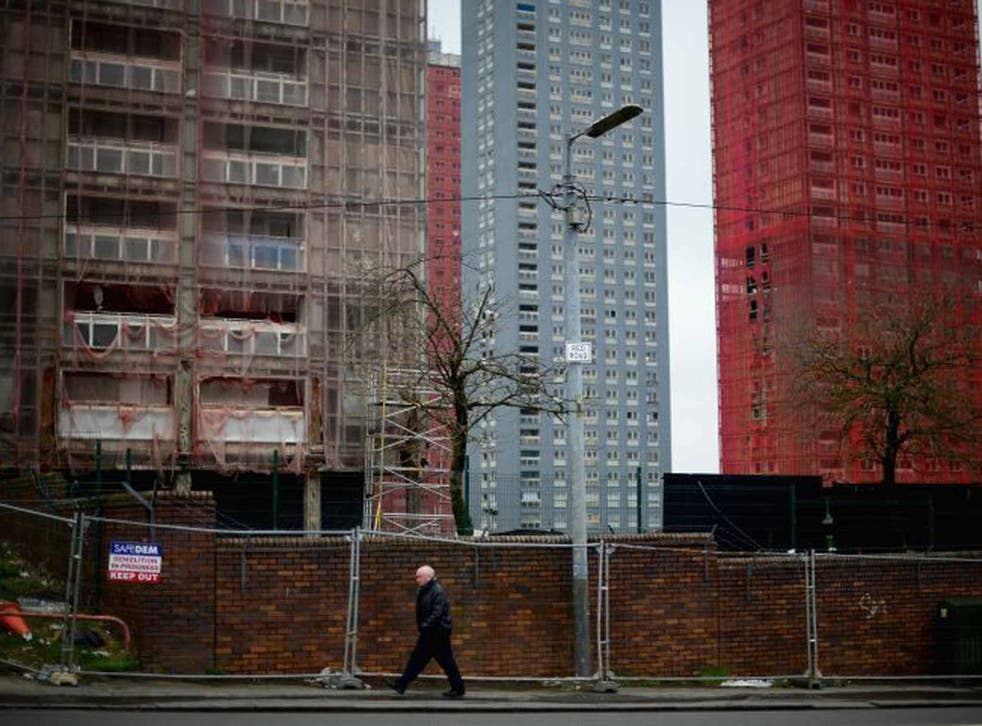 Rodney and Del Boy's flat in the fictional Peckham tower block Nelson Mandela House was the butt of jokes in the 1980s. But if the Only Fools and Horses pair had bought and stayed put, their dream of becoming millionaires next year might have come true. Because today, tower blocks are desirable again – as a new project to celebrate them is rolled out.
Miles Glendinning – a professor of architectural conservation at Edinburgh College of Art – has set himself the task of counting up every multi-storey post-war housing project in the UK for a "Domesday Book" of tower blocks. He'll be sharing this information as part of the new Tower Blocks – Our Blocks! project, which is due for completion in 2017.
Glendinning and German academic Stefan Muthesius originally photographed nearly all of the 6,400 council tower blocks of six storeys and higher that were still standing in the late 1980s. "I visited every one except those in North Wales and Anglesey," Glendinning explains from Edinburgh. "We originally collected the material for a book." That book was 1994's Tower Block – one of the first attempts to rehabilitate the idea of mass social housing, to show that it was a good thing.
London built dense estates such as Spa Green in Clerkenwell and Churchill Gardens in Pimlico in the late 1940s. But perhaps the first real high-rise tower block was Frederick Gibberd's The Lawn, a nine-storey butterfly design built in Harlow in 1951, and now listed. The 1960s were the real age of the tower block – hundreds were built. But after Ronan Point in West Ham blew up in 1968, and the riots at Broadwater Farm in 1985, tower blocks were painted as social and architectural failures – making it easier to knock them down or flog them for profit.
Making the grade: Newly listed post-war office buildings

Show all 14
Today, it's changed again – Denys Lasdun's Keeling House, with its cluster balconies replicating a Victorian terrace, and Erno Goldfinger's sculptural Balfron Tower (both in east London) are hot property – just like the Barbican's three high-rises. They're stylish, architectural one-offs. But making these blocks des res is bad news for the council tenants who've been shunted out by buyers.
Having counted all of Britain's tower blocks, Glendinning and Muthesius have now made a fully searchable website, towerblock.org, where Glendinning will make all the material available in a new online format. "These photos have been sitting in a box for 30 years," he reflects. "First, we'll be digitising the 35mm slides. They're fragile Kodachromes. Secondly, we'll be building a searchable, fully interactive website. Thirdly, we're establishing community groups in places such as Wolverhampton and Edinburgh to help people access the material."
Crucially, the archive will contain photographs and information about tower blocks that have bitten the dust – about 4,000 are left. Glendinning rates Aberdeen's blocks: "They were looked after. They're thrifty there!" At the opposite end of the spectrum was Glasgow, a veritable forest of tower blocks. When you land at Glasgow airport it looks like you're approaching a real-life version of Le Corbusier's theoretical Ville Radieuse, a madcap metropolis of towers and expressways. Glasgow loved its tower blocks, then suddenly hated them. It famously wanted to demolish its Red Road flats live during the 2014 Commonwealth Games opening ceremony. "That's Glasgow!" laughs Glendinning. "It had the opposite policy [to Aberdeen's]. Spend lots of money on tower blocks – and then leave them to get ripped to bits."
Perhaps surprisingly, Glendinning doesn't mind system-built blocks – ones pre-made in factories and then bolted together. "I don't have the attitude that the towers built by elite architects were the best. I quite like the repetitive ones."
For some people, the tower block is a peeling, priapic menace on the skyline; a middle finger to good taste. But as we realise that selling off the family silver and demolishing council flats has created a huge housing crisis, maybe, finally, we can also see the tower block as a graceful symbol of housing for all and a towering achievement of the welfare state.
Register for free to continue reading
Registration is a free and easy way to support our truly independent journalism
By registering, you will also enjoy limited access to Premium articles, exclusive newsletters, commenting, and virtual events with our leading journalists
Already have an account? sign in
Register for free to continue reading
Registration is a free and easy way to support our truly independent journalism
By registering, you will also enjoy limited access to Premium articles, exclusive newsletters, commenting, and virtual events with our leading journalists
Already have an account? sign in
Join our new commenting forum
Join thought-provoking conversations, follow other Independent readers and see their replies