Banksy painting depicting MPs as chimpanzees sells for record £9.9m at auction
'Devolved Parliament' surpasses its estimated £2m price tag several times over at Sotheby's sale
Banksy painting depicting MPs as chimpanzees sells for record £9.9m at auction
A Banksy painting depicting chimpanzees sitting in parliament has sold for more than £9 million at auction, breaking the record price for a work by the elusive British street artist.
"Devolved Parliament", in which chimpanzees replace politicians in the House of Commons, comfortably surpassed its estimated price tag of £1.5m to £2m, with the auctioneer declaring "history being made" at one point during the sale which was streamed live.
After bidding that lasted some 13 minutes, the 2009 artwork from a private collection sold to loud applause for a hammer price of £8.5m, to which fees are added giving a final price of £9,879,500 ($12.2m).
"Record price for a Banksy painting set at auction tonight. Shame I didn't still own it," Banksy wrote on his Instagram feed.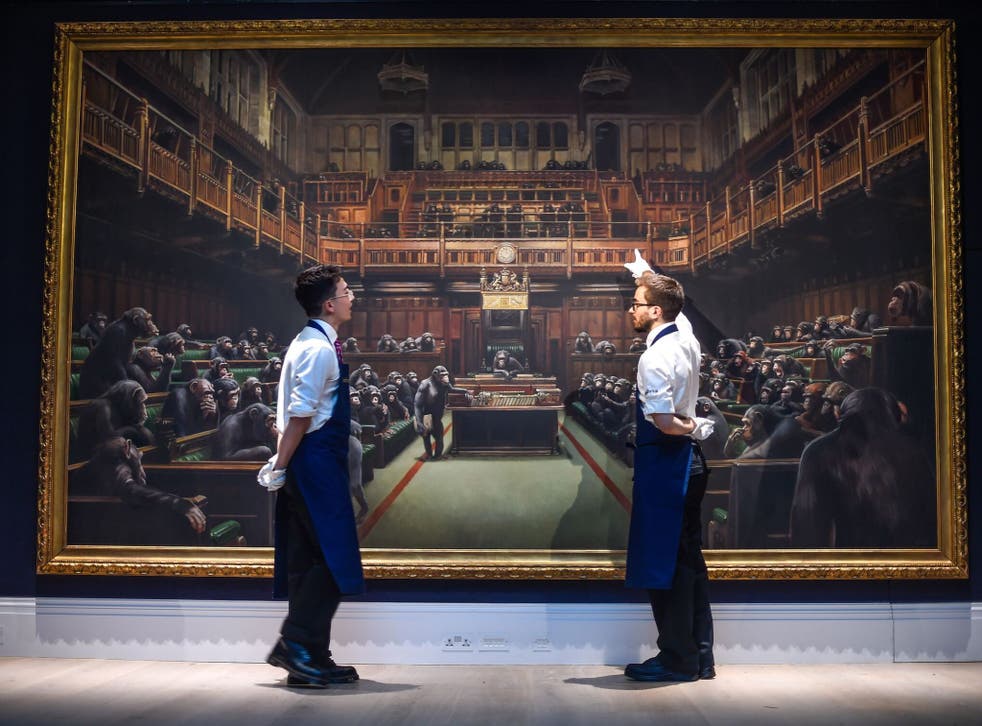 He added a quote by critic Robert Hughes about the value of artworks: "The price of a work of art is now part of its function, its new job is to sit on the wall and get more expensive.
"Instead of being the common property of humankind the way a book is, art becomes the particular property of someone who can afford it."
Before Thursday's sale, the auction record for a Banksy work was £1.4m for "Keep it Spotless" which sold at Sotheby's in New York in 2008, according to Sotheby's.
Best of Banksy

Show all 68
"Devolved Parliament" measures 13 feet (4 m) long, making it Banksy's largest known canvas. Despite being painted in 2009, many commentators have drawn comparisons to current-day politics, namely the increasing chaos witnessed in the House of Commons over Brexit.
The Bristol-born artist, who keeps his identity a secret, is known for his political or social-commentary graffiti work that has popped up in cities around the world.
Thursday's sale came a year after another Banksy canvas, "Girl with Balloon", shredded itself in front of shocked onlookers at a Sotheby's auction just as it was sold.
It also follows the unveiling of a new installation in Croydon, south London, amid a legal dispute between Banksy and a greetings card company.
The new store, called Gross Domestic Product, will span the windows of a former south London carpet shop and sell a range of "impractical and offensive" merchandise created by the artist.
In a statement, Banksy said the motivation behind the venture, on Church Street in Croydon, is "possibly the least poetic reason to ever make some art".
"A greetings cards company is contesting the trademark I hold to my art, and attempting to take custody of my name so they can sell their fake Banksy merchandise legally," he said. "I think they're banking on the idea I won't show up in court to defend myself."
Items being sold in the shop include a Union Jack stab-proof vest worn by the rapper Stormzy during his Glastonbury performance and a model of Frosties cereal character Tony the Tiger, re-imagined as a rug. Welcome mats made from life vests salvaged from the shores of the Mediterranean, which have been hand-stitched by women in detainment camps in Greece, are also on display.
Additional reporting by Reuters
Join our new commenting forum
Join thought-provoking conversations, follow other Independent readers and see their replies