Second British artist accuses China of copying work after statue 'identical' to London sculpture spotted in Shanghai
Exclusive: Discovery follows Anish Kapoor's accusation of 'blatant plagiarism' in China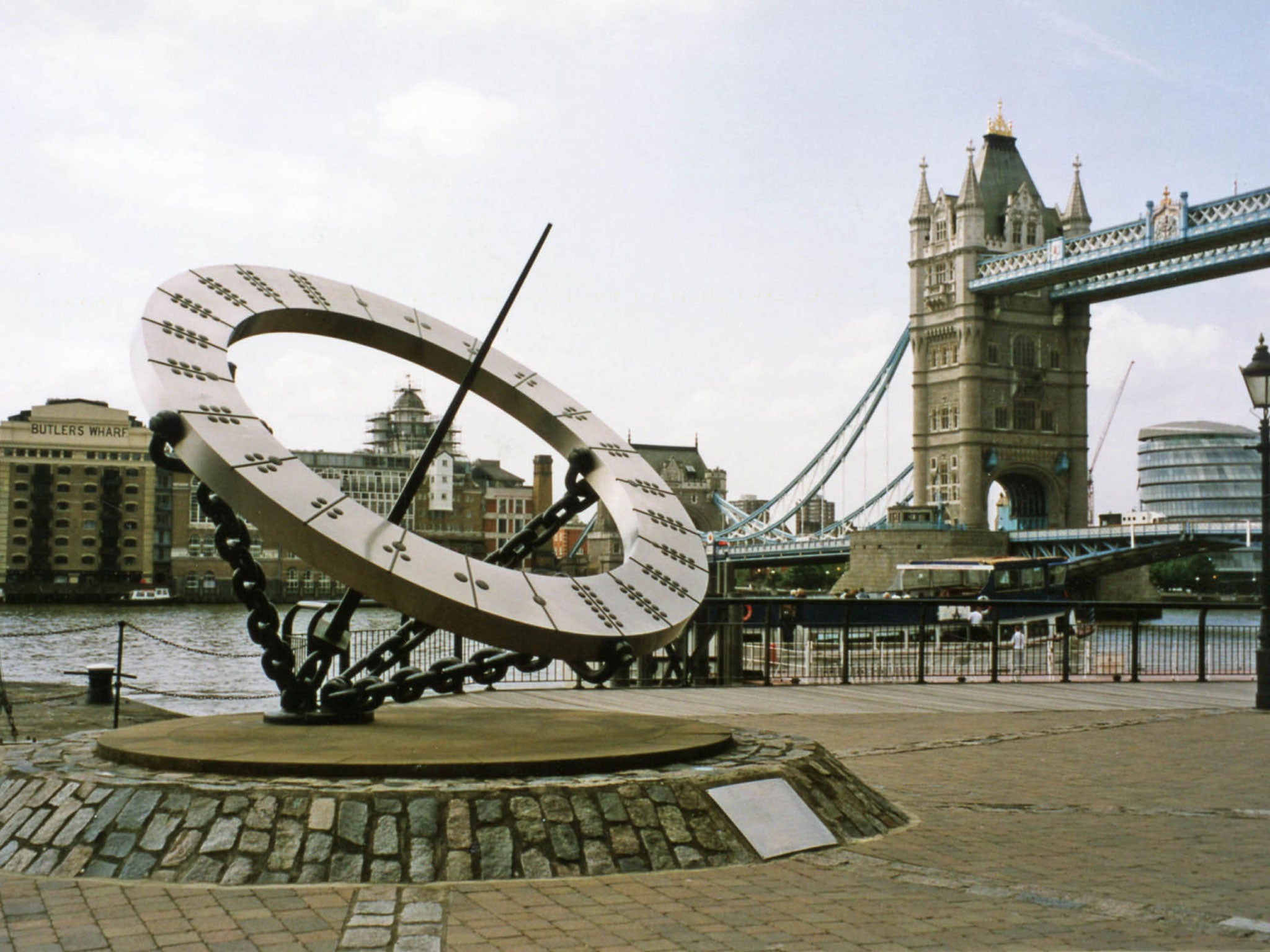 An iconic London sculpture has been "copied" on a housing development in China, in the latest controversy over alleged plagiarism of British art, The Independent can reveal.
Wendy Taylor CBE was shocked to be sent a photo of a sculpture almost identical to her 1973 work Timepiece, placed amid blocks of flats on the banks of the Huangpu River in Shanghai.
The sculptor was alerted by an art aficionado who came across the installation on holiday and emailed a photo to check whether the work was hers.
"At first I thought someone had done a clever Photoshop and changed the background, but then I looked more closely and thought 'oh my god no, this is a complete copy'," Ms Taylor said.
"They only difference is the angle has been changed for the time.
"I know it happens and I have had works copied before – they always say it's a coincidence but in this case it's absolutely blatant."
Ms Taylor says the Chinese sculpture is "almost an exact copy" of Timepiece, from the steel ring washer sundial with its central pointer – designed to resemble a dockyard nail – to the chains supporting it and base mimicking London cobblestones.
As the work's details were specific to the London context in which it was created, she insists they "cannot have been recreated by accident or coincidence".
The Grade II listed original has sat next to Tower Bridge for more than four decades as a tribute to the history of the Docklands, while functioning as a giant sundial.
"It's a very familiar landmark and it's very personal to me," Ms Taylor said. "It is by the dock where my family worked many years ago.
"It's got its own history and I'm so shocked, it was brazen [to copy it]."
The sculptor, who was made a CBE by the Queen in 1988 for her contribution to British art, has contacted the artists' rights organisation Dacs, as well as the UK and Chinese governments, but fears there is nothing she can do to have the apparent plagiarism remedied.
"Copyright law almost stops in Europe quite frankly, and Chinese laws are very different," Ms Taylor said.
"To take anyone to court or to do anything about it would be financially out of the question. It makes one so dispirited, it's very upsetting."
Her case follows British artist Anish Kapoor's complaint over the appearance of a sculpture, in the Chinese city of Karamay, resembling Cloud Gate, which was installed in Chicago in 2006 and has since become a famed tourist attraction.
"It seems in China today it is permissible to steal the creativity of others," Mr Kapoor said in August last year.
"The Chinese authorities must act to stop this kind of infringement and allow the full enforcement of copyright."
Modern British Sculpture - picture preview
Show all 10
Officials from Karamay's tourism bureau claimed any similarities to the Turner Prize winner's work were coincidental, arguing that the Chicago sculpture "has a bean shape" and theirs "looks like an oil bubble".
Chinese authorities were previously accused of copying art in 2013, when a series of huge yellow rubber ducks appeared after Florentijn Hofman's work Rubber Duck toured cities around the world.
Ms Taylor said she has received no response from China's cultural office in London, and attempts to trace the creator of the sculpture in Dongchang Riverside Greenland have been unsuccessful.
After appealing for help from the British Government, she received a response from the Department of Business, Energy and Industrial Strategy advising her to contact an attaché at the embassy in Beijing, to take the intellectual property complaint further.
"I'm only hoping that someone along the line will find out who the developers are," Ms Taylor said.
"I would like to see more pressure put on the authorities to do something about it – even if it's just to admit it's a copy.
"That's the only thing one can hope to come out of it is to raise pressure for the future."
Join our commenting forum
Join thought-provoking conversations, follow other Independent readers and see their replies