A guide to property on screen from High Rise's tower block to Sex and the City's apartments
With another film set to defame the tower block, Christopher Beanland does a screen property survey
Christopher Beanland
Sunday 13 March 2016 14:04 Comments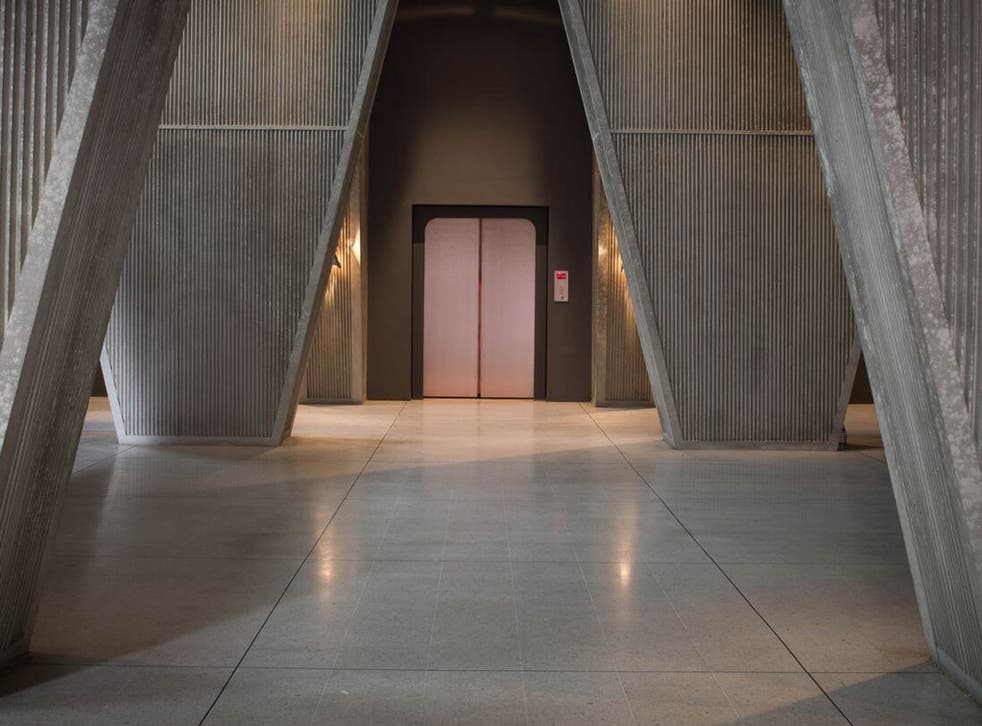 If you live more than a few floors off terra firma, then you might want to think twice before going to see High Rise, the latest macabre treat from maverick director Ben Wheatley.
Based on JG Ballard's violent, sex-saturated 1975 novel, it is a riot, quite literally, in which the residents of a brutalist tower block descend into anarchy.
Beautifully-framed, and imbued with a shady glamour, it is nevertheless unlikely to win brutalist buildings any new fans because of the demented way the titular building turns its residents as mad as hatters.
And it's hardly the first time that brutalism – or high rises – have been disparaged by film and TV makers.
In fact, it plays to convention when it comes to how architecture and property is portrayed on screen. Here's a rundown of the main tenets:
Tower Blocks are catalysts for social collapse
The tower block in High Rise is CGI and looks fantastical, deliberately so, one suspects, but if it evokes any real-life development, it's the Barbican Estate, another Seventies edifice with a similar stratification (executive penthouses at the top and the middle classes at the bottom) plus integrated leisure facilities and car parking. And specifically, the estate's Cromwell Tower, which opened in 1973 and would have certainly influenced Ballard as it was one of the few British tower-blocks not built for the poor. But, regardless of their social cachet, high-rise buildings typically end up being a downer for those who find themselves inside them, blighted as they are by fire (The Towering Inferno), terrorists (Die Hard) gorillas (King Kong) or aliens (Attack the Block). Again and again, filmmakers seems to reflect the mood of resentful city-dwellers who see skyscrapers as pieces of priapic posturing that block the skyline and need taking down a peg or two.
Culture news in pictures

Show all 33
Concrete is the stuff of dystopia
Height aside, mid-century architecture and developments have often been the setting for a future gone wrong: see 1966's Fahrenheit 451, which showed books being burned at the Alton Estate in Roehampton, or Kubrick's A Clockwork Orange, which used London's Thamesmead Estate as the hunting ground for Alex and his droogs. There is the odd exception to such concrete categorisation – Gregory's Girl shows tenderness in the grey Glasgow overspill town of Cumbernauld – but the most love you're likely to see for brutalism on screen is in Seventies propaganda films such as 1974's Living at Thamesmead, many of which are collected on author John Grindrod's website dirtymodernscoundrel.blogspot.com.
Villains are big fans of modernism
From to superhero flicks, big bads typically favour living in some kind of International Style villa on the crest of a hill, a classic example being John Lautner's Elrod House in Diamonds Are Forever. While in the fantastic documentary Los Angeles Plays Itself, Thom Andersen shows the beautiful modernist villas of LA that have been home to villains in the likes of LA Confidential and The Big Lebowksi. The overriding, unnerving question being: why must film-makers continually make wickedness so darned aspirational?
Nice characters live in nice houses
If baddies love stark, clean lines, heroes will invariably plump for a more comfortable, homely aesthetic. Well-appointed suburban mansions have typically been used as a receptacle of American family values in everything from sitcoms to teen dramas. And if anyone less affluent tries to mess with that American dream – say by burgling it, as in Home Alone – they will get their comeuppance. One of the most famous examples of a nice character's nice house is the renowned wood-panelled arts and crafts Lever House in Pasadena, which functions as Doc's abode in Back to the Future.
Flats are always cavernous
As the housing crisis bites ever further, so the envy we face at the hatefully charmed living arrangements of our screen counterparts is set to grow. In Sex And The City and its various rom-com clones, single characters in middle-or-low paying creative jobs are given to living out their romantic confusions in mystifyingly huge or plushly furnished apartments. And even when characters face the more realistic prospect of a flat-share, as in the seminal flat-share sitcom Friends, they are still lucky enough to live in unfeasibly spacious apartments in Manhattan, where a proper kitchen is typicaly considered a bonus. It's only recently that the realities and privations of modern city living have become apparent in shows like Channel 4's recent sitcom Crashing, about a group of people living together in a disused hospital as property guardians.
Stately homes are sinister
Of course they are – look at them, with their turrets and gargoyles, gated off and sitting pretty. And well, the aristocracy, despite what Downton Abbey might suggest, is a sinister beast. That's why Hammer horror films had the action take place in some castle or stately home in Transylvania (even though it was actually in Buckinghamshire) and why Eyes Wide Shut's deviant orgies took place in a country house.
Caravans are funny
In Ben Wheatley's hilarious previous film Sightseers, the half of the humour that doesn't come from the Brummie accents comes from the murderous couple's caravan. Elsewhere, in much-underrated Canadian comedy Trailer Park Boys, the Sunnyvale Trailer Park provides the perfect surreal setting for its leads' silliness; and the funniest episode of The Inbetweeners is the one that takes place at a caravan park. From their flimsiness to their kitsch styling, they're rarely less than inherently amusing.
What you see is never quite what you get
Movie-making, as we all know, is a big fat lie. But we're fine with that – we go to the cinema for escapism. High Rise, for example, was shot in an abandoned leisure centre in Northern Ireland. Now even whole cities double for others because they have such a variety of architecture. Vancouver has played every American city, Glasgow played Philadelphia in World War Z and latterly Belgrade is wooing movie makers with a promise that it can look like Moscow, Paris, or even London. Meanwhile almost every US TV show that isn't shot on location films portions of scenes at these huge LA complexes like Warner Studios in Burbank whose generic "city" backdrops and fake "suburbs" look right out of The Stepford Wives or Pleasantville. Conversely, The Truman Show flipped the formula, wonderfully toying with the idea of what is and isn't real. Its fake TV town is in fact a bona-fide location: the pastel beach resort of Seaside in Florida.
'High Rise' is released on 18 March
Register for free to continue reading
Registration is a free and easy way to support our truly independent journalism
By registering, you will also enjoy limited access to Premium articles, exclusive newsletters, commenting, and virtual events with our leading journalists
Already have an account? sign in
Join our new commenting forum
Join thought-provoking conversations, follow other Independent readers and see their replies