American sculptor Richard Serra has planted four 50ft steel towers in Qatari desert for latest project East-West/West-East
The man routinely referred to as the world's greatest living sculptor says the work is "the most fulfilling thing I've ever done" despite the fact that he doesn't know if it will ever be seen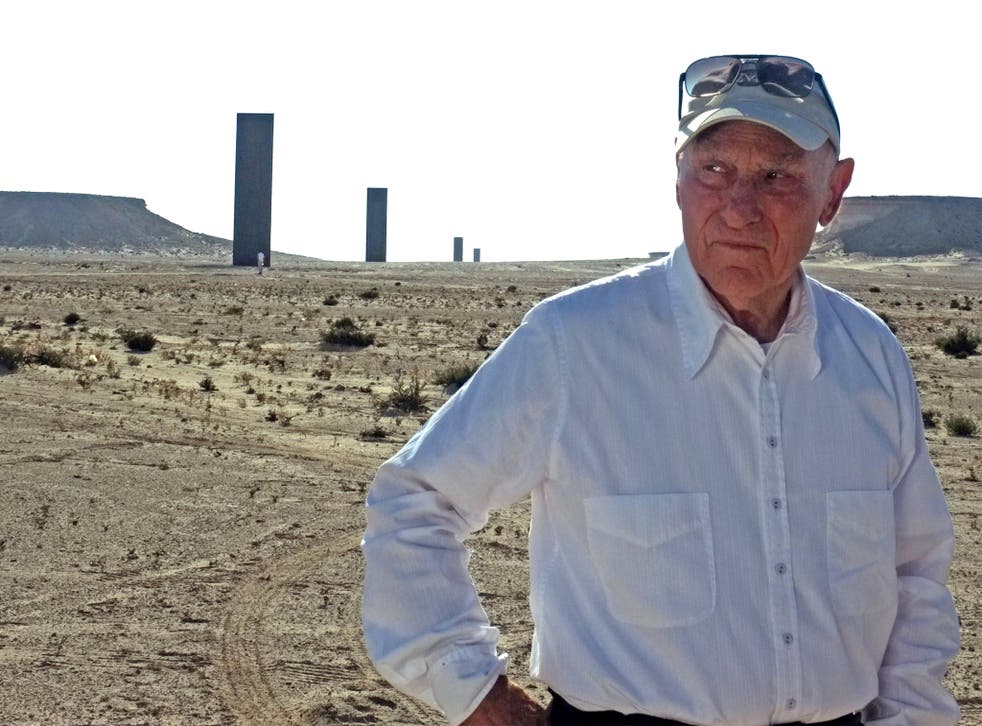 The man routinely referred to as the world's greatest living sculptor - voted third greatest living artist in a Vanity Fair poll last year - is worried. "This is the most fulfilling thing I've ever done," says Richard Serra, talking about his latest work. "It's a piece that I'd really like to be seen, and I don't know if it will."
Still sinewy, but now more softly spoken, the 74-year-old American "Man of Steel" looks fretful. This might seem strange; don't crowds flock to Serra exhibitions across the continents? But the work in question, East-West/West-East, is hardly in the most accessible of locations – in the middle of the desert in the Zekreet Peninsula on the west coast of Qatar, an hour's drive from the capital, Doha.
Why, then, did he choose this place to erect the four steel plates, two of which rise 14.7 metres above the ground and the others 16.7 metres, which, adjusted for the topography, means that they are all level with each other, and with the gypsum plateaus either side?
"I've been coming here for about 12 years," says Serra, over tea at the Four Seasons hotel in Doha. He was introduced to Sheikha Mayassa, Chairperson of the country's Museums Authority and the sister of Qatar's new Emir, by IM Pei, the architect of Doha's iconic Museum of Islamic Art, when she was still a student.
"And when I first came Sheikha Mayassa said to me, 'you should build a piece in the landscape'. I said, 'what landscape?' She said, 'the desert'." Serra replied that he'd never had any desire to build in the desert, but that he'd go and take a look. When he did, the site at Zekreet "really caught my imagination. You have a ground plane and then an elevation of about 16 metres, so it's a bit like you have two elevation planes within one field." For an artist who says "I consider space to be my primary material," that was an exciting prospect.
The works are stunning, rising like great pillars in a one kilometre corridor between the crumbling cliffs that make Zekreet a regular destination for residents and tourists. Although obviously modern, built in smooth steel already beginning to acquire the russet patina of rust that is the trademark of Serra's latter works, as opposed to his early sculptures in lead, they seem timeless: as though they have already stood there for centuries and will stand there for centuries to come, watching civilisations rise and fall. "Let's hope!" says Serra. "It's hard for me to speak of that, but I think that's implied in the work."

Serra's public art has always been driven by the desire to "take sculpture off the pedestal and into the street". To him, the content of the work derives from the interaction of the viewer with that work – which means he has pedestrians in mind. "Did you walk it?" he asks, when I tell him I'd made the trip out to see the pillars the previous afternoon. "I see the site as one to be experienced, to be walked, but you can't force that." This is a country, after all, where the temperature reaches 50C in summer. Even on a spring afternoon, the steel plates have absorbed enough heat to slow cook scrambled eggs. Come June, they will be far too hot to touch, and walking is hardly a way of life here.
As well as the desert commission, Serra has two shows opening in Doha, a retrospective at the QMA Gallery in the Katara cultural village, and a new work, Passage of Time, taking up the whole of the 5,000 square metres of the Al Riwaq exhibition space on the Corniche. In December 2011, he erected a tower, 7, on a specially built pier next to IM Pei's museum. It's obvious why he's happy to come here: "I've had a terrific relationship with Qatar. They've given me pretty much free rein to do what I wanted to do, with an unlimited budget and freedom to select the sites. In one instance – with the museum – I made the pier, we constructed the whole thing. That is a very rare situation. An artist couldn't ask for anything more."
But what does he think people in Qatar – where there has been no tradition of public art – will make of it? "I have no idea. What I think is interesting about 7 and the piece in desert is that you don't have to know anything about art – you're just going to get an experience that's different from most other sculpture. Then you can digest how or why it's different."
He elaborates on the Zekreet pillars and their almost eerily barren surroundings: "Before, there was no way of discerning where anything was in relation to where you were, because you had no point of reference. What that piece does is give you a point of reference in relationship to a line, and your upstanding relationship to a vertical plane and infinity, and a perspectival relationship to a context – and pulls that context together. It makes it graspable. That's actually a place out there now, and there certainly wasn't one before. We did that simply by putting up four plates."
He acknowledges that may not be quite how local viewers put it. "You just have to present it and see how people react. You can't spoon-feed... Because to try to force a meaning, to tell them what it's supposed to be seems to me futile... You can point them in a direction, but they are going to have to find an experience that they want to return to."
He goes on: "I think this country is trying to jump centuries, and that's a hard game. But it's a phenomenon, there's nothing quite like it." Something that will almost certainly be said, whether they like it or not, by those who come across Serra's new towers in the sand.
Richard Serra is at QMA Gallery , Katara, and at Al Riwaq exhibition space on the Corniche, both in Doha, Qatar, to 6 July. East-West/West-East is in the Brouq Nature Reserve, near Zekreet, Qatar, for significantly longer ( richardserraqatar.qa/en/)
Register for free to continue reading
Registration is a free and easy way to support our truly independent journalism
By registering, you will also enjoy limited access to Premium articles, exclusive newsletters, commenting, and virtual events with our leading journalists
Already have an account? sign in
Register for free to continue reading
Registration is a free and easy way to support our truly independent journalism
By registering, you will also enjoy limited access to Premium articles, exclusive newsletters, commenting, and virtual events with our leading journalists
Already have an account? sign in
Join our new commenting forum
Join thought-provoking conversations, follow other Independent readers and see their replies