Anna Ray, artist: 'Textile should have a mystery about it'
Karen Wright meets the artist in her studio in in Rickmansworth, a small Hertforshire commuter town
Karen Wright
Thursday 21 January 2016 17:14 Comments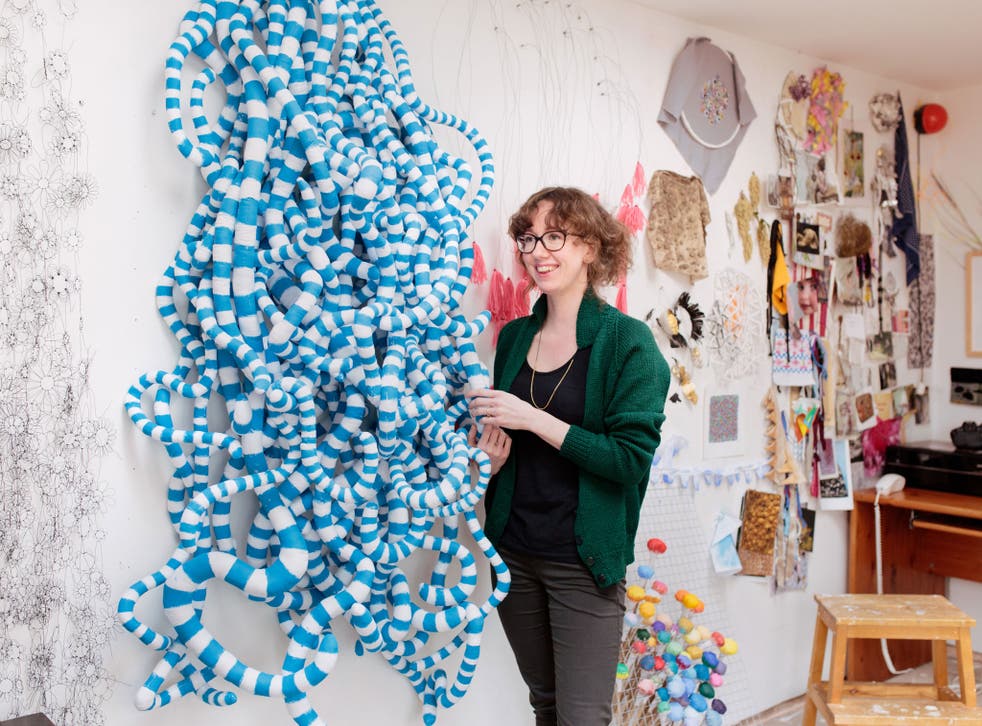 Anna Ray lives in a 1950s cul-de-sac in Rickmansworth, a small Hertforshire commuter town, 20 miles north-west of London. She and her husband bought the house four years ago, transforming what she calls a "wreck" into a comfortable family home and studio. "You know what it's like: you have a baby and it's 'How can I do this stuff, pins and needles, and how can I manage it all?'"
A graduate of the Edinburgh College of Art tapestry course, Ray was mentored by the weaver Maureen Hodge. She encouraged Ray to do work that pushes the parameters between what would be considered craft and art, including embroidery and weaving. Although she works without a gallery, her website has brought her attention and important clients.
"There is a huge market suddenly for what I'm doing, because as tapestries brought warmth to big cold buildings hundreds of years ago, now the Modernist glass chrome, clean, business environments need energy, surface and humanity, and that's what a textile can bring."
Culture news in pictures

Show all 33
Her knot piece, now installed in a lawyers' office in Birmingham, was initially inspired by the unprepossessing underwires in bras. "My first response is always what available materials have I got: paper, fabric, how do I make this? And I just made a version in fabric."
Unlike the traditional idea of narrative tapestries, Ray pushes materials and colour, her technique making them abstract. "To me, a textile should have a kind of ambiguity, or should have a mystery about it."
Because she studied and taught tapestry in Edinburgh for 10 years, Ray is often considered a Scottish artist although she was born in Leeds in 1975, where her parents still live. She has craft in her blood "because my ancestors, I now know, were Huguenot silk weavers". As a child she experimented with games like pick-up sticks. "I was always inspired and fascinated by repetitive games, and also fascinated by the computer and the idea of pixillation and pointillism, so it was sort of a combination of those things..."
There is nothing boring or monotonous about her work, though it relies on repetition. Ray's studio is full of experimentation. Tassles of coloured wool hang from long strings; what appear to be disembodied dolls' limbs have been dipped in different materials like milk and sugar and there are wooden drumsticks with varying hues of materials sticking into a wire form to create an abstract picture.
The framed works on the wall that I thought were luminous watercolours reveal themselves as fine embroideries.
"The fine art world would have a problem because of course I was sewing, and in some instances, my work was in exhibitions where they didn't realise it was embroidered because it was so beautifully embroidered. And so I never really fit in. But that doesn't really bother me because in a way I don't like to fit in."
Register for free to continue reading
Registration is a free and easy way to support our truly independent journalism
By registering, you will also enjoy limited access to Premium articles, exclusive newsletters, commenting, and virtual events with our leading journalists
Already have an account? sign in
Join our new commenting forum
Join thought-provoking conversations, follow other Independent readers and see their replies