The arts are an essential service – as vital as health, education, defence
The Tories' cash injection is not before time, says Mark Hudson, but it's still a box of band-aids rather than a life-saving transfusion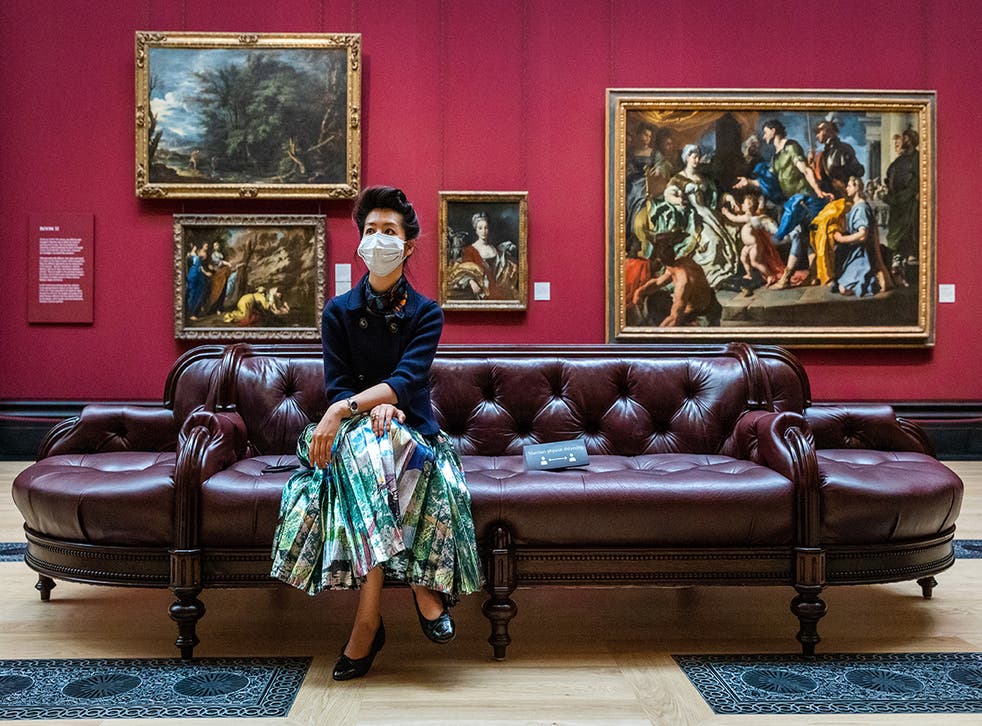 The government's announcement of a £1.57bn bailout for the culture sector is an acknowledgement – if somewhat belated – of the vital importance of the arts in our national life. "The beating heart of the nation," boomed the prime minister. And if that's hardly the subtlest of metaphors, for once Johnson got it essentially right.
There's a tendency to think of theatres, art galleries and concert halls as optional luxuries in the wider struggle of life: frivolous add-ons that societies can afford to enjoy once they've paid for the really important things: health, education, infrastructure, defence. In fact, the arts, culture – whatever you want to call it – performs a vital function in our society, just as essential, in my opinion, as any of the so-called essential services we've been hearing so much about.
Indeed, while the past four months have left us feeling profoundly, and entire rightly, grateful to the NHS and the dedicated professionals who have risked – and in some cases given – their lives to keep the system going, this period has equally demonstrated the absolute centrality of the arts to the mental and physical health of the nation.
While we've been cooped up in our domiciles, deprived of life-giving social contact, put on furlough, losing our jobs and our loved ones, what have we actually been doing? While some have been driven frantic trying to homeschool children, while maintaining demanding jobs from the kitchen table, many more have been thrown back entirely on their own emotional resources. When final assessments are made, the Covid-19 pandemic and its lockdown will be found to have been as much a crisis in mental as physical health. And the things we've found to fill that terrifying spiritual and emotional gap – that sense of the abyss yawning beneath us – have been to a very large extent, and in the broadest sense, cultural.
Watching telly and posting years-old holiday snaps or listening to your favourite albums on Facebook may not be the most elevated of cultural pursuits, but they cater in varying ways to the imaginative and expressive impulse that is at the root of all art forms, and which can manifest itself in extremely destructive – as well as very positive – ways if not properly nurtured: from insanity, murder and suicide, to sexual abuse, drugs and alcohol addiction.
The public has, in addition, been giving concerts via Zoom, often at an exemplary level, writing poetry (very much less exemplary, if my efforts were anything to go by), gardening, reorganising their photo archives, finishing novels, doing table-top art exercises set by famous artists. Many of the latter were piffling – I, for one, can't wait to be rescued from Grayson Perry's Art Club – but they show we just need to do this stuff. We've been on virtual gallery tours, seen great masterpieces locked away from the public gaze, with the feeling, certainly at the height of the lockdown when we were endlessly hearing that "things will never go back to the way they were", that this was as close to a gallery visit as we would ever get again.
Now, with lockdown slowly lifting, the museums and galleries are among the first cultural institutions to open their doors – with the National Gallery allowing its first visitors last Saturday – and they're opening onto a very different world to the one they closed them on in March. Blockbuster exhibitions, those resource-heavy mainstays of the big galleries will be in short supply in the stark and straitened post-Covid landscape, while more than 50 per cent of museum and gallery directors surveyed by the museum charity the Art Fund doubt the future viability of their institutions: from attracting visitors back to maintaining valuable collections.
These are grave questions. We've grown used to having culture on tap, as freely available as water or gas, and actually much cheaper to the consumer. The Victorians gave us our big national and municipal galleries, which are still free to enter. The post-war period gave us the Arts Council and all its works, while the late Nineties and early Noughties gave us a whole raft of spanking new, architecturally remarkable provincial galleries – Tate St Ives, Hepworth Wakefield, Margate's Turner Contemporary – that have added immeasurably not only to the appeal of our towns and cities, but to the creative, cultural, social and, yes, economic vitality of the country.
The future of this great national resource is by no means guaranteed. The idea of museums and galleries going the way of pubs, banks and petrol stations as redundant chunks of real estate is horrible to contemplate.
Last autumn saw a £100m injection of government cash into the crumbling fabric of our national museums and galleries, a gesture that while very much welcomed was seen as more of a sticking plaster than a permanent remedy. In that context, the current £1.57m bailout, across the entire cultural sector – the breakdown of how it will be used has yet to be announced – feels more like a box of band-aids than a life-saving transfusion.
There are desperate times ahead for the cultural sector. Yet, on the question of attracting audiences back, I'm personally optimistic. After four months of online culture under effective house arrest, which has felt like a lifetime, people will be screaming to get back into real-life cultural spaces, with actual, physical works of art, where the injunction "please don't touch the exhibits" will feel like a wonderful luxury. We need to support our museums and galleries, not just by giving donations and spending money in the cafe and shop, but by using them, making them ours, as their founders intended. It's only when you've been deprived of the experience of being in a gallery or museum with other people, even if you don't know them, speak to them or even look at them, that you realise what a precious, life-enhancing and essentially social experience that is.
Join our new commenting forum
Join thought-provoking conversations, follow other Independent readers and see their replies