Art of making money: How does a dead fish sell for £12m and who's writing all the cheques?
By what alchemy does a dead fish sell for $12m? How can a discarded leather jacket be worth $690,000? And who's writing the cheques? Don Thompson spent a year trawling the murky waters of the contemporary art market to find out
Friday 11 January 2008 01:00 Comments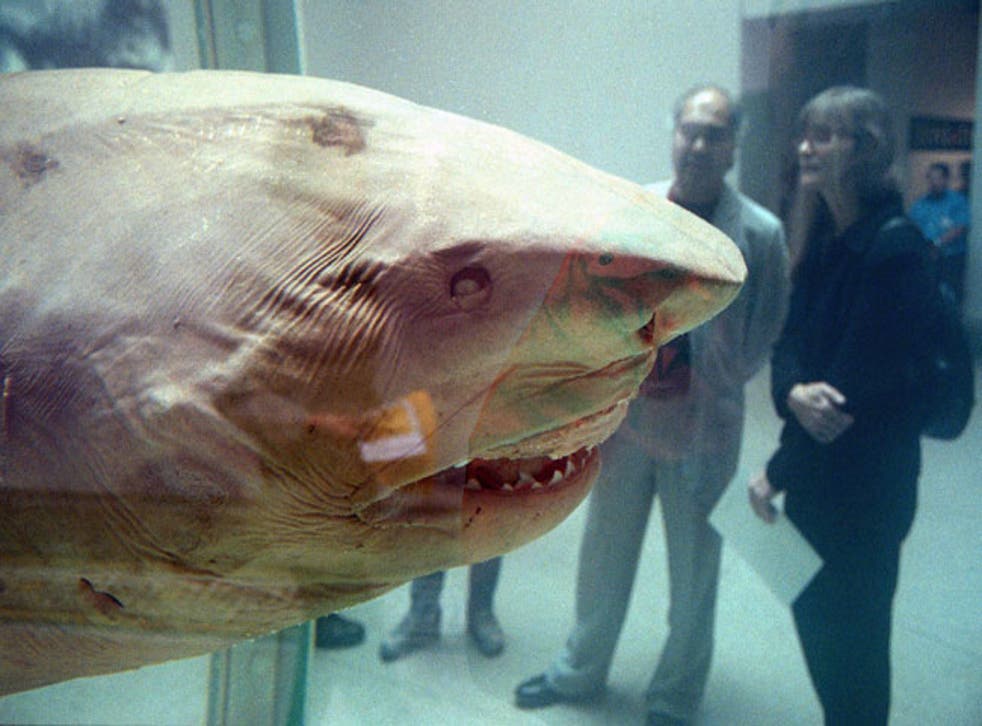 Green, wrinkled, and twelve million
One problem for the agent trying to sell the stuffed shark was the $12m asking price. Another was that it weighed just over two tons and was not going to be easy to carry home. The 15ft tiger shark "sculpture" was mounted in a giant glass vitrine and creatively named The Physical Impossibility of Death in the Mind of Someone Living. It had been caught in 1991 in Australia and prepared and mounted in England by technicians working under the direction of the artist Damien Hirst.
Another concern was that, while the shark was certainly a novel artistic concept, many in the art world were uncertain as to whether it qualified as art. The question was important because $12m represented more money than had ever been paid for a work by a living artist, other than Jasper Johns – more than for a Gerhard Richter, a Robert Rauschenberg or a Lucian Freud.
Why would anyone even consider paying this much money for the shark?
Part of the answer is that in the world of contemporary art, branding can substitute for critical judgement, and lots of branding was involved here. The seller was Charles Saatchi, an advertising magnate and art collector, who 14 years earlier had commissioned Hirst to produce the work for £50,000. At the time, that sum was considered so ridiculous that The Sun heralded the transaction with the headline: "50,000 For Fish Without Chips". But Hirst intended the figure to be an "outrageous" price, set as much for the publicity it would attract as for the monetary return.
The agent selling the shark was New York-based Larry Gagosian, the world's most famous art dealer. One buyer known to be pursuing the shark was Sir Nicholas Serota, the director of London's Tate galleries, who had a very constrained budget to work with. Four collectors with much greater financial means had shown moderate interest. The most promising was the American Steve Cohen, a very rich Connecticut hedge-fund executive.
Hirst, Saatchi, Gagosian, Tate, Serota and Cohen represented more art-world branding than is almost ever found in one place. Saatchi's ownership and display of the shark had become a symbol for newspaper writers of the shock art being produced by the group known as the Young British Artists, the YBAs. Put the branding and the publicity together and the shark must be art, and the price must not be unreasonable.
There was another concern, serious enough that, with any other purchase, it might have deterred buyers. The shark had deteriorated dramatically since it was first unveiled at Saatchi's private gallery in London in 1992. Because the techniques used to preserve it had been inadequate, the original had decomposed until its skin became heavily wrinkled and turned a pale green, a fin had fallen off, and the formaldehyde solution in the tank had turned murky.
The intended illusion had been of a tiger shark swimming towards the viewer through the white space of the gallery, hunting for dinner. The illusion now was described as entering Norman Bates's fruit cellar and finding Mother embalmed in her chair. Curators at the Saatchi Gallery tried adding bleach to the formaldehyde, but this only hastened the decay. In 1993, the curators gave up and had the shark skinned. The skin was then stretched over a weighted fibreglass mould. The shark was still greenish, still wrinkled.
Damien Hirst had not actually caught the now-decaying shark. He'd made "shark wanted" telephone calls to post offices on the Australian coast, which put up posters giving his London number. He'd paid £6,000 for the shark: £4,000 to catch it and £2,000 to pack it in ice and ship it to London.
There was now the question of whether Hirst could replace this rotting shark simply by purchasing and stuffing a new one. Many art historians would argue that if refurbished or replaced, the shark became a different artwork. If you overpainted a Renoir, it would not be the same work. But if the shark was a conceptual piece, would catching an equally fierce shark and replacing the original using the same name be acceptable? Dealer Larry Gagosian drew a weak analogy to American installation artist Dan Flavin, who works with fluorescent light tubes. If a tube on a Flavin sculpture burns out, you replace it.
Charles Saatchi, when asked if refurbishing the shark would rob it of its meaning as art, responded: "Completely." So what is more important – the original artwork or the artist's intention?
Nicholas Serota offered Gagosian $2m on behalf of Tate Modern, but it was turned down. Gagosian continued his sales calls. When alerted that Saatchi intended to sell soon, Cohen agreed to buy. Some journalists later expressed doubt as to whether the selling price for Physical Impossibility actually was $12m. Several New York media reported that the only other firm offer aside from that made by Tate Modern came from Cohen, and that the actual selling price was $8m. New York magazine reported $13m. But the $12m figure was the most widely cited, it produced extensive publicity, and the parties agreed not to discuss the amount.
Branded auctions
Half an hour before an evening auction at Christie's or Sotheby's, in London or New York, black limousines sit two deep by the kerb outside the auction house, engines idling like getaway cars in a modern Mafia movie. Many who arrive by car will not register for a paddle – a numbered object the bidder shows to register a bid. They are there because evening art auctions are a place to be seen.
Inside the auction house's entrance is a hall packed with high-profile dealers, rich collectors and their advisers. The space is full of "wish I could remember the name" celebrities, with lots of real or faked greeting and air-kissing.
Acquaintances smile and extend their arms and mouth: "What work are you here for?"
The protocol in the entry hall before an auction is to air-kiss, right cheek then left cheek; if male to male, shake hands, grasp just above the other's elbow with the free hand and respond: "It's good to see you looking so well," and "I'm here for the Rothko," (or whatever work is on the catalogue cover, or is most expensive – no one will enquire further). Nobody asks names; very often they are relieved to escape without admitting they do not remember.
At the front of the auction room is a large television screen that projects each bid simultaneously in pounds, US dollars, euros, Swiss francs, Hong Kong dollars and Japanese yen. In May 2007, Sotheby's added Russian roubles to the conversion. Every bidder is perfectly competent to calculate their bidding position in the auction currency; the conversion is there to remind everyone what an international event this is.
Christie's and Sotheby's contemporary sales take place on successive evenings, the auction houses alternating which goes first. This is nominally for the convenience of foreign bidders, since it doubles the number of works available on one visit to London or New York. There is also psychology involved. An uncertain bidder is doubly persuaded; two auction houses and two different sets of specialists say that contemporary art is desirable, prestigious and a good investment. The unsuccessful bidder at the first auction may be a more determined bidder at the second.In May 2007, the New York auction at Sotheby's came first, on a Tuesday evening, with sales of 65 works totalling $255m (including the premium paid to the auction house by purchasers). Forty-one of the works sold for over $1m each. The high point of the sale was Mark Rothko's painting White Center (Yellow, Pink and Lavender on Rose), which brought a world record price for the artist and for any post-war or contemporary work at auction. The Rothko was owned by David Rockefeller, the 91-year-old retired chairman of the Chase Manhattan Bank, chairman emeritus of the Museum of Modern Art, and a well-known philanthropist. He had owned the painting since 1960, when he'd purchased it for $8,500 from Eliza Bliss Parkinson, the niece of Lillie Bliss, one of the three founders of MoMA.
Sotheby's had needed a feature work for their spring 2007 New York contemporary auction and feared Christie's would jump in with a pre-emptive offer. Auctioneer Tobias Meyer, famous for offering huge guaranteed prices for art he thinks will be successful, was reported by The New York Times to have guaranteed Rockefeller a price of $46m, even if the painting sold for less.
To put Sotheby's guarantee price of $46m in perspective, it was twice the previous auction record for a Rothko – $22.4m, achieved at Christie's in 2005. Instead of listing an estimate for the work, the catalogue stated "Refer Department", which means "call us and we'll tell you what we think". The amount quoted to those who called Sotheby's started at $40m, and had crept up to $48m by the day of the auction.
On the assumption that Rockefeller's seller's commission was waived and that Sotheby's incurred $600,000 in promotion costs, the auction house could make a profit only if the painting sold for over $47m. Less, and it would lose money.
During the auction, Tobias Meyer introduced Lot 31, White Center, with the words "And now..." This was followed by a long pause. The audience chuckled. Meyer spelled out the painting's full title and moneyed history, "From the collection of David and Peggy Rockefeller" – a lengthy introduction virtually never heard in evening auctions, where lots are normally introduced only by their number and the artist's name. David Rockefeller observed the proceedings from a private box.
The opening bid was $28m, $6m above the auction record for a Rothko. Six bidders pursued it in $1m bidding increments. Two and a half minutes later, Meyer hammered down White Center for $72.8m. Who bought it? One dealer identified a bearded Russian collector in a box adjacent to that occupied by Rockefeller. Sotheby's said it was sold over the phone to a client of Roberta Louckx, a Russian-speaking auction house specialist – perhaps the same bearded gentleman. The painting produced a profit of just over $16m for Sotheby's, including their share of the amount achieved above the guarantee price.
Sotheby's specialists had high hopes that, driven by the price paid for the Rothko, the total of $255m attained at their New York spring contemporary sale would be higher than that achieved at Christie's the next day. It was not to be. Twenty-four hours later, having auctioned an Andy Warhol silkscreen for $71.7m and set auction records for 26 artists, Christie's totalled a record $385m in sales. This obliterated Sotheby's short-lived record, and brought the total for the two evening sales to $640m.
What sort of work was included in two auctions totalling almost two-thirds of a billion dollars? The Rothko is museum-class. A less traditional example was Jim Hodges' No-One Ever Leaves, a leather jacket tossed in a corner. The title reflects the meaning of the work. It sold for $690,000, more than double the artist's previous auction record, and almost certainly a world record for any leather jacket.
Among other offerings from branded artists was a Jeff Koons vacuum cleaner mounted in a Plexiglas case, with fluorescent tubes on either side. Titled New Hoover, Deluxe Shampoo Polisher, it sold for $2.16m. The auction catalogue entry described it as "addressing social class and gender roles as well as consumerism". Superior in artistic merit, and a wonderful example of contemporary portraiture, was Francis Bacon's Study from Innocent X. An unidentified buyer set an auction record for Bacon at $52.7m, double the previous record of $27.6m.
When thinking about the potential prices for the works offered at the two auctions, one should remember that the key part of the word contemporary is "temporary". Look at a listing of major galleries from a 10-year-old art magazine like Frieze, and you will note that half no longer exist. Inspect 10-year-old evening sale catalogues from Christie's or Sotheby's and you'll find that half the artists are no longer being offered in evening sales.
Ten years from now, will there be collectors around willing to pay even more for works like Jim Hodges' leather jacket? If not – and many people think "not" is the likely outcome – and if these are not decorative objects that you might want to display in your home, why is some of the individual work in the evening auctions worth so much?
Branded dealers
The branded art gallery is interesting. It is often designed to be a not-very-friendly place for those who are "just looking", and visitors are not comfortable. Part of the psychology of the contemporary gallery is its decor. It is often windowless, and composed of rooms with flat-white walls. This featureless environment is meant to reinforce the idea that what is being viewed is "art", and that galleries are elitist.
Another fear is that if you look somewhat affluent and interested, the dealer may follow you around, speaking a form of dealer-code where cutting-edge means radical, challenging means don't even try to understand it, and museum-quality means if you have to ask, you can't afford it. The dealer may tell you what you should like and why: "Isn't it great? You can see how talented this artist is." Or they volunteer: "Charles Saatchi liked this." Did he like it enough to take it home? Few collectors think they have the self-confidence to respond: "Actually, your artist does disturbing work and I, like Mr Saatchi, would never want that painting anywhere near me."
The psychological barrier is more common to the branded, superstar gallery. Mainstream galleries and others lower on the dealer pyramid tend to be less psychologically daunting. A fascinating part of my research was the chance to spend time with dealers in the very top echelon. Some – Tim Marlow of White Cube, or Harry Blain of Haunch of Venison – were fun to talk to, smart, customer-aware and marketing-savvy. Others, such as Larry Gagosian, are unquestionably great marketers, but had a whole lot less interest in spending time with a non-customer like me.
The world of dealers includes men and women of the highest integrity, many of whom are experts on the work of the artists they sell, on the same level as museum curators or university professors. Examples include Julian Agnew and Anthony d'Offay with the Camden Town Group; Zurich dealer Thomas Ammann and New York dealer Ron Feldman on the work of Andy Warhol; Otto and Jane Kallir on Egon Schiele; and Tim Marlow and Harry Blain, mentioned above.
Anyone can purchase a business licence and become a dealer. There is no required background, no test, no certification. Superstar art dealers achieve that status by coming to the table not with graduate business or art degrees, although some have them. Rather, they have lots of operating capital, sometimes good contacts, judgement in choosing marketable artists, aggression in approaching collectors, and savvy in promoting their brand. And they have charm, although charm takes many forms. In many cases, luck plays a role.
It is the branded dealer who manages the long-term career of a mature artist, placing work with collectors, taking it to art fairs, placing it with dealers in other countries, working with museums. These dealers are the gatekeepers who permit artists access to serious collectors. They represent the established artist whose work brings newsworthy prices at auction. Being with a branded dealer allows the artist to hang out with other artists at the top of the food chain. Artists are very status conscious. Until artists get such representation, they don't often get to hang out.
The branded dealer undertakes a range of marketing activities that include public relations, advertising, exhibitions and loans. Most marketing is not intended to produce immediate sales, but rather to build the dealer brand and obtain coverage for the artist in art publications. Marketing starts with public relations: private dinners to introduce customers and art critics to new artists; brunches and cocktail parties at the opening of shows. That dealers sell art is implied in these roles, but never openly. The higher the dealer's status, the less the gallery acts like a commercial enterprise, and the less it looks like a commercial space. The superstar branded dealer's space resembles a museum, and never displays prices.
For a hot artist, the dealer's waiting list for their work is never first come, first to purchase. Gagosian or White Cube do not sell a painting by a hot artist; they "place" it. They then circulate information on which museum or collector has demonstrated faith in the artist by acquiring. Both formal and informal agreements between dealers and artists allow the dealer to discount "where it is worthwhile to place the art in an important collection". Museums demand and get even larger discounts.
A new buyer with no track record at the dealer has little chance of being high on the list to purchase a hot artist. Actually, this new buyer has little chance of even seeing the hot paintings, which will be kept in a small private room. What is hung in public areas is available for purchase but of lesser significance.
Art fairs, the final frontier
Fairs such as Art Basel are industry trade shows where dealers come together for several days to offer specialised works. The work offered at the best contemporary fairs equals in quality and quantity that offered by auction houses in an entire selling season. In their ongoing battle against Christie's and Sotheby's branding, money and private dealing, art dealers needed a slingshot to combat Goliath. The weapon they found was not mergers or blockbuster gallery shows, but branded, heavily marketed art fairs. The start of the 21st century was also the beginning of the decade of the art fair.
Today, there are four international fairs whose branding is such that they add provenance and value to contemporary art. They are to art what Cannes is to movie festivals. One is TEFAF, the European Fine Art Foundation fair, held each March and known as "Maastricht". Another is Art Basel, which every June draws collectors, curators and dealers to the Swiss city. A third is the spin-off Art Basel Miami Beach, which is held each December and has achieved fame for its blend of art, money and fashion. A fourth, the most recent addition, is London's Frieze, held each October.
These attract consignments that might have gone to evening sales at Christie's or Sotheby's. They feature the superstar dealers who come because the best fairs draw the best collectors. The collectors visit because superstar dealers are showing. It is what economists call a virtuous circle or network effect; it leads to a self-perpetuating oligopoly among a few top fairs. Each of the four fairs attracts the same collection of dealers, art advisers, curators, museum directors and artists, along with the accompanying public relations people and journalists, all asking each other which artist and work is hot.
Fairs represent a culture change in art-buying. They replace quiet discussions held in the gallery with an experience akin to the shopping mall, blending art, fashion and parties in one place. Collectors become shoppers who acquire impulsively, usually purchasing only one work by an artist. They may never visit the gallery of the dealer from whom they buy at a fair. With each fair, collectors become more accustomed to purchasing art in a shopping-mall setting.
Fairs offer collectors a high level of comfort. Just as the presence of underbidders reassures an auction bidder that he is not bidding foolishly, the sheer number of people and "sold" stickers at a fair alleviates the collector's uncertainty.
The psychology at a fair is referred to as herding: when a buyer does not have sufficient information to make a reasoned decision, reassurance comes from mimicking the behaviour of the herd.
Dealers reap great publicity if they handle their appearance at a fair properly. The downside for the dealer is that attending fairs is time-consuming and expensive. A dealer who goes to five fairs a year – the top four plus one in their home city – will spend seven or eight weeks away from the gallery, including travel, set-up and take-down time. The month before a major fair consists of a phone and internet-based pre-fair, during which dealers contact collectors and collectors check in with dealers. Five fairs cost the dealer £200,000 to £300,000, sometimes more – often more than the rent on their home gallery. But dealers queue to take part, because other dealers do.
Opening night at fairs is by invitation only, to dealers, press, and selected major buyers and agents. Half the most important works will sell in the first hour, half of those in the first 15 minutes. Buyers race from booth to booth, committing to a purchase or asking for a "hold" – and the dealer may say: "Ten minutes only, and give me your mobile number." There is none of the gallery approach of: "I will come back and look on the weekend," or "Can I hang it in my home for 30 days?'".
Pricing contemporary art
The starting point in setting a price for the work of a new artist is the dealer's reputation. For a mainstream gallery, and for an oil painting on canvas by an artist with no gallery history, £3,000-£6,000 ($5,400-£10,800) is about right. This is high enough to convey the status of the gallery and not cast doubt on the work or the artist, but low enough that if the work is promising, it will sell. If the first show sells out quickly, the dealer will say the pricing was correct.
The artist may be underwhelmed, because even selling out one show a year at new-artist prices means she is still living below the poverty line. She is told to view today's low prices as an investment in her artistic future. She also learns that in the primary-art market, price creates value and buyer satisfaction rather than reflecting it. This is what economists call the Veblen effect: the satisfaction derived by the buyer comes from the art, but also from the list price or conspicuous price paid for it. If the real price reflects a discount the satisfaction is greater, because friends assume you paid the higher list price.
The same principle holds with a designer handbag or diamond engagement ring. The higher the perceived price, the more valuable the object is seen to be and the greater the buyer satisfaction.
As an artist becomes better known, the price of her work is based on reputation and history. If the artist's first show sold out at £4,000, work in the second show might be priced at £6,000, and in a third at £10,000-£12,000. Successive shows will come 18 to 24 months apart. Publications, exhibitions or other forms of recognition for the artist produce faster price escalation.
Because the initial price reflects the dealer's reputation, a superstar dealer multiplies each price level by a factor of three or four, with larger increments. If a mainstream dealer charges £4,000 for a modestly sized work in an artist's first show, Gagosian's gallery might charge £12,000-£15,000 for work of comparable size and quality. Gagosian's reputation for showing promising artists makes work from that gallery more valuable. On resale the Gagosian provenance will bring a higher price.
It is always considered better to sell out a show than to achieve maximum prices for a few works. The dealer must never reduce an artist's list price. Never. Each successive show must be priced higher than the last. In an art world where the illusion of success is everything, a price decrease for an artist would signal that she was out of favour. Demand for her work would fall. With a second price decrease, demand might disappear.
Even when an art market collapses, galleries generally do not drop prices for their own artists. After the 1990 crash, the New York dealer Leo Castelli said that under no circumstances would his list prices be lowered. However, his artists were told that it would be necessary to offer more generous discounts to museums and collectors. Discounts permit dealers to maintain high list prices as a sign of an artist's success, while generating sales and gaining collectors' gratitude.
Rather than be forced to lower list prices, the dealer will almost always drop an artist. Prices can restart at a lower level if the artist finds representation at a new gallery, which doesn't have to worry about betraying former buyers.
Buying art
For the novice collector, there is a ritual to be performed before gaining a place in the artist queue. The gallery wants your CV, a statement of what you will do with the art, and your pledge to be patient for a year until a painting might become available. Buying has nothing to do with offering to pay full price; you might still get a discount. It is not unlike a woman wanting to purchase a Hermès Birkin bag being asked what sort of social events she attends, before being assigned an appropriate place in the Birkin queue.
Waiting lists serve the function of getting art to the right people, and trying to control what happens to the art after it has been purchased – in particular, trying to ensure that it will not be flipped at auction. Working with an art adviser may help the collector move up the list, because keeping the adviser happy may produce future referrals for the gallery. An adviser may also have a negative influence, especially if he demands an additional commission from the gallery without telling the collector he is doing so.
Many "waiting lists" reflect gallery hype – a more sophisticated form of putting red "sold" dots on work that has not actually sold. Gallery owners are happy to announce there is a waiting list, but not how many collectors might be on it (or who they are). Some lists are just for "first right to view", and some names on the list represent people who simply want to look like they are players. Lists for artists such as Mehretu, John Currin, Cecily Brown, Damien Hirst and Matthias Weischer are certainly genuine, "I will buy sight unseen when a work becomes available". Some lists arise because of the very limited production of market-savvy artists. When Charles Saatchi acted as patron to Jenny Saville early in her career, he reportedly limited her production-for-sale to six paintings per year. In selling out her 1999 show at Gagosian, Saville ended up with a waiting list of two dozen names, potentially four years of artistic output.
Art critics
Critics are closely associated with the world of artists, dealers and art fairs, and might be expected to be major art-world players. They are not. Dealers, auction house specialists and collectors insist that critics have little influence on the contemporary art world – not on artists' success, and certainly not on prices. Why should critics have so little clout, and what role do they play?
Some art journalists have a background in art history, or are working artists. Critics may be professors, museum curators, former artists, or spouses of artists. While journalists try to remain at arm's length from the art community, critics are often personally involved with the artists they write about. Critics say their role is to explain the artist's work – and without personal contact, how could they understand its context and meaning?
You might think that either kind of journalist could make or break the career of an artist. Make, never; break, only rarely. Jerry Saltz, senior art critic of New York's Village Voice and three times nominated for the Pulitzer Prize in criticism, states it nicely: "At no time in the last 50 years has what an art critic writes had less of an effect on the market than now. I can write that work is bad and it has little-to-no effect, and I can write it is good and the same thing will happen. Ditto if I don't write about it at all."
So do critics or auction prices best predict the long-term importance of an artist's work? The answer, as regards modern art, is that the market is a much better predictor than the critic. There are several good studies by Galenson, which rank artists by their single highest-priced work. The highest prices go to great artists such as Jasper Johns, Robert Rauschenberg, Cy Twombly and Gerhard Richter, none of whom received uniformly favourable critical reviews for their early work.
End game
Where are the contemporary art market and its runaway prices going? The answer to this question is still open, although all trends are unfavourable to dealers.
Art prices are propelled by what is known in economics as a ratchet effect. A ratchet turns in only one direction, and then locks in place. A price ratchet means that prices are sticky in a downward direction but free to move up. The ratchet concept is easily understood when applied to labour markets – think of what would happen if the board of directors of every art museum required that their chief executive's pay level be in the top quarter of his peer group.
If the ratchet, perceived scarcity and too much money consistently push prices up, is the entire contemporary art market just a bubble? Art dealers and auction specialists never use the word crash, and hate the word bubble. The immutable rule in a buoyant art market is that the participants suspend all doubt. The art market is simply referred to as being in an extended boom period. Art writer Marc Spiegler compares this approach to teenagers having unprotected sex in the belief that they can never get pregnant.
Bubble or not, every auction specialist warns of a market correction. The question is how hard the landing will be: whether the bubble will burst like a birthday balloon, or just lose a little air and become flabby, like a discarded balloon a month after the party.
A greater danger than economic reversal may be a rejection of the practice of emulating popular taste that underlies contemporary art buying. What happens then if group cultural intelligence and connoisseurship go into reverse, and the market realises all at once that Jim Hodges' No-One Ever Leaves, the crumpled leather jacket in the corner of the gallery, might not actually be worth hundreds of thousands of dollars – or even thousands? Is it all a deck of cards that will come crashing down when lots of collectors try to dump work because a few others have?
Extracted from The $12 Million Stuffed Shark by Don Thompson (£14.99), which is published by Aurum on 24 January. To order a copy for the special price of £13.49 (free P&P) call Independent Books Direct on 0870 079 8897 or visit www.independentbooksdirect.co.uk
Register for free to continue reading
Registration is a free and easy way to support our truly independent journalism
By registering, you will also enjoy limited access to Premium articles, exclusive newsletters, commenting, and virtual events with our leading journalists
Already have an account? sign in
Join our new commenting forum
Join thought-provoking conversations, follow other Independent readers and see their replies