Artist Jessica Albarn on dead insects and older brother Damon
As Jessica Albarn's drawings go on show, the artist tells Victoria-Anne Bull about her unusual passion and idyllic childhood with older brother Damon
Victoria-Anne Bull
Wednesday 04 June 2014 15:16 Comments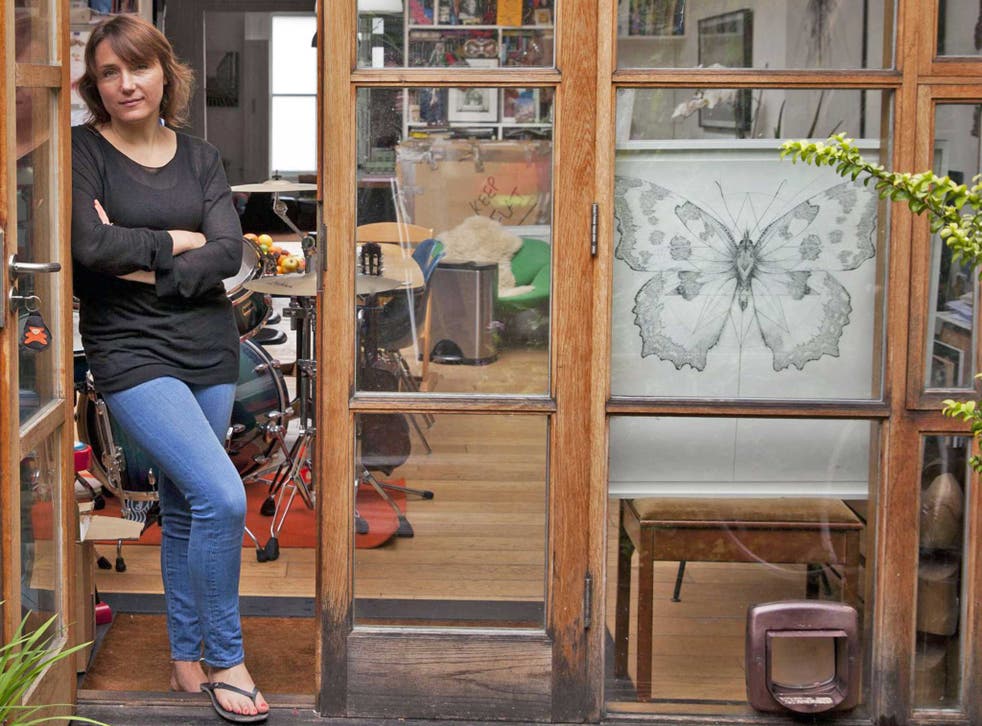 Forget delicately scented flowers, toss out the chocolate and never mind a collection of miniature soaps wrapped in tissue paper – the perfect gift for Jessica Albarn is a carton of insects. Dead of course. Or perhaps her very own beehive.
The artist (who happens to be the younger sister of Damon Albarn of Blur and Gorillaz fame – he calls her "a complete master of the pencil") has built her career on exquisitely detailed drawings of arthropods, lepidoptera and bees.
Today she opens two boxes revealing some of her latest spoils – her daughter Lola gave her a rare butterfly and a moth for her birthday. And then there is Albarn's favourite, a death's-head hawk moth found by a friend's son in Mallorca 10 years ago, not to mention her box of bees ("That one is beautiful, he is very velvety," she points to a large one with a fiery-looking abdomen) or the artefacts sent by brother Damon, "He has given me quite a few of my larger butterflies," she adds. An old school pal sends scorpions and dragonflies from the south of France. All friends and family, in fact, are on high alert and boxes of the deceased regularly arrive in the post.
Jessica Albarn's animal drawings

Show all 5
Her new show, Resurrection, at Soho's Lawrence Alkin Gallery this month is a play on the fact that she immortalises these creatures through the graceful strokes of her pencil or paintbrush. "A lot of my work in the exhibition is either dead, endangered or extinct and, in my head, I try and bring new life to them through my drawings," she explains.
This work is displayed through five mediums: wax, glass, clay, canvas and paper. She paints on them in acrylics and each medium appears to have a special meaning. For example, the poetic words "till us death lay. To ripe mellow, here we're stubborn clay" by John Donne spoke to her when she stumbled across the verse one day, "I felt it connected with my thoughts, which is why I wanted to include it in the show."
Her use of glass also has a deep personal story behind it. When she was 10, Albarn (now 43) suffered a bout of severe pneumonia, which caused her to hallucinate. Some of those visions have stayed with her even today. "This might sound a bit weird," she cautions. "I dreamt that I was a thin shard of glass and it has always haunted me. Afterwards when I was at school and we used to look at biology slides through microscopes it would make me feel strange because in my hallucination I was just like that biology slide but much bigger and very thin."
Geometric shapes are also explored. Striking images of bees have been painted on to palm-sized hexagons made out of wax or clay. "I am interested in alchemic geometry and it's symbolic of that." It is not lost that honeycomb is of course a mass of hexagonal wax cells built by bees in their nests.
So where has her enthralment of dead things, namely insects come from? She has spoken at length about the sylvan upbringing she shared with Damon in the Essex village of Aldham and how her parents (both art teachers) allowed them to roam the woods. She would freely pick up animals and dead bees whenever it took her fancy. "I would rescue them if I found a bird in wire or something. I didn't have that kind of fear about handling animals or insects, especially when they're dead." But perhaps it's simpler than a mere deconstruction of her childhood. "I think I am just attracted to them," she says suddenly. "I just love them. I think it is love actually. A kind of connection, a looking after, nurturing thing.
"I'm not very good with slugs and worms, anything that is slimy or decomposing doesn't attract me, but death, when it's dried and dead, I find fascinating. That's why a butterfly is so amazing because even after death it hold its shape."
When it comes to the art world, she doesn't feel there is a clear space on the bookshelf she can slot into ("I haven't gone up the ladder the conventional way.") Perhaps it's because her boundless creativity – she has collaborated with fashion doyen Helmut Lang, written and illustrated a children's book The Boy in the Oak, now made into a short film (Damon wrote the score and Jude Law narrated the script) and had an exhibition of portraits with subjects including Alison Goldfrapp, Antony Hegarty and Pearl Lowe at Liberty – doesn't quite fit in with the terms of the Establishment. Or maybe, as she asserts, it could be to do with the fact that she is a mother of three: Lola, 18 and Rudy 16 from her first marriage and Etta, three, from her second to photography director Serge Teulon. "I think it puts you at a disadvantage in the art world," she says. "Because there are woman artists out there who do have children but we are still really under-represented. The old idea of an artist, perhaps the ideal, is that you have hours and hours in your studio and you can work through the night."
Hers, incidentally, is a small green shed at the bottom of her east London garden piled to the brim with cases of insects like a museum. "But that is not my reality," she adds. "I have to work very hard around looking after my children and that is why I work from home. When I am cooking dinner I am casting these at the stove," she hold up two of the wax hexagons.
Nevertheless, she soldiers on, continuing to create and use her meticulous draughtsmanship to discover more about her creepy subjects. "I don't seem to tire of looking at a bee and investigating it in all the sorts of detail. I get absorbed with it," she says. "What I would like to think is that maybe people who don't look at insects much will look at my drawings and learn something new so they can relate to them better."
A bee flies into her conservatory. Albarn's eyes follow the buzzing. She will of course save it. "Do you give them flowers?" she asks before imparting some valuable educational advice. "Because if they're not flying off after they've been stuck indoors for a few hours they are probably on the verge of death, but if you give them a flower they will have a drink and often perk up. You can give them sugar water but I just find they lay in it." She smiles, "I would like to do some work with live bees." And who knows? If she does, perhaps she'll receive some scented flowers or some miniature soaps on her birthday one day after all.
Jessica Albarn: Resurrection, Lawrence Alkin Gallery, London WC2 (020 7240 7909) 13 to 28 June
Register for free to continue reading
Registration is a free and easy way to support our truly independent journalism
By registering, you will also enjoy limited access to Premium articles, exclusive newsletters, commenting, and virtual events with our leading journalists
Already have an account? sign in
Join our new commenting forum
Join thought-provoking conversations, follow other Independent readers and see their replies