Arts observations: The resurrection of Richard II
And gifts given and rescued with love
Chris Mugan
Friday 01 November 2013 20:00 Comments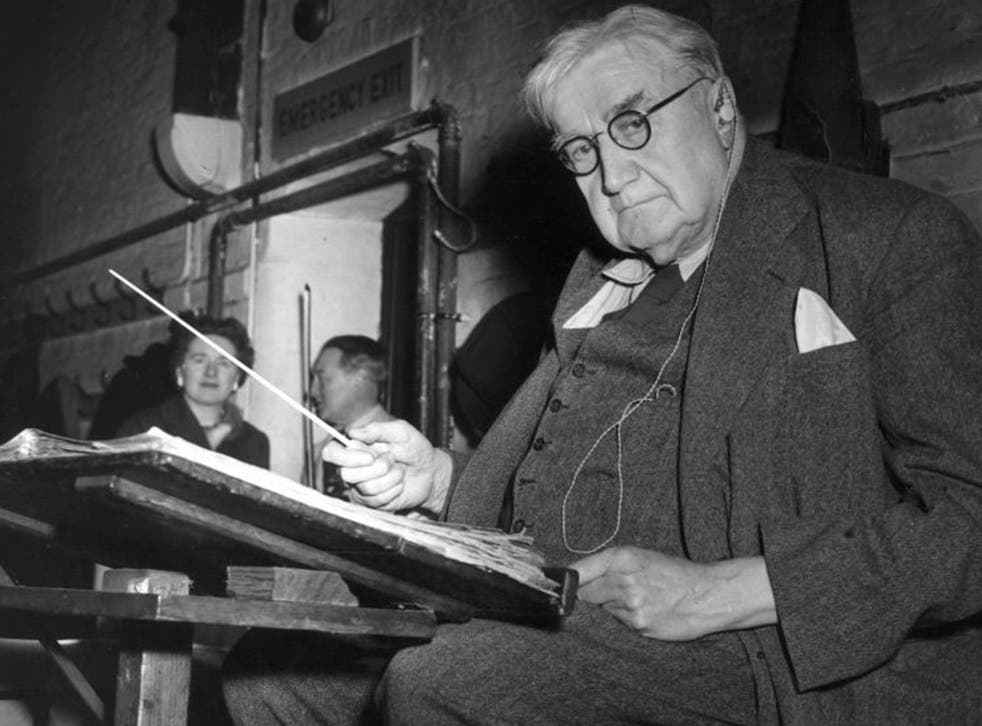 Ralph Vaughan Williams' stately mix of martial and godly tunes for a production of Richard II has been gathering dust for 100 years. Now its belated release is a landmark event made possible thanks to an unlikely source – the Royal Shakespeare Company (RSC). In 1913, the feted composer was commissioned to devise the music, which, while used in Stratford-upon-Avon, was received badly.
Since then, the score has languished in the RSC's archives until its unearthing by the current head of music Bruce O'Neill, who has overseen the new recording of extracts from Vaughan Williams' score. The opportunity has come about as the RSC artistic director Gregory Doran takes on the whole of the Bard's canon, beginning with the same history play.
As a rule, the company commissions music for live accompaniments to each production, combining sound and visuals in a manner familiar to troupes from William Shakespeare's day. Naturally, though, stellar dramatic performances have tended to overshadow contributions from composers ranging from the jazz musician Django Bates (Julius Caesar) to the brass-favouring Edward Gregson (Henry IV parts 1 and 2).
In the past, O'Neill admits, the RSC has struggled to work out how best to use this resource: "Recording is an expensive business. The scores are meant to be performed live, but you need to be in a studio, especially when composers usually write longer pieces than are actually used."
The RSC's renewed focus on music began earlier this year when it distributed via iTunes Laura Marling's bucolic music for its current As You Like It (due to open later this month in Newcastle upon Tyne), including a fetching version of "Under The Greenwood Tree". Now, O'Neill aims to go further, with a release for each Shakespeare play that includes a combination of contemporary compositions and recordings based on sheet music from its vaults.
The first CD features royal fanfares and music inspired by Christian liturgy for the current production of Richard II by Paul Englishby, alongside recordings of Vaughan Williams' more string-based score using the same vocalists, plus speeches from the play recited by cast members including the former Doctor Who David Tennant – fittingly for a disc that achieves its own novel form of time travel.
'Richard II Music & Speeches' is out now (rsc.org.uk)
Gifts given and rescued with love
By Nick Duerden
There is perhaps nothing more poignant in all literature than the inscription found on a book's flyleaf when it has been given as a gift. It's what makes browsing through secondhand bookshops such a treasure trove.
A chap called WB Gooderham (Wayne to his mother), who has spent more time in such bookshops than is probably good for him, has now lovingly rescued a great many of them in Dedicated To…, a handsomely bound hardback in which he offers these endearing messages a second chance at immortality.
"I've always been struck by the pathos of them," he says, "so often given in love, so often discarded afterwards."
Like the inscription inside a copy of Peter Pan that reads: "When the year first started out, I was convinced you didn't like me." Or the woman who gave his mother a copy of Sartre's Words – which clearly states on the cover "I loathe my childhood" – and tells her to read it "without prejudice". On another, from The Penguin Book of Infidelities, it says: "For Rebecca, In case you have any ideas!"
'Dedicated To…' compiled by WB Gooderham is out now
The devil is in these 3D tales
By Brian May
What the hell are Diableries? You might well ask. No one in the 21st century, bar a handful of dedicated collectors of the arcane like me, had seen these extraordinary treasures – until now. They are, as the subtitle of our book Diableries suggests, "Stereoscopic Adventures in Hell". And the best word in the English language that we have to describe them is "Devilments". Created in France by a small band of artistic geniuses, they were the subject of a huge craze in France and Victorian England from around 1860 until the turn of the century. More than 150 years later, they are now making a return appearance, in our fiendishly stereoscopically-enabled book.
I had my first demonic experience early one icy Saturday morning in Portobello Road Market in 1969. I was hoping, as always, that I'd get lucky and find a stereo viewer or some stereo cards. Among a pile of cards for sale by one street trader, I spied something which would trigger a lifetime's fascination: a French tissue card depicting lifelike skeletons, devils, ghouls and even Satan himself, in a place where they seemed to be raising the roof. The two similar images printed side by side on a card always look quite flat, unless you can "free-view" them to make the 3D magic happen, or you have a suitable Stereoscope at hand, with which to view the card in 3D.
I acquired the habit of free-viewing as a kid, collecting 3D Vistascreen cards from Weetabix packets, so I was instantly able to see the skeletal inmates of this parallel universe in glorious solid relief – it was as if I could reach through the stereo window and touch them.
That's the experience that, for more than 40 years, I've dreamed of sharing with the modern world. It's not been easy. Diablerie cards are hard to find, and, being tissues, by their very nature very delicate, so even if one is lucky enough to find them, they're almost always in bad condition.
I've personally spent thousands of hours digitally restoring them for our book; and, using my unique OWL stereo viewer (supplied with the book), they can be enjoyed in glorious 3D, just the way they were intended.
My co-author, Denis Pellerin, the world's leading expert on the French history of stereo photography, has discovered and revealed the hidden meanings of these scenes – and what is revealed in this book about France under Napoleon III is funny, dangerous, and at times quite shocking.
We've all seen the splendid 3D of Avatar, but this is 3D the way Victorians knew it. When I hear the first "Wow!" as people suddenly see the images in our book in 3D, I know we achieved our mission: the old devilish magic still works!
'Diableries: Stereoscopic Adventures in Hell' by Brian May, Denis Pellerin and Paula Fleming is out now, £40 (londonstereo.com)
One to watch: Josh Record, singer, 25
With a name like Josh Record, what better career to have than one in music? The Gloucestershire-born singer, who grew up playing Beach Boys songs on a piano given to him by his granny, is releasing his soulful Bones EP this month. Interest in him started this year when Zane Lowe heard "The War" on YouTube and played it on Radio 1. Now living in Brixton, he is offering, via his website, to play free gigs in people's sitting rooms.
Register for free to continue reading
Registration is a free and easy way to support our truly independent journalism
By registering, you will also enjoy limited access to Premium articles, exclusive newsletters, commenting, and virtual events with our leading journalists
Already have an account? sign in
Join our new commenting forum
Join thought-provoking conversations, follow other Independent readers and see their replies