At 45 Park Lane the menu includes Damien Hirst's Diamond Dust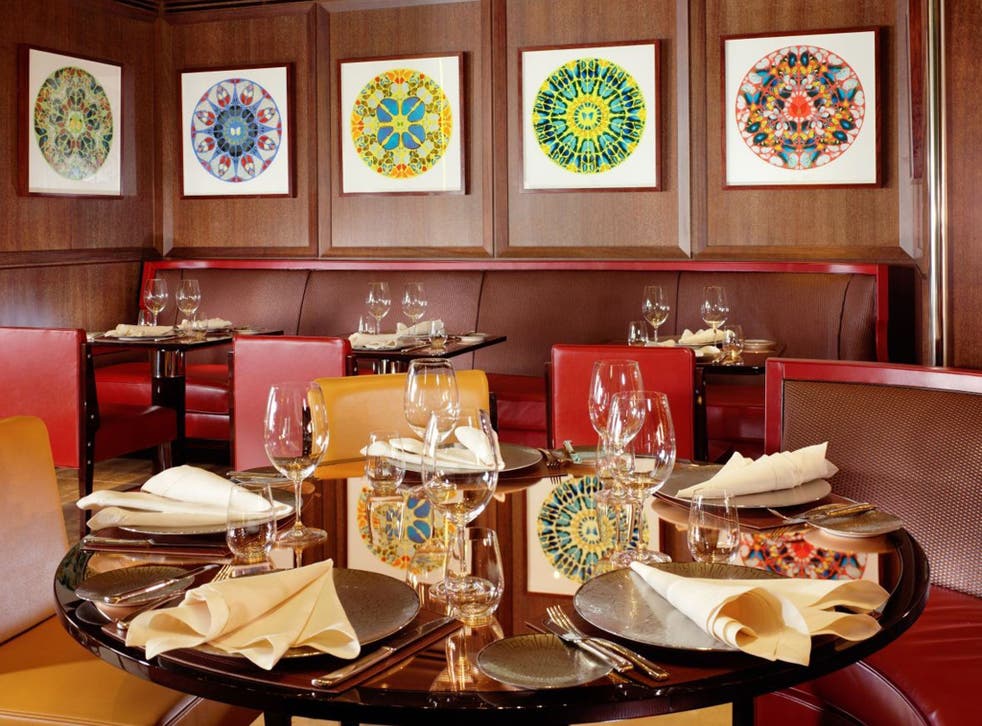 A literally dazzling exhibition of neon installations by the talented British duo Chris Bracey and Christian Furr is upstairs. Downstairs is an array of paintings by Damien Hirst. That might all be expected at an art gallery. But the neon exhibition and Hirst paintings are at a London Hotel, 45 Park Lane, the sister establishment to the Dorchester just opposite.
The newish 45 Park Lane, which opened in 2011, has put art in its guest rooms, hallways and restaurant. The restaurant is where all 16 of Damien Hirst's limited edition Diamond Dust "Psalms" series (pictured) hang together for the first time. Other leading British artists including Sir Peter Blake, Joe Tilson, Tom Phillips and Brendan Neiland are also represented – with photographs of London by Bill Wyman on the staircase.
The hotel, which also offers special Frieze Art Fair packages for residents and visits to artists' studios – recently Lucian Freud's daughter Jane McAdam Freud gave a private guided tour of both her studio and a tour of her father's portraits at the National Portrait Gallery – is breaking interesting ground in being a showcase for British art. Mind you, when it states that "the inclusion of Hirst's artwork reflects the hotel's ethos to provide an environment akin to that of guests' homes" you sense that their guests are not short of a pound or two.
Staying Alive, Bar 45, London W1 (www.45parklane.com/bar-45) to 30 August
Register for free to continue reading
Registration is a free and easy way to support our truly independent journalism
By registering, you will also enjoy limited access to Premium articles, exclusive newsletters, commenting, and virtual events with our leading journalists
Already have an account? sign in
Register for free to continue reading
Registration is a free and easy way to support our truly independent journalism
By registering, you will also enjoy limited access to Premium articles, exclusive newsletters, commenting, and virtual events with our leading journalists
Already have an account? sign in
Join our new commenting forum
Join thought-provoking conversations, follow other Independent readers and see their replies