Bart Lodewijks, artist: 'The silence of the studio made me sleepy so I went outside to draw'
Karen Wright meets the artist in his "studio" in a Turkish café in Ghent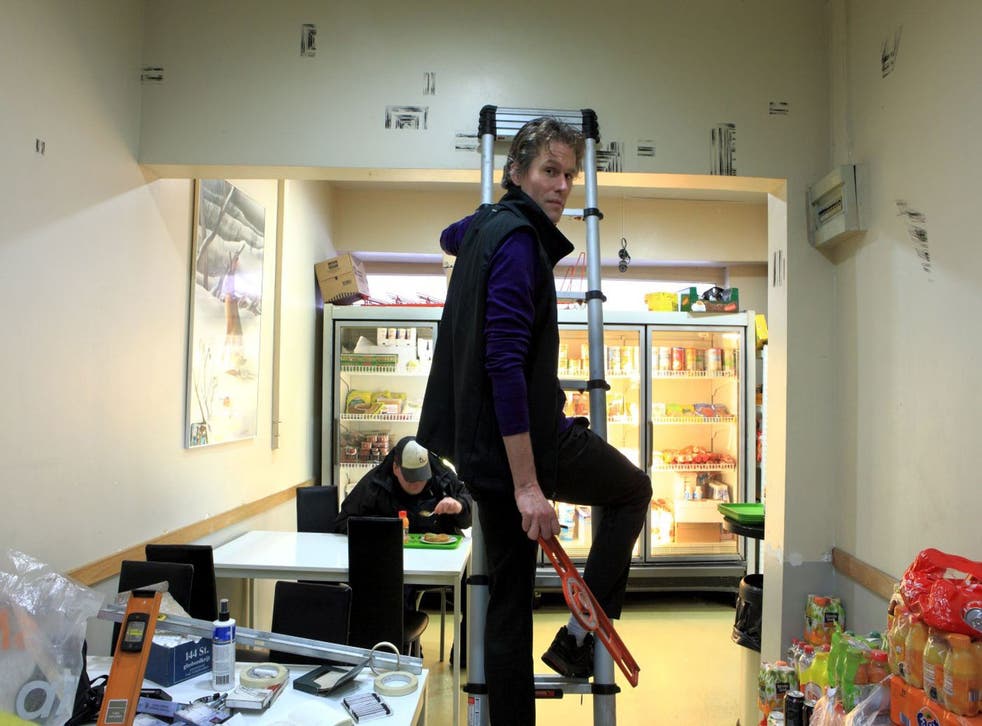 Bart Lodewijks was born in Holland in 1972 but is now based in Ghent where he moved in 2008 with his wife and two daughters. He appreciates the quirkiness of Belgium compared to the orderliness of his birthplace. His current "studio" is a Turkish café where he is adding his unmistakable wall drawings, much to the bemusement of visitors to the canteen-style restaurant.
I first discovered his work when I was visiting his fellow artist Mark Manders in Ronse, a small Belgian town. Manders is a friend and also a supporter; Lodewijks' work was published by Roma Publications, Manders' not-for-profit publishing house. Lodewijks had done a project in Ronse that involved negotiating with people to draw in their houses. He is not a graffiti artist, although much of his work is done outside. He draws exclusively in chalk, not spray paint, allowing the weather to eventually wash away his work. Much of his practice is about getting people to accept him into their homes and trust him to do his work in their lives. His project in Ronse encompassed an archery club, a school, and a football pitch, and wormed its way through a local Turkish bar, ending up eventually at a large private villa.
Lodewijks tells me that he once had a "proper studio", when he lived in Glasgow from 2000 to 2002 while his wife, curator Danielle van Zuijlen, was there studying. "The problem was I fell asleep. The silence of the studio made me sleepy and I went out and I started to draw on walls and pavements." The result of this was his first publication with Roma, Looking for a Beautiful Place "as Glasgow the place is so ugly. At first there are no walls or streets to draw on – you have the cold, the rain and the wind – you have to struggle".
Lodewijks' recent project with the Whitechapel Gallery, London, involved him doing two workshops with local students. He gave them a list of 32 simple instructions – "simple, but they were hard to do," he says cheerily. My personal favourite challenge of his is "Present the beauty of ugliness"; collect food you find in the street and prepare a meal. Lodewijks says "For me it is the act of doing – just get out and do it." While he was in London he did an ink drawing that he gave to the gallery. It was the first time he had done a drawing in ink in 12 years.
"There is a point of doubting in the drawing, and it is a field of doubt. The drawing is not that good – it could be better. But I can not doubt again."
There is immense charm as well as modesty in this man; I can imagine trusting him with my living room or indeed, as the owners of the large villa in Ronse did, painting my stairwell first for him to adorn.
Bart Lodewijks: White Li(n)es continues at the Whitechapel Gallery, London E1 (whitechapelgallery.org; 020 7522 7888) to 8 March
Register for free to continue reading
Registration is a free and easy way to support our truly independent journalism
By registering, you will also enjoy limited access to Premium articles, exclusive newsletters, commenting, and virtual events with our leading journalists
Already have an account? sign in
Register for free to continue reading
Registration is a free and easy way to support our truly independent journalism
By registering, you will also enjoy limited access to Premium articles, exclusive newsletters, commenting, and virtual events with our leading journalists
Already have an account? sign in
Join our new commenting forum
Join thought-provoking conversations, follow other Independent readers and see their replies