'Before They Pass Away': Endangered communities photographed 'like Kate Moss'
Indigenous peoples have been documented before, but the results have often been 'patronising', says Jimmy Nelson. So he travelled the world to photograph 35 threatened tribes in an unashamedly glamorous style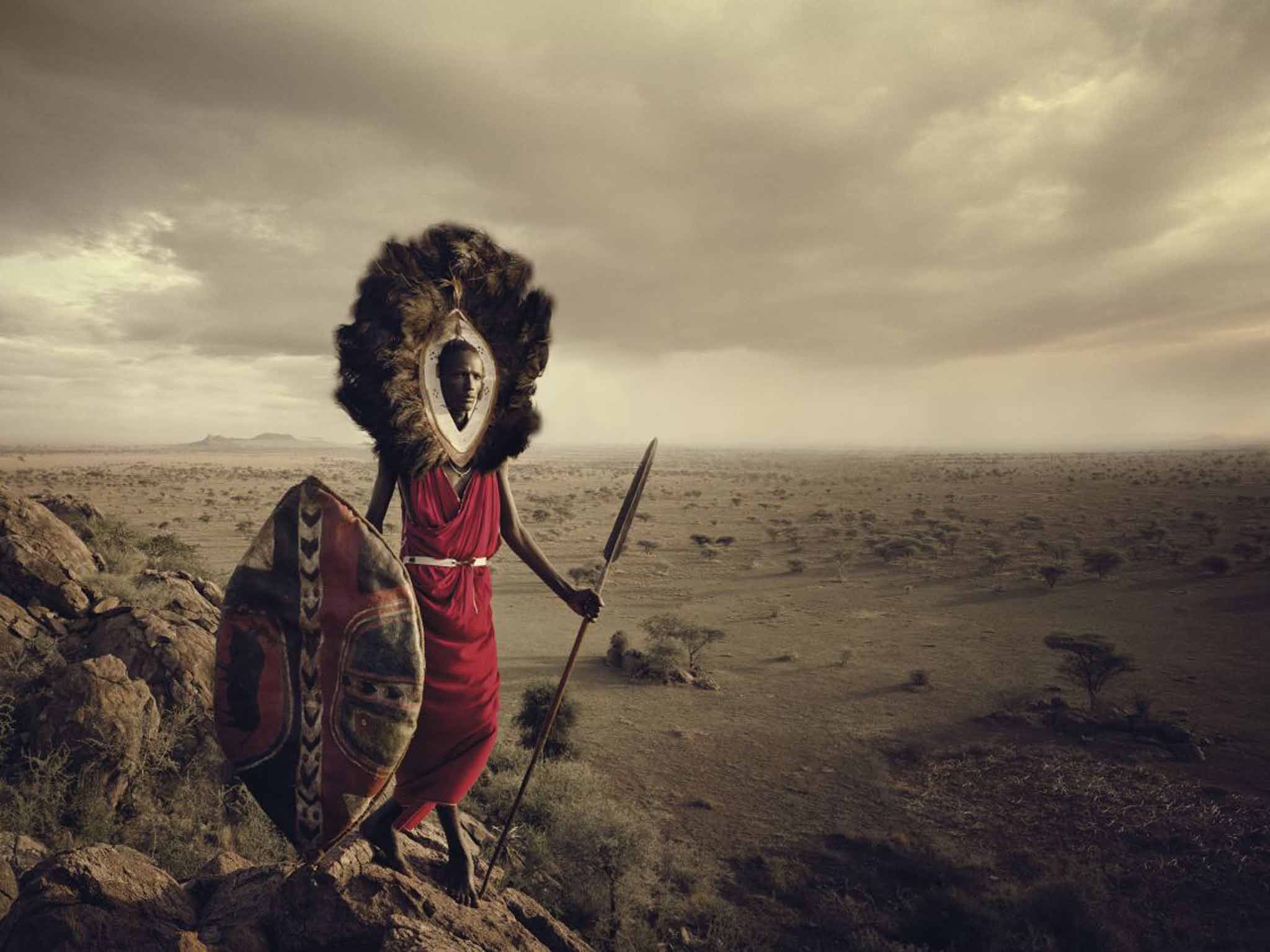 From the dense rainforests of Papua New Guinea to the desolate Mongolian tundra, Jimmy Nelson has got used to lugging his bulky 50-year-old plate camera to some of the most remote places on earth. That's because the British photographer is on a "never-ending journey" to document the tribes and indigenous people whose ways of life could soon be lost for ever.
So far, Nelson has visited and photographed 35 endangered tribes in 44 countries for his project "Before They Pass Away", which he describes as a lifelong endeavour to "capture part of something that will soon be gone".
The images are stunning, romanticised portraits that show tribes serene in the face of encroaching modernity. Far from the work of a photojournalist shooting as he finds, the staged shots are highly stylised portrayals of ancient traditions. Whether of the Himba people in Namibia or the Dani tribe of Indonesia, the photographs wouldn't look out of place on the pages of a fashion magazine or fronting a high-spend advertising campaign.
Nelson is open about his "unashamedly glamorous" approach, which contrasts with how endangered tribes and peoples have often been portrayed in the past. "I'm trying to put these people in the same context as somebody like Kate Moss," he explains. "Our society, for whatever reason, has decided she is important and deserves to be photographed in a high-concept way; I've tried to do the same here.
"Often I found that the tribes and communities had been photographed before, but in a patronising way, whereas I'm trying to be celebratory, to put them on a pedestal. That's why I've photographed them in idealistic contexts. They are meant to be as glossy and beautiful as possible, and that's why I've chosen beautiful people to photograph."
Before They Pass Away: In pictures
Show all 7
So far, the project, which Nelson began just over four years ago, has resulted in hundreds of images, a luxurious coffee-table book, a TED talk and currently an exhibition at the Atlas Gallery in London. Yet Nelson, who is based in Amsterdam, has higher aims than merely celebrating these communities: he wants "Before They Pass Away" to be a "catalyst for change" and a "museum of knowledge".
It is a bold ambition that chimes with Nelson's character and approach; at 18, he left boarding school to walk from one end of Tibet to the other while dressed as a monk. And it was in Tibet, he says, that he learnt to "start observing people and observing cultures".
At first he put these skills to use as a reportage-style photographer covering the Russian invasion of Afghanistan, the conflict in Kashmir and break-up of the former Yugoslavia. A period of commercial photography followed ("to pay the bills") during his "middle years", before he returned to his passion on the urging of his wife and three children.
That passion has meant Nelson has spent much of the past four years on the road, scouting locations, tracking down subjects in remote areas and gaining their trust. "You have to be very giving with your time. Take the image of the Kazakh warriors with their magnificent eagles [see page 18]. That meant gaining the confidence of a remote community and convincing them to get up at 3am with a madman and his camera to travel up a mountain to catch the sunrise at dawn.
"Then, when the light wasn't exactly right, well, I made them do it the next night. And the night after that. That takes real respect from both sides – but invariably when you travel to these remote places and communities, you find them extremely friendly and welcoming."
As a never-ending project, "Before They Pass Away" could perhaps be seen as a photographic indulgence, but this fails to account for Nelson's respect for his subjects. "These tribes have wealth," he concludes. "It's a very different wealth from what we have in the West but it's a wealth we should be aware of, as sadly it's a wealth that's disappearing very quickly."
'Before They Pass Away; is at Atlas Gallery, London W1 (atlasgallery.com), to 16 November. For more: beforethey.com
***
The article above went to press on Tuesday 23 September, and was published in the New Review magazine on Sunday 28 September. On Thursday 25 September, Nixiwaka Yawanawa, an Amazon Indian, staged a protest outside the Atlas Gallery, W1, against its exhibition of a selection of photographs from Jimmy Nelson's publication 'Before They Pass Away'.
In conjunction with the organisation Survival International, Mr Yawanawa handed a letter signed by him to the gallery. In it, he wrote: "[Nelson] is making money by saying that tribal peoples are 'passing away'. We are not passing away. Our disappearance is not inevitable. We are struggling to survive in the face of criminal, illegal actions by governments and companies who take our land and resources… We are not objects to be posed into beautiful pictures for his profit."
When asked to respond to this letter by The Independent on Sunday, Mr Nelson submitted the following statement: "I, Jimmy Nelson, launched Before They Pass Away internationally 12 months ago. From every conceivable corner of the planet, from every race, class, colour and cultural level imaginable the response has been overwhelmingly positive and this subsequent energy is creating enormous momentum for the future sharing of knowledge and ideas.
"If there had been one organisation that I would have loved to have partnered with to bring this subject positively to a wider audience, that would have been the internationally respected Survival international. Unfortunately for reasons beyond comprehension, this doesn't seem to be the case.
"I am sure that due to the modern day transparency of global information the public are now smart enough to read between the lines of this exchange. Let's concentrate our mutual passion and energy to where it matters."
Join our commenting forum
Join thought-provoking conversations, follow other Independent readers and see their replies