Ben Howard: the new boring or the next big thing?
The surfer won two Brits for his affable folk. But, he tells Elisa Bray, he's sensitive to the idea that he's too safe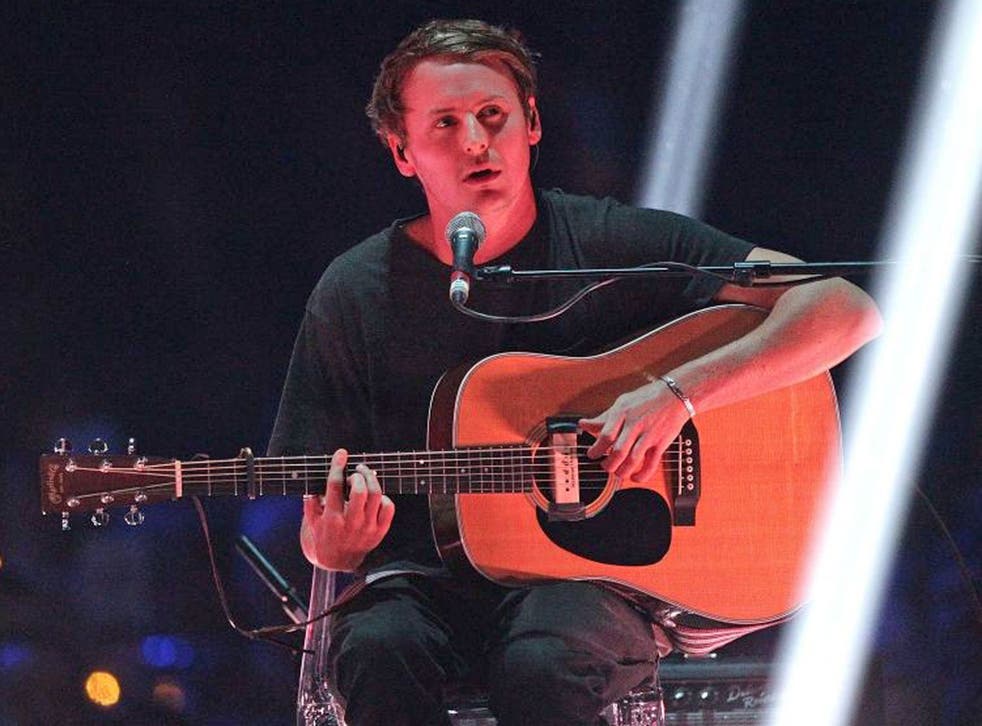 If you win one Brit Award – let alone two – you can be sure that people will be queuing up to speak to you. But much to the chagrin of Ben Howard's PR, it takes four days to get hold of him. The big winner at last week's Brit Awards, alongside Emeli Sandé, with two coveted Damien Hirst-designed gongs – one for Best British Male and the other for Best Breakthrough Artist – Howard, after spending three days in the pub with friends, promptly escaped to rural Ireland without a phone and has been there ever since.
"After the Brits I put a couple of amps and five guitars in the car and drove here," he says. "I basically ran away. It was nice to be involved and all that, but it's nice to be away from London and all the craziness."
You can't blame the 25-year-old – an unassuming, folk-influenced singer-songwriter from Devon who divides his time between music and surfing, and whose manner is more laid-back surfer dude than ambitious, posturing pop star – for escaping the craziness. Born in London and brought up in Devon from the age of nine, he surfed and strummed through his youth along to his parents' vast music collection of Bob Dylan, John Martyn, Jimi Hendrix and Simon and Garfunkel.
His childhood he recalls as "a lot of surfing, hanging out outside in the countryside… a lot of pot. I spent a lot of time cruising around on my own as a kid. I liked writing and read a lot of books." His first acoustic guitar was from his mother, when he was eight, and he had his first electric at 12, but it was the acoustic that he kept returning to and through which he found a way of writing the sensitive autobiographical acoustic songs that would resonate with so many people.
All 250-plus shows he performed these past two years sold out, including three nights at Brixton Academy. Constant gigging and his surf-scene association is how he built his enormous following, but the Radio 1 A-listing of every single he has released has helped, too. Despite this and the 300,000-plus sales of his debut album Every Kingdom, until the Brits, Howard remained relatively anonymous. If the public didn't expect him to win Best British Male in a category that included rapper Plan B, veteran rock musician Richard Hawley, disco star Calvin Harris and X Factor pop graduate Olly Murs, Howard certainly didn't either.
"Did you see my speech? No, I definitely hadn't prepared one. I went up there and was like, 'just make words!'" In order to make it to the Brits, he had changed a New York date on his US tour, where he'd earlier supported Mumford & Sons' arena shows, with his band members drummer Chris Bond and celloist India Bourne – not because he anticipated winning, but to perform. "It was a bit of a shock. It definitely felt we were the underdogs and that we didn't belong there." With sales bolstered by 4,600% the day after the Brits, anonymity is surely behind him.
If he felt out of place it was, he says, his second-ever awards show (his first was the Mercury Prize last autumn for which he was nominated and lost out to Alt-J), and Howard is more typically spotted in surfers' attire of Quiksilver T-shirts and jeans. For the event he was kitted out in an Armani shirt and driven around in a brand new Audi.
"That was about as smart as I've ever been. It was the life of a pop star, and it was quite funny to see what it was like for a couple of days," he says, unfazed, and unlikely to be hankering after that lifestyle any time soon. He remains a keen surfer; when he goes on tour in Australia next month, he will be found riding the ocean's waves when he's not riding the metaphorical ones of success on stage.
So what does he put his success down to? "Women," he states, although he is at present single. "Women and their impact, good and bad. It makes men write songs. I write about relationships, basically. For me music's always been a personal voyage. It was funny how the album connected to so many people in a way I never really expected. I recorded it back home and it was about people I knew and about relationships I'd had that were very personal, so it goes to show how if you sing about yourself most people have had that sort of experience anyway."
His primary reason for being in Ireland is to continue writing. An EP in November bridged the gap between the 2011-released debut album and its future follow-up. This year's Brits will go down for its safe choices that recognise commercial success, and its mild-mannered winners Mumford and Sons, Sandé and Howard. But Howard is already taking issue with his music being called safe, before I've even broached the subject of the 'New Boring'. He is adamant that the new songs will challenge those perceptions.
"It was great to put the EP out and silence any critics or lazy journalists who never really got my music and always said it was safe, and obviously never really listened to the record. As a singer-songwriter I definitely think I push the mould a lot. I've always thought I crossed this really weird gap between the pop world and some slightly more left-field singer-songwriter music, but everyone's always comparing me with Ed Sheeran. It's frustrating." The EP signalled at the new directions in which he intends to go.
"The EP definitely shows some cool places you can go with an acoustic guitar. [My new music will be] a lot more electric, a bit more experimental, just running acoustics through different pedals and amps and trying to find some cool tones and not sitting still and sticking to a formula. That's what interests me." And will he acquire a mobile phone to cope with the demands of his newfound fame? "I usually have a phone on me," he insists. "I'm not like a total recluse who lives in the woods or anything. But yeah, I lose a lot of stuff." Safe, mild-mannered? Maybe not. We're just getting to know the real Ben Howard, and his star continues its ascent.
This article appears in tomorrow's print edition of Radar magazine
Join our new commenting forum
Join thought-provoking conversations, follow other Independent readers and see their replies