Carlos Bunga, artist: 'I work with an open mind and do not know what exactly will happen'
Karen Wright meets the artist in his studio just outside Barcelona
Karen Wright
Thursday 05 February 2015 15:00 Comments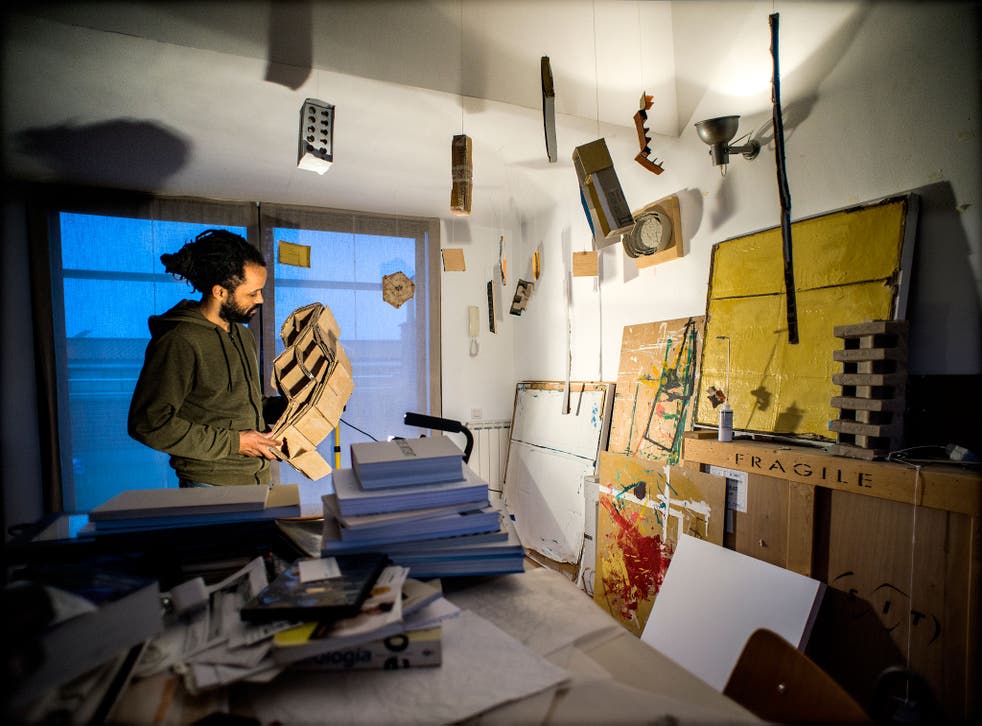 I am in a suburb just outside Barcelona along the sea. Carlos Bunga has been living and working here for the past three years, renting a modern property for himself, his wife, a curator at Museu d'Arti di Art Contemporani (MACBA) in Barcelona, and his two small daughters.
The dashing dreadlocked Bunga picks me up from my hotel to drive me to his studio, pulling into an underground parking garage where he points to a nearby bay where he works in the evenings with lights and music on. Paint marks on the rough concrete floor and piles of cardboard attest to his industriousness.
He also works in a room on the top floor of his house with large picture windows framing a typical scene of Spain. In the distance a raised causeway is just visible; in front a telephone wire is complete with colourful birds.
Bunga works at a simple table and suspended from the ceiling are roughly coloured cardboard sculptures, examples swinging gently in the breeze. He admits that until recently he had no permanent address as he had been leading a nomadic life, taking advantage of residencies around the world and visiting the manifestos and institutions where he has projects. Much of his past work has had a transitory quality that belies its relationship to painting, which we normally think of as permanent.
I gently tease him that his project in Artes Mundi feels more serious, a procession of pillars made of humble materials, cardboard and tape that create a nave, a silent space, while drawing attention to the lofty elevations of this room in the National Museum of Cadiff. Bunga says, "I asked Karen MacKinnon [the curator] was she sure that she wanted to give me that space because it is an important one, and to give it to someone who has no plans! Sometimes it is important to accept the risk for something that is growing without knowing what will happen. I normally work with an open mind and do not know what exactly will happen."
Bunga has always been interested in site specificity. He was born in Porto in 1976, and studied painting during a BA in fine arts at Escola Superior de Arte e Design, Caldas da Rainha in Portugal. He did his first performance while he was still in university, moving outside to install his paintings on derelict buildings to highlight the temporary quality of architecture and the beauty in the traces of a building's former usages.
Bunga's diary is filled for the next year with projects around the world.He is leaving for LA soon where he has a show with his gallery, and is then decamping to Colombia. He shrugs, saying "We live in a nomadic society when you think of internet and transportation", but admits that "it is not easy when you travel so much and you do not have a base – you need a return. Now I have a base – I travel a lot but I always return."
Carlos Bunga is in Artes Mundi, Cardiff (artesmundi.org) to 22 February
Register for free to continue reading
Registration is a free and easy way to support our truly independent journalism
By registering, you will also enjoy limited access to Premium articles, exclusive newsletters, commenting, and virtual events with our leading journalists
Already have an account? sign in
Join our new commenting forum
Join thought-provoking conversations, follow other Independent readers and see their replies