Cronenberg at the 'beak' of his powers
The outlandish names of prizes awarded at film festivals around the world
Geoffrey Macnab
Monday 26 October 2015 15:29 Comments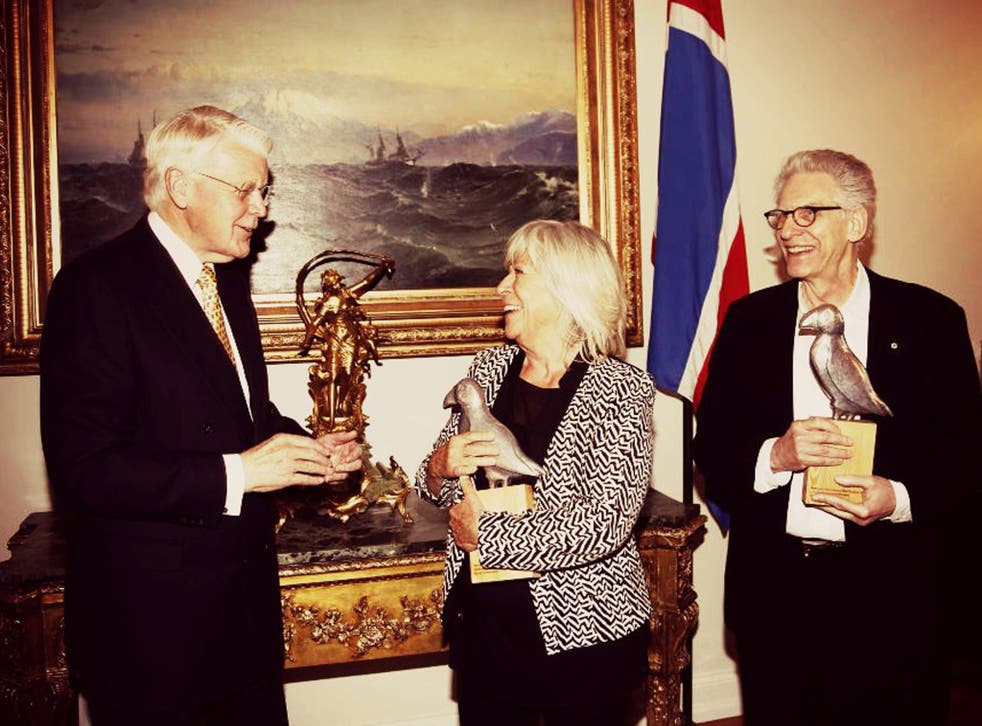 On a rainswept Icelandic afternoon during the Reykjavik Film Festival a few weeks ago, film-makers David Cronenberg and Margarethe von Trotta were presented with honorary, lifetime award silver "puffins" by the Icelandic President, Olafur Ragnar Grímsson. Cronenberg, the director of body horror classics such as Videodrome, The Brood and Scanners, looked a little non-plussed, "In Canada, you know, our national animal is the beaver," he reflected as he contemplated the model of the benign-looking little bird. Von Trotta, for her part, confessed that she had never seen a puffin, or a "papageientaucher" as she calls it in her native language. ("We don't have them in Germany.")
The Reykjavik Film Festival's main awards are called the Golden Puffins. If you look at the prizes given by other film festivals throughout the world, you will encounter an extraordinary array of birds, beasts, pieces of foliage and assorted other objects. In the Netherlands, Dutch actors and directors vie ever year for the prestigious Golden Calf awards at the country's main national film festival in Utrecht. Biblical injunctions about not worshipping graven images have little resonance for the local film community, which takes the Calf awards immensely seriously. At the San Sebastian Film Festival in Spain, the main prize is the Golden Seashell.
The Venice Film Festival used to give out Mussolini cups but nowadays prefers to award the world's best film-makers with Golden and Silver Lions. In nearby Switzerland, at the Locarno festival, the prizes are called Leopards. In Rotterdam, filmmakers stand to win Tigers. Meanwhile, the Berlin festival gives out golden and silver Bears. At Taipei, the main prize is the Golden Horse. Shanghai gives out Golden Goblets.
Other prizes film-makers can win at festivals around the world include Golden Eggs (although there don't seem to be any Golden Goose awards as yet), Golden Eye awards, Golden Elephant awards, Golden Orchids, Golden Apricots and Golden Pandas.
It has long been an ambition for young Swiss directors to win the Golden Cow of Gstaad and for Russians to win the Golden George at the Moscow International Festival. Zagreb awards Golden Prams (but without Golden Nannies) while a festival in craggy Arkansas gives out Golden Rocks to its most favoured film-makers. There are also Golden Snails and Golden Monkey King awards.
Where these names come from is hard to guess. The animals, trinkets and even saints after which the prizes are named often have no obvious connection with the places where they are awarded.
Since 1955, the Cannes Film Festival has presented its winners with the Golden Palm (the Palme D'Or.) That seems straightforward enough. From Roman times and even before, Palm branches have been associated with triumph and victory.
The adult film industry awards that used to be held in Cannes at the same time as the festival were called the Hot D'Ors. Winners were presented with prizes representing a winged goddess holding up what, depending on your vantage point, was either a long laurel wreath or a golden phallus.
There are now so many film festivals in existence that organisers of new events are having to think up ever more outlandish names for their prizes. But almost every obvious name for a film prize is already long since taken.
Register for free to continue reading
Registration is a free and easy way to support our truly independent journalism
By registering, you will also enjoy limited access to Premium articles, exclusive newsletters, commenting, and virtual events with our leading journalists
Already have an account? sign in
Join our new commenting forum
Join thought-provoking conversations, follow other Independent readers and see their replies