Dutch artist Diddo sculpts life-size human skull from cocaine
Diddo's central message is to question everything, and think for yourself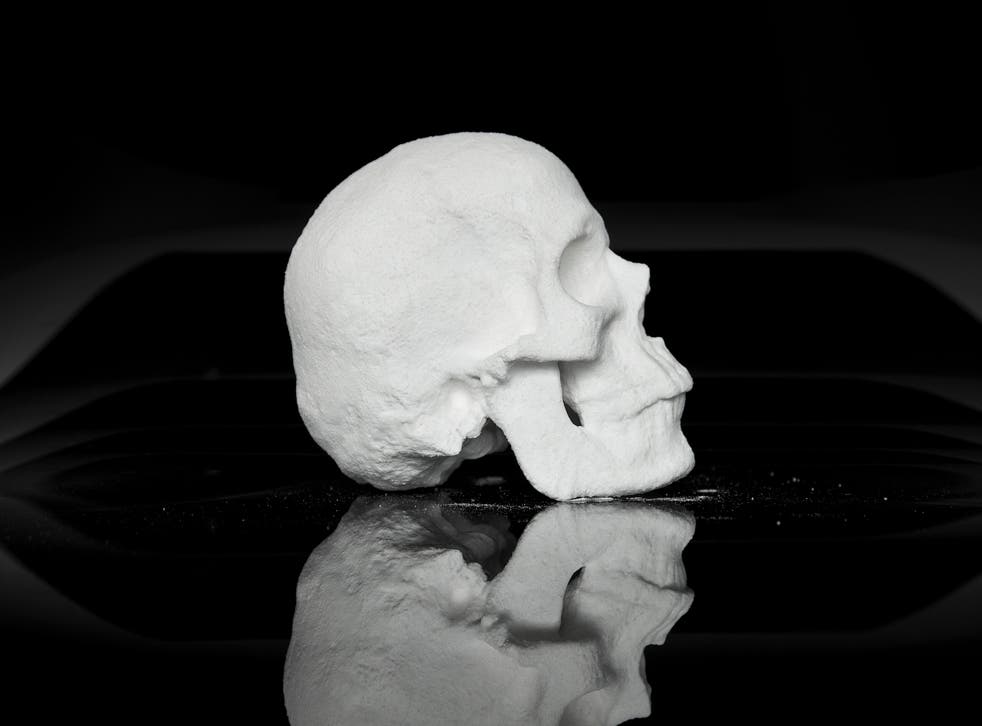 Dutch conceptual artist Diddo has sculpted a skull out of street cocaine in a new project exploring human behaviour.
With commissions from Kanye West, Lady Gaga and Sacha Baron Cohen, the 36-year-old artist is now attempting to break new ground in the art world.
"Ecce Animal" is intended to provoke the viewer's thoughts about the nature of man, without glamorising drug addiction or warning against it.
Diddo had the powder tested in a laboratory to determine its 15 to 20 per cent purity. He chose to use the drug mainly because it complements his artistic message.
"I don't feel obliged to educate people on the potential dangers of drugs," he says. "In 'Ecce Animal', the cocaine is used in combination with a symbol of mortality and, therefore, quite directly relates to danger."
"Ecce Animal" may look simple, but Diddo's creation was inspired by human complexity.
"To me, human behaviour is enigmatic and ever-changing," he says. "We cannot live together and we cannot live apart. 'Ecce Animal' attempts to crystallise the true 'human' energy generated by this collision."
Skulls have inspired artists for centuries from Mexican artisans to Damien Hirst:
From Yorick's skull in Hamlet to Van Gogh's "Skull with a Burning Cigarette" and Damien Hirst's diamond-encrusted "For the Love of God", skulls have been a popular motif for centuries.
But Diddo says his skull is not consciously based on previous representations. It is how we manage to live with the reality of death at the back of our minds that really fascinates Diddo. "I start with an idea, not an image," he says. "In this case, my idea revolved around the tension between our 'human' side and our 'animal' side."
Unlike many of his contemporaries, Diddo does not follow any particular artist or movement. He is inspired most by personal crises, rather than big political issues.
"It's where human behaviour comes to the surface in the most interesting ways," he says. "I find it truly fascinating to examine the space between what we choose to think for ourselves, and what we allow others to think for us."
Diddo writes short interpretative poems to accompany his artworks – a move that is personal to him as an artist and an important means of communication with his viewers.
"What I hope to accomplish with an artist statement is to provide people a bit of focus and define an 'arena for thought'," he says. "The object itself is never the whole 'piece'."
Diddo is never short of a project to turn his hand to, nor a theme through which to explore his ideas. His next source of inspiration? Power intoxication. "Excessive appetite for power poisons the personality and, again, it highlights the imbalance between our inner animal and society," he says.
"Each of my pieces is a 'thinking process in progress'. My central message is simple: "question everything" and "think for yourself ".
Diddo's accompanying poem:
"Ecce Animal"
Once we were animals.
Like any other, we lived in an environment of fear and want.
Then, we became 'human' and aspired to be better.
We learned to control our environment but the fear stayed,
because we never learned to control ourselves.
It is frightening to look at the face of our animal side laid bare
by comfortable excess; the spoils of its aggression.
But what exactly is it about this image that is so confronting?
Is it this division in our idea of self?
Or is it a realization that though we have mastered the outside world,
we will always remain subservient to our inner selves.
Join our new commenting forum
Join thought-provoking conversations, follow other Independent readers and see their replies