The Independent's journalism is supported by our readers. When you purchase through links on our site, we may earn commission.
Dennis Hopper's lost sixties photo album found
From Fonda to Hockney, sixties stars were photographed by Dennis Hopper, who then lost the photo album. Now the treasure trove has been found
Charlotte Cripps
Tuesday 04 March 2014 18:02 Comments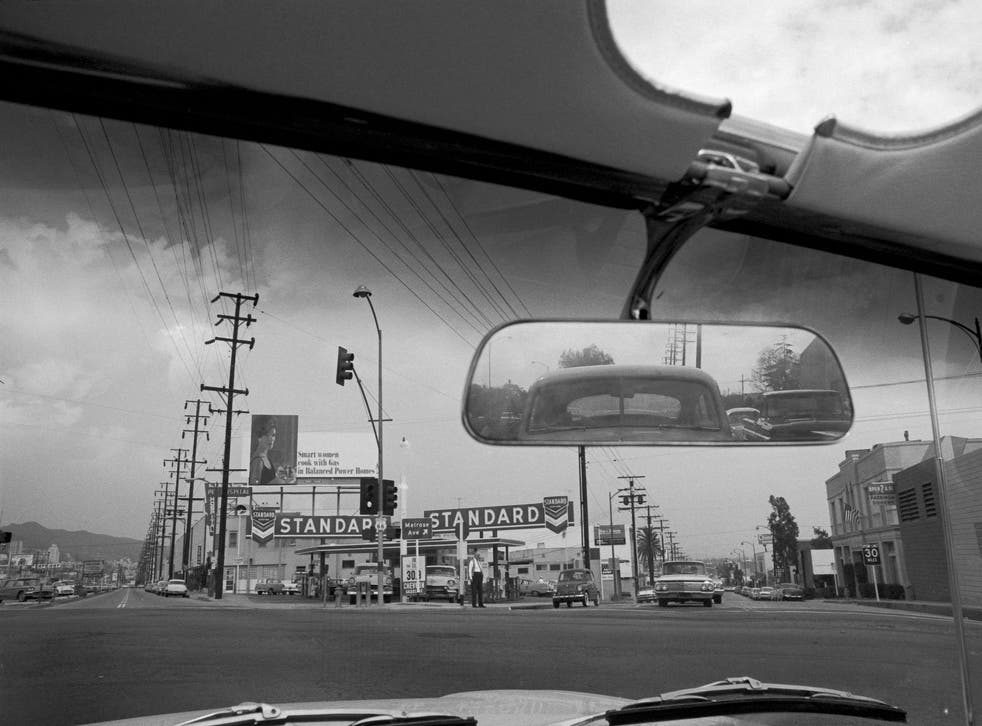 More than 400 lost photographs taken by Easy Rider director and actor Dennis Hopper will go on show in the UK for the first time this summer at the Royal Academy of Arts.
The black and white photographs taken in the 1960s, were discovered in a closet along with the Christmas ornaments when his house in LA was cleared after his death in 2010. The photographs, which were taken between 1961 and 1967, include portraits of Robert Rauschenberg, Andy Warhol, Jane Fonda, and Paul Newman.
Hopper, who acted in films including Apocalypse Now (1979) and Blue Velvet (1986), but is best known as the director of road movie Easy Rider (1969), became obsessed with taking photographs in 1961, when his first wife, Brooke Hayward, gave him a Nikon camera for his birthday, because he couldn't afford to buy one.
These photographs, which are referred to as The Lost Album, have now been exhibited at Berlin's Martin-Gropius-Bau in 2012 and then at Gagosian New York, in 2013. But until then, these photographs hadn't seen the light of day since his first ever photography show in Fort Worth, Texas in 1970.
In pictures: Dennis Hopper's sixties moments

Show all 11
How did they get mislaid? When Hopper was living in Taos, New Mexico, he threatened to burn the photographs, so his art curator friend Walter Hopps, came and rescued the photographs. But when Hopps died in 2005, his widow shipped them back to Hopper who threw them in a cupboard.
Hopper's Lost Album includes photographs of Jane Fonda and Roger Vadim at their wedding in Las Vegas in 1965; Andy Warhol, wearing dark sunglasses at a gallery reception dinner in LA and smiling from behind a flower in 1963; Jasper Johns sitting on an white wicker sofa looking very serious at Hopper's LA house in 1965.
A group shot of Andy Warhol, art dealer Henry Geldzahler, David Hockney, and Geldzahler's friend Jeff Goodman, in 1963, shows them hanging out in New York; Ed Ruscha stands in front of a sign that says "Printing" in 1964 – this is part of a series of photos of his friends taken in front of shop window signs and billboards.
Roy Lichtenstein in 1964 sits on the floor of his studio next to one of his paintings. Robert Rauschenberg sticks out his tongue in 1966; Bill Cosby's face peers out of a large bush at the Chateau Marmont on Sunset Boulevard in LA in 1965. The American sculptor Claes Oldenburg stands among plaster cake slices on plates on the floor that he made for curator Jim Elliot's wedding in 1966.
The Swiss artist Jean Tinguely sits on the floor of his messy studio in LA in 1965; the artist James Rosenquist is photographed at the Foster and Kleiser billboard factory in 1964; Paul Newman's nude body is cast in patterns from the shadows of a wire fence.
This batch of photographs also captures historical social and political events during the Sixties including hippie girls dancing, Hells Angels, Mexican bullfights and children in the street in Harlem and Mexico. Images include Martin Luther King Jr, whom Hopper followed during the Selma-to-Montgomery marches of 1965, as well as photographs of the television screen capturing Kennedy's funeral in 1963 and the Apollo 11 lunar landing in 1965.
Hopper carried his camera with him everywhere around his neck during the Sixties. His home at 1712 North Crescent Heights Boulevard in the hills overlooking Sunset Strip, LA, where he lived with Hayward, became a meeting place for actors, artists, writers, musicians and producers; they threw a star studded party for Warhol for his second show at the Ferus Gallery in 1963.
Hopper and his then wife were well connected; Hopper had been studying at the Lee Strasberg Actors School where he met lots of actors and Hayward's dad Leland Hayward produced the original Broadway production of The Sound of Music.
Taking photos was Hopper's only real creative outlet at this time before he made cult film, Easy Rider, which re-established his shaky career. When he started working on Easy Rider, he put his camera away for the movie camera.
Hopper didn't crop any of his photographs and shot them all in natural light. He said: "The only people that I really found comfortable being photographed, were artists. They asked me to photograph them. They were comfortable being photographed. They wanted to be photographed. And that was cool." Hopper also claims he was a shy person and taking photographs kept people at a distance. He said: "I was busy taking a picture, so I didn't have to deal with them."
Hopper was born in Dodge City, Kansas, in 1936, and went under contract to Warner Brothers when he was 18 years old. But as soon as he arrived on the film set, he considered film-making to be the greatest art from of the 20th century, even though he also painted and took photographs. His friend James Dean, with whom he starred in Rebel without a Cause in 1955 and Giant in 1956 had encouraged him to take photos aged 18. But all the time, his stint as a photographer was only preparing him for his real love of movie making.
Last year another box of photographs was found containing the Drugstore Camera series shot in Taos, New Mexico, where Hopper was based following the production of Easy Rider. But then Hopper took a break from snapping, until the early 1980s, when he created abstract colour images and fashion shots for glossy magazines. He also carried around a Polaroid camera to take images of graffiti in LA. Near the end of his life he continued to take colour photos of famous artists, which still have never been seen.
Dennis Hopper: The Lost Album, Royal Academy, London W1 (royalacademy.org.uk) 26 June to 25 August. (dennishopper.com)
Register for free to continue reading
Registration is a free and easy way to support our truly independent journalism
By registering, you will also enjoy limited access to Premium articles, exclusive newsletters, commenting, and virtual events with our leading journalists
Already have an account? sign in
Join our new commenting forum
Join thought-provoking conversations, follow other Independent readers and see their replies