Girl power: Many women marching against Trump were wearing self-knitted pink pussy hats, which makes this show seem particularly appropriate
A major exhibition at Turner Contemporary in Margate features 40 international female artists who have elevated knitting, sewing, weaving and crochet to a high art form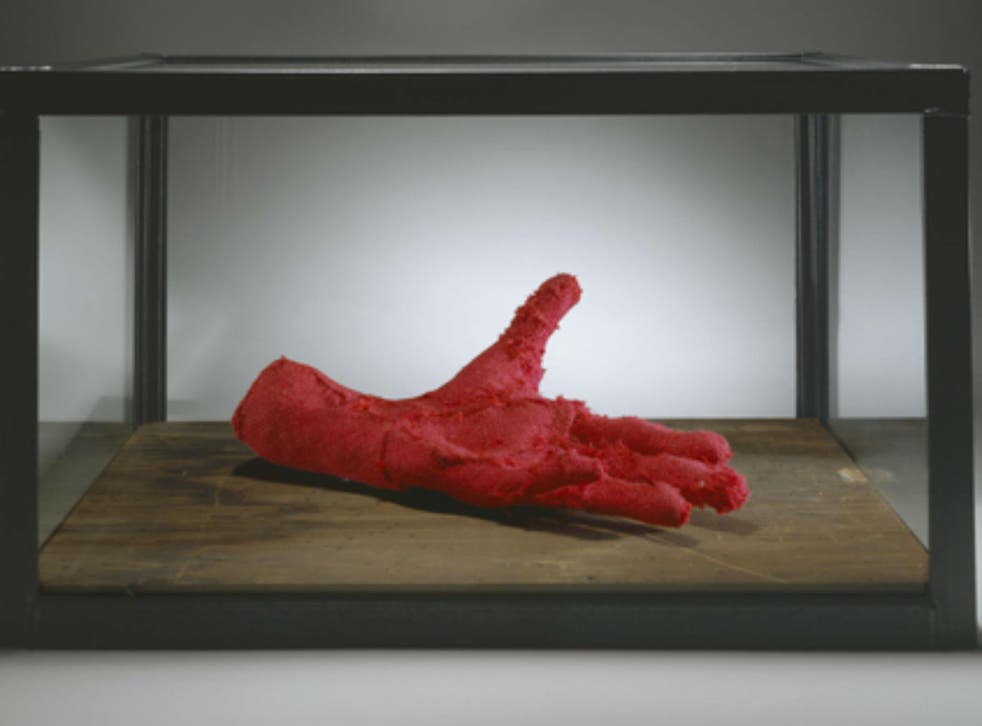 It has been a week dominated by politics, with the swearing in of President Trump and huge women's marches in the US, London and around the world. Many women marching were wearing self-knitted pink pussy hats, women united in rejecting Trump's position as a world leader for, amongst other reasons, here is a man who has demonstrated little respect for women.
The opening this week of Entangled: Threads & Making – which brings together more than 100 works by 40 women artists of 19 nationalities united by their use of materials and methodology of making art – seems particularly appropriate. Historic modernist figures including Sonia Delaunay, Louise Bourgeois, Anni Albers and Hannah Ryggen are included alongside a new generation of artist makers.
I should state my involvement. I have been mulling over the idea of curating a show about women since the 1990s, when I approached the now-director of Tate Modern, Frances Morris, with the idea of putting on an exhibition together. Sadly we never got to develop the idea as she was then starting to work on a large show of Louise Bourgeois.
Undeterred, many years later I offered the idea of an exhibition focusing on textiles and weaving to Turner Contemporary in Margate, and the exhibition has been developed over the past few years. This is an appropriate museum to hold the show, with a woman director, Victoria Pomery, and Sarah Martin, the curator who has worked tirelessly alongside me. The museum is named after JMW Turner as it stands on the site of the guesthouse he visited many times. Turner loved Margate, using the light and the sea as inspiration for much of his work, dressing in more, relaxed, often outlandish garb when he left the city.
One of the most powerful sculptures in the exhibition is a small textile work by Louise Bourgeois: a sickly salmon-pink hand sewn crudely, its gnarled fingers outstretched, sits on a worm-eaten piece of wood. Its pathos is clear, the scarred raw stiches visible. What is disguised is the steel armature inside, a symbol indeed of woman's exteriors often camouflaging their serious intent. Nearby hang two Bourgeois embroideries. One is a work clearly made from the backs of bras, here used as graphic geometric patterns, another symbol of femininity used by Bourgeois, who amongst all 20th century artists was a pioneer who made materials such as textiles appropriate to be used in fine art.
Travelling to foreign climes to discover new artists has enabled me to discover a contingency of artists from Iceland and Norway, where the long winter evenings have perhaps led to the creation of more labour intensive woven works. Hannah Ryggen was born in 1894 in Malmo, Sweden. She moved to northern Norway with her painter husband and turned away from painting to weaving. She experimented with making her own dyes, including encouraging male visitors to provide urine to make her intense blue. Her large political works, drawn often of photos in newspaper reports, responded to the difficult political situation in which the Norwegians found themselves. In 6 oktober 1942, the tapestry included in the exhibition, Churchill stands stoically in the centre with Hitler floating upwards to the left, the oak leaf, a symbol of Nazism, coming provocatively from his anus on the left. Ryggen's family is portrayed in a boat preparing to flee. Ryggen believed in her work and refused to sell to private collectors, insisting it be seen by a wider public even when the family was desperately poor.
Ryggen's influence remains strong in Norway, and it was a brave Norwegian artist Ann Cathrin November Hoibo who took up the challenge of making a new work. Using wool from a spaelsau sheep, a native Norwegian breed, for the warp (the horizontal) November Høibo acquires materials during her travels to incorporate into the weft (the verticle). Like Ryggen, she works from the back of the tapestry, so until she ties off the finished product she has only a vague idea of how it will read. The result, a majestic diptych woven in various materials, rewards close inspection with its rich mixture of textures.
​Anni Albers's controlled geometric tapestry stands guard near the somewhat freer experimentation of her peers. Growing up in Germany, Albers wanted to become an architect but women were not permitted to enter the course in the Bauhaus. Instead she was encouraged to take up a more feminine practice: weaving. Unlike her husband painter Josef Albers, she was not accepted on the faculty of Yale. Eva Hesse, born in 1936, also grew up in Germany and emigrated to the US with her parents where she lived until her premature death in 1970. Hesse, like many of the women in this show, could not approach materials without experimenting with them and releasing their potential. A grouping of her late studio works illustrate her inventiveness and the impress of her hand.
Margret H Blondal, an Icelandic artist, has responded to the architecture of Turner Contemporary. Her new works made of what some might perceive as rubbish, in this case plastic rope and packing plastic, draws attention to both the light, space and the height of the building.
When I visited American artist Kiki Smith in her New York studio a few years ago I found her engaged with her assistants in refining the "cartoon" for Sky, one of three tapestries in a group. Rather than sitting and talking to me, she first apologised and then squatted on a low stool, drawing with swift strong strokes, cutting, collaging and glueing the flimsy paper that would become the template for the tapestry. Smith's curved universal unashamed naked woman ascends in Margate amongst a cluster of stars.
Falling in that area that might often be considered craft, these artists elevate the elements of embroidery, knitting, weaving and crochet to a high art form. Anna Ray, who collaborated with a group of local women to create the Margate Knot, told me that her work was often rejected as too crafty by art galleries and too artistic by craft galleries. This work, composed of 2,000 individual pieces, is a collaborative social event but loses none of its artistic strength. Paying women for their labours, bringing them into the museum to stuff the individual elements, she has created a massive installation that involved the community.
Samara Scott has used carpet as a material for her before. On her visits to Margate Scott, like Ray, observed the unique colours of the sea and the light. She decided she needed a new material to add to her repertoire of cosmetics and laundry products she had previously utilised, choosing in this case, yoghurt mixed into plaster.
What surprised and thrilled me when curating this show was the willingness of artists to participate in an exhibition of all female artists. As process was at the centre of the selection, any feeling of being ghettoised was soon dispelled. I am not only interested in women artists And it is wonderful that with the Rauschenberg show currently at the Tate, with the inclusion of his tapestries discovered during his travels, it is possible to see other interpretations of textile art.
Entangled: Threads & Making allows the viewer to see a wide variety of objects and interpretations. It is a generous, rich show and includes artists unseen before in a public gallery in England. Come and make your own mind up whether it moves you or not. Hopefully there is something to please and antagonise everyone.
'Entangled: Threads & Making', Turner Contemporary, 28 January until 7 May. www.turnercontemporary.org
Join our new commenting forum
Join thought-provoking conversations, follow other Independent readers and see their replies