Fashion icon: Hadid and Lagerfeld combine
What do you get if you combine the starchitect Zaha Hadid and Chanel's Karl Lagerfeld? A handbag-inspired portable pavilion, of course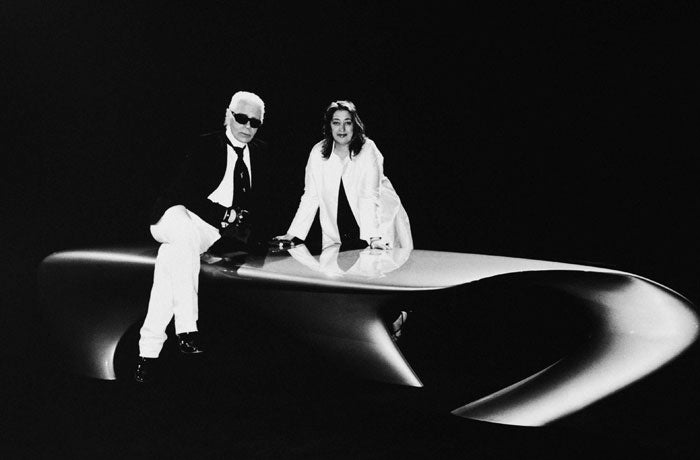 Take one of Britain's leading architects. Put her together with one of the world's best-known fashion designers, and the result is not just a new art work but a love-in. Zaha Hadid and Chanel's Karl Lagerfeld have joined forces on a new art installation, which will be unveiled in New York in October, and then come to Britain next year.
The Chanel Mobile Art Pavilion, a translucent structure, is described with quite tragic bathos by Chanel's sirens as "a gleaming futuristic pavilion with the startling appearance of a glamorous spaceship". With a steel frame "constructed at a factory in Yorkshire", the pavilion's loop-form folds into a sequence of darkened spaces "embracing visitors in intimate proximity to the art, and one another, before depositing them into the daylight-suffused central court at the end of the exhibition".
Yet even Chanel's hyperbole – "a pavilion that, like a handbag, is a completely portable and functional container with vast symbolic potential" – eventually returns us to the key leitmotif, the pavilion's "immersive field". As if in a film, explains Hadid, we are not seeing the world from a particular angle, but always getting a more complex and multidimensional view.
Meanwhile, Lagerfeld has been busy taking photographs of Hadid. They have, according to an informant who has seen them, recast her persona. The handful of portentous portraits – lush of texture, imperious of gaze – that the media have used endlessly have been upstaged by monochrome shots that are said to give the architect the look of an ingénue. Hadid and Lagerfeld are said to have got on like a Cap d'Antibes villa on fire, and he insisted on taking pictures of her, getting an assistant to snap a portrait of them together.
"She is a kind of Coco Chanel of today," says Lagerfeld, "not in fashion, but in architecture. If you are lucky enough to know the greatest living architect, and to have her accept an invitation to do a project, it is magical... This all began with a small sketch, a computer drawing, a concept. I gave Zaha the general idea in a few moments, and her interpretation and fulfilment of that idea is more than perfect."
That he thinks of her Mobile Art Pavilion as being very like the classic Chanel handbag – ah, that'll be the vast symbolic potential, in reverse! – is perfectly apt. Hadid, an architect famous for polemical, neo-Suprematist art works a decade before she designed and completed her first building in 1994, is no longer inscrutable or "difficult". Having won the profession's Oscar, the Pritzker Prize, she remains drolly performative in person, but is no longer specifically characterised by her Jimmy Choos, or her retinue of true believers.
The architect has become a lifestylist, a font of consumable creation. Her London studio is filled with protégés, who may find themselves working simultaneously on architectural details for a concert hall in the Middle East, and the morphing of a divan to look like a bar of melting chocolate. During the London Design Museum's engrossing exhibition of Hadid's work last year, the word she used most tellingly was "landscape". Buildings, consumer products, yachts – all were metaphorical landscapes. The complexities of Hadid's architecture – its field conditions, torsions, scalar effects and layering – are evolving into a formal language deemed applicable to any object.
The primal fusions of tension and seismic eruption that characterised her seminal Vitra fire station in 1994 have given way to buildings, furniture, Alessi vases, Louis Vuitton bags, and Swarovski necklaces and chandeliers that draw from geometry and landform.
The dismountable pavilion is made of highly engineered, gleaming white arched fibreglass-reinforced panels. It's an itinerant sculpture comprising 700 components that, once assembled, have the look of a sculpture by Naum Gabo. "For me," says Hadid, "the fascination of the project was the challenge of translating the intellectual and physical into the sensual – experimenting with completely unexpected spaces and a totally immersive environment."
Hadid sees it as a "total art work" that reinvents itself as it moves to the USA, to Russia and to Europe. The pavilion's form is a torus, with the circular geometry that one finds in a nautilus. Its key sense is of a form with no obvious beginning, or end; it might also be characterised as a mysteriously smoothed pebble, and it also recalls the super-smooth organic shapes of the four stations that Hadid designed for the Nordpark Cable Railway at Innsbruck. The line between architecture and sculpture is obliterated.
A mobile marvel
The Chanel Mobile Art Pavilion (above) is a fully transportable structure that has moved through Asia and will be erected in New York, London, Moscow and Paris. Inside is an art exhibition celebrating Chanel handbags.
Join our commenting forum
Join thought-provoking conversations, follow other Independent readers and see their replies