Leaping around naked in clay, painting her girlfriend's vulva... Meet Florence Peake – 'the Lena Dunham of art'
The latest member of a British art dynasty – her mother is Phyllida Barlow – has created a dance performance to 'The Rite of Spring' that turns into a gallery-sized clay sculpture 
Hannah Duguid Comments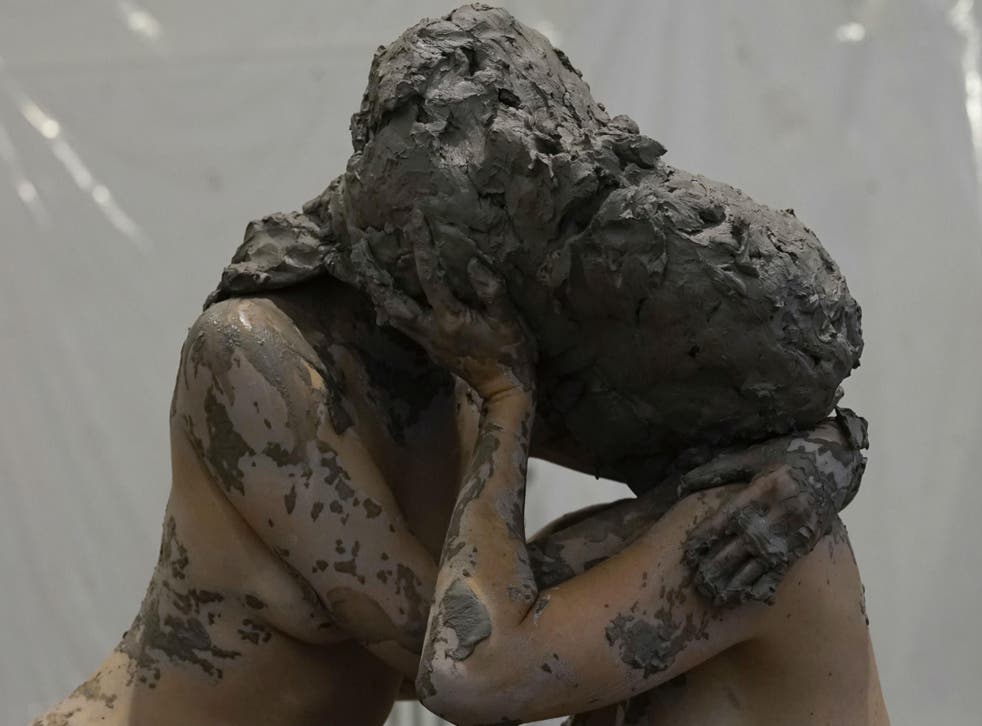 Artist Florence Peake has an unboundaried brilliance – think the Lena Dunham of contemporary art. Both seem unembarrassable, willing to share body and soul with an audience – not for the sake of easy thrills, but to offer a sensitive critique of society. Both are made vulnerable by their boldness.
Peake, 44, dressed in red, with red nails and a silver puffer jacket, is a vibrant presence. In her small, crammed studio in Somerset House on The Strand, she sits next to one a trio of large, bright pink paintings smeared with thick bodily forms. One of them has a ceramic penis poking out. Red and pink clay sculptures, like bits of flesh and guts, sit dumped on a table.
Peake has just returned from Paris for a performance she choreographed to the score of Stravinsky's The Rite of Spring, which she titled: RITE: On this pliant body we slip our WOW! It involves five naked dancers on a stage made from six tonnes of clay.
Usually, she would not perform, but in Paris an injured dancer – a stray heel whacked her in the face – meant Peake had to go on.
"It f**king kills me," she laughs, showing me an exhausting-looking clip of the final sacrificial dance, where dancers writhe and leap, skin slapping against clay with wet claps.
The performance – which she is about to stage again at the De La Warr pavilion in Bexhill – lasts an hour, beginning with dancers sitting on boulders, making masks around their heads. Clay starts to twitch, then rise, as a two more bodies emerge, hidden in the floor. As they dance, their skin becomes coated with clay. They turn into living sculptures, leaping around.
"We tried doing it in leotards and tried doing it in costumes but they'd end up with these big sacks of clay around the crotch, like they had a nappy hanging down, it was awful," laughs Peake, explaining the decision to perform naked.
As the dancers move through the performance, water is added so that the clay becomes like a mud pit. Audience members, wearing pink plastic ponchos, duck to avoid wet lumps flying at them like cannon balls.
Afterwards, the stage will be fired and glazed to become sculptures.
As Peake talks about her work, her training in dance is apparent: there's an ease to her movement as she shows me how she encourages her dancers to respond to materials in their performances. "How does it choreograph your body?" she says, rolling a screwed up canvas bag along her arm and down her abdomen with an easy undulation in her back: "the bag is touching me as much as I'm touching it."
"I'm very promiscuous across art forms," says Peake. "People mistake this for being undisciplined but actually there's a lot of methodology in my practices. It's an improvised performance but it's so structured that you could say it's highly choreographed. We work through the restrictions and the boundaries within that."
The idea for this performance came in 2016, the year of Nigel Farage, Brexit and President Trump. Peake felt parallels with 1913, the year The Rite of Spring was written, in the fracturing of Europe, the rise of populist right wing politics, and the darker conservative forces taking hold.
The Rite of Spring caused a riot when first performed in Paris, with pre-war audiences horrified by a performance perceived as primitive and uncivilised. Yet for artists at the time the idea of primitivism was a reaction against the hypocrisy of supposedly civilised societies. Today, artists are once again reacting against such hypocrisy in their work.
"It's the responsibility of an artist that we have a voice to say something about the world. There is an opportunity in these times. Artists are thinking it's not a time to be lethargic or passive, it's a moment to respond to," she says.
Peake has a tongue-in-cheek name for the particular style with which she approaches these themes. "Pagan camp," she calls it with a laugh.
Unsurprisingly, Peake did not take a conventional route to becoming an artist. She painted from childhood, but trained as a dancer and was drawn towards more leftfield performers, such as Gaby Agis. "She worked with Michael Clarke, she was so radical and a full-on feminist," says Peake.
Peake herself rejected a scholarship to follow a more traditional path through dance school, instead exploring performance, experimental theatre and spiritual practices, even qualifying as a re-birther, which is a form of breathwork therapy. "I find institutions quite difficult," she says. "My mum and dad encouraged me not to go to art school."
Mum and dad are relevant: Peake comes from a family of exceptional artists. Her mother is Phyllida Barlow, now a doyenne of British art who represented Britain at the last Venice Biennale. Her father, Fabian Peake, is a talented painter, poet and writer.
Her brother, Eddie Peake, is also an artist, one who has shot to prominence over the last few years with work that explores ideas around gender and sexuality, with paintings and performances that included a naked football match at the Royal Academy.
Like his sister, he refuses to stick to one medium but comes at it from all sides: photography, painting, performance and sound. She has three other siblings: Clover, Tabitha and Lewis, also all artists. Now aged between 33 and 44, they grew up in Finsbury Park in north London.
Boldness seems to run in the family. Peake and her father once made an artwork on Paddington Station. He constructed a large canvas sack with holes, inside of which Peake and another dancer, Sally Dean, performed. Random legs, arms, and the occasional head, popped out intermittently.
"He was extremely experimental and not bogged down by a particular medium, that was very helpful," says Peake.
Peake has been married to writer and tattoo artist, Desmond Byrne, for nine years, although their relationship is polyamorous. Later this spring, she will perform in London with her girlfriend Eve Stainton. In Slug Horizons, Peake and Stainton paint each other's vulvas in a performance of their relationship.
The theme is intimacy, with a small audience arranged close up around them. The couple, both naked from the waist down, scissor their legs as they roll around the floor, turn into animals, and describe sexual fantasies they have – although there will be no cliched erotic scenarios a la 50 Shades of Grey.
Instead, these are witty, consciously absurd: "I meet you in Sports Direct where I'm looking for some new trainers. You're wearing that hat with Nike on the side. We get into the elevator and end up in a feminist zine headquarters, looking out onto a Martian landscape. Your tongue reaches into my eye and comes out through my vagina."
The nudity and exposure of the piece doesn't bother Peake. What she fears is misrepresentation, where the viewer is deaf to the subtlety of what she wants to say.
"It could be read in an infantilising, slightly patronising way," says Peake. "It's not the whole thing of getting my vag out that bothers me, but it's about how that gets read conceptually. It could be reduced to some kind of sexualised thing but there are a lot of formal elements: the scissoring, how bodies configure around each other. It's hard to keep moving while holding that scissoring connection. It's awkward and clunky, an almost mechanical element. It's quite sculptural."
As well as anxiety around misreadings of her work, Peake may also be a shade defensive because she didn't have the easiest time getting to where she is. Without art school credibility, she had to keep going on conviction alone.
"It was disheartening," she admits. "I questioned if the institutional route, a PhD and all that, was the only way to make it work. But I'm not built for that so how could I make it work? There have been a lot of quite desperate times but I suppose it's just keeping at it."
Thank heavens she did. In an art world that is often cynical, Peake feels like a fresh breeze blowing through a stagnant, overheated room.
'RITE: On this pliant body we slip our WOW!' is performed at the De la Warr Pavilion, Bexhill, East Sussex 6 May; the resulting clay sculpture will be on display in the gallery from 12 May to 2 September. Florence Peake & Eve Stainton, 'SLUG HORIZONS', is at The Place, London on 7 June
Register for free to continue reading
Registration is a free and easy way to support our truly independent journalism
By registering, you will also enjoy limited access to Premium articles, exclusive newsletters, commenting, and virtual events with our leading journalists
Already have an account? sign in
Join our new commenting forum
Join thought-provoking conversations, follow other Independent readers and see their replies