Francisco de Pajaro: Meet the street artist proving modern art isn't a load of trash
The artist makes sculptures from discarded items on the street as a way of critiquing society's obsession with perfection
Natasha Preskey
Monday 03 November 2014 18:37 Comments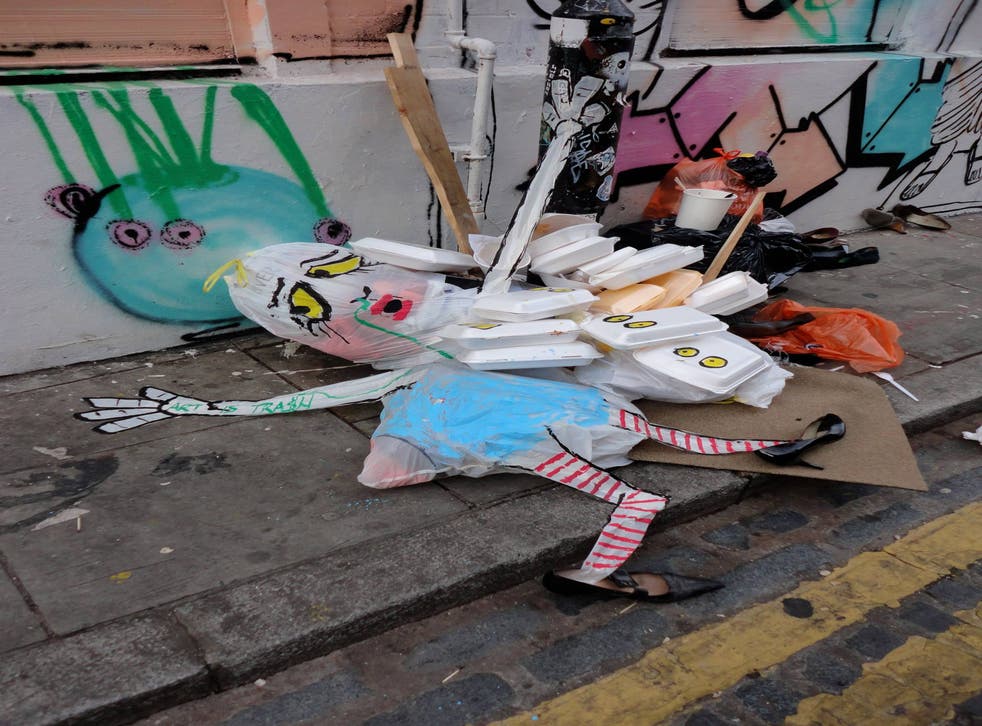 Spanish street artist Francisco de Pajaro is keen to show modern art isn't all a load of trash.
The Barcelona-born artist uses old mattresses, boxes and bin bags to create his bright, playful creations on Europe's streets.
Using everything from kebab cartons to discarded refrigerators, de Pajaro impresses with his spontaneous sculptures – all marked with the tag 'Art is Trash'.
By making art out of items we throw onto the streets, de Pajaro aims to critique a society that's always looking for perfection. "The beauty is there but there are also ugly things that are part of our environment," he says.
While de Pajaro's work has been well received, his chosen medium means installations normally last just a few days before they are taken by waste collectors or destroyed by members of the public.
He usually works in the evenings, shortly after the shops have closed and emptied their waste onto the road outside.
But the artist isn't precious about what happens to his creations.
"Of course I can't take it home but many people will try to take what I'm doing now that I'm more well known," he says.
In a recent visit to London, de Pajaro chose to work in Brick Lane, an area whose street art scene has become so well-known that tourists pay for guided tours of the work on its walls.
He describes his creations as "a little present to put a little bit of colour into the City".
Images of de Pajaro's trash sculptures, accompanied with the hashtag #artistrash, have been widely shared on social media by those lucky enough to spot them. De Pajaro describes the internet as a "huge gallery" through which his art can find a permanence it is unable to achieve in real life.
The artist first visited London in 2005 when he was still working solely on canvas. He continues to sell paintings and drawings but makes no profit from his work on the street.
Although he has chosen to work in the heart of the City, he also has a message for the bankers working nearby.
He describes his characters as "hurt, humiliated and ignored by society", who are "seeking justice and a less selfish world".
"I present the working class as a united force in the fight against the oppressors in the capitalist system," he says.
De Pajaro will be in the UK until mid-December. For more information visit www.franciscodepajaro.com.
Register for free to continue reading
Registration is a free and easy way to support our truly independent journalism
By registering, you will also enjoy limited access to Premium articles, exclusive newsletters, commenting, and virtual events with our leading journalists
Already have an account? sign in
Join our new commenting forum
Join thought-provoking conversations, follow other Independent readers and see their replies