Gilbert & George: What exactly do we remember them for?
It's Gilbert & George's 50th anniversary. For half a century they have been a pair of living sculptures but all we think about is how they look – no single work in particular springs to mind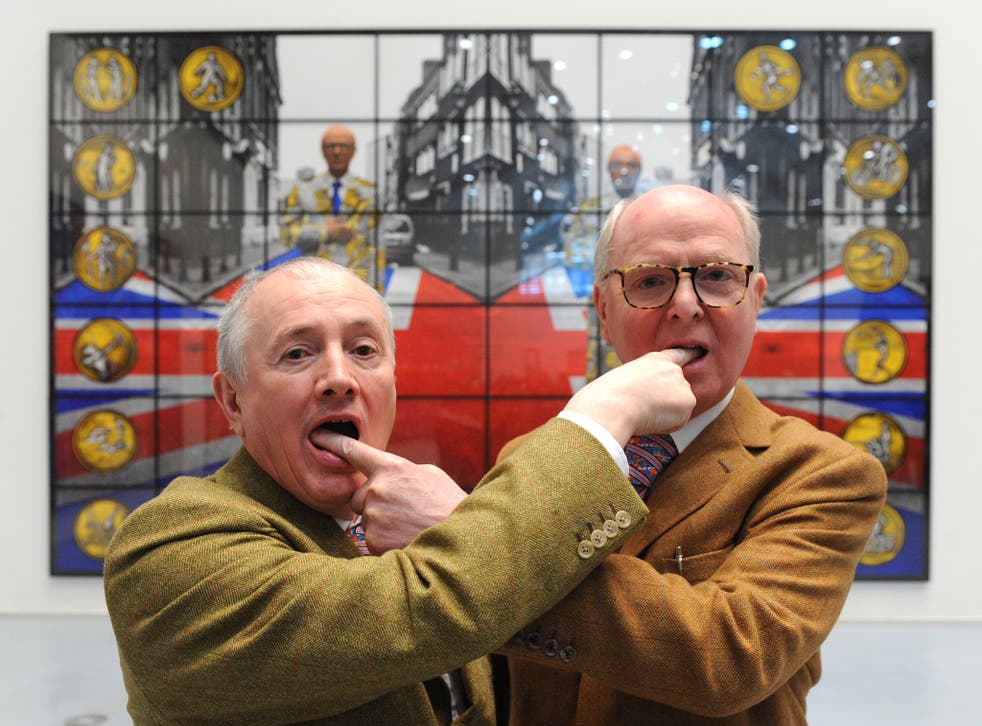 You mean to say you haven't noticed yet? The 50th anniversary of Gilbert & George is being celebrated all over the place. Lehmann Maupin in New York opened a show of their latest works, the Beard Pictures, in October. London's White Cube will be staging an exhibition with the same title this month. For the last few weeks, a work from 1971 has been hanging around on the walls over at Lévy Gorvy in Bond Street; a series of long-lost paper panels, drawn on in charcoal, which served as a back drop to the two of them posing as living sculptures that same year, soon after the Gilbert & George phenomenon first began at St Martin's College of Art. That's where Gilbert Prousch, 74, and George Passmore, 75, first met, and bonded, seemingly forever. What a global display of fire-crackers for the two old boys!
Ten years ago they had a major retrospective at the Tate Modern. Now, according to a recent interview, the relationship is not quite such a happy one. They regard the Tate as stuffed full of spineless liberals, and they are threatening to stage a huge show of their own in a brewery in Brick Lane soon, as a show of defiance because the Tate never shows their work. What they say about the Tate is not exactly true. They are a part of the Tate Artists Rooms initiative, which means that works by them owned by the Tate tour regularly.
Why sound off about the Tate now anyway? Because someone decided to drum up publicity for the fact that they had been together as a couple for 50 years? And what about the possibility that the Tate may not be so excited about the work of the past 10 years?
But can it really be 50 years since Gilbert & George, forever joined at the hip, first came onto the scene? Fifty years! Fifty years of art-making! Or perhaps it would be more accurate to say 50 years of being Gilbert & George in pretty much the same way that they have always been Gilbert & George.
That look, for example. They look like they've always looked. Pretty well. Give or take a decade (or two or three), which scarcely seems to matter much really because the idea of Gilbert & George looking as they have always looked is sort of timeless, isn't it? There they go, following their unbudgeable daily routines, up the Kingsland Road of an evening, and back again towards Spitalfields. No one would want to see them walking the streets otherwise – naked, say, or or in jeans with ripped knees and Led Zeppelin T-shirts. That would be a terrible betrayal. It would also be disappointing, a stripping away, a throwing aside, of the twinned-lives-long illusion of the very idea of Gilbert & George, moderately well tailored in a way which is somewhere vaguely between Edwardian and Burton Menswear. Two dapper Englishmen, eating at the same Turkish restaurant day in, day out. Except that one of them is Italian – which their names help to disguise, of course; the fact is that we know them as Gilbert & George. Which is all part of the fun of the idea, isn't it?
Does that mean that they are weirdly anachronistic in some way? Not exactly. How can sculptures ever seriously be accused of being anachronistic? A sculpture never changes with the times – we don't expect it to. And these two are living and breathing sculptures, aren't they? Or are they more human beings who make art – artists, that is – than sculptures? Well, yes and no. It's all quite vexing. Then there is the problem of what exactly we remember them for. Is it for the fact that for half a century they have been rather amiable statues; part of the furniture – or is it for their art? And, if so, which pieces of art in particular? No single work springs to mind. All we think about is how they look – and we love them for it. It turns them into a readily embraceable, serio-comic duo. Morecambe and Wise? The two Ronnies? Abbot and Costello? Laurel and Hardy? Isn't there more than a glancing resemblance? Surely not though. Our two are artists – or artworks.
But what about that art? Perhaps the question is this. Has there ever be an artwork made in their names which could be separated off from what (or who) they are? Is it even conceivable that there could be art made by Gilbert & George which would not be immediately recognisable as art by Gilbert & George because it did not include images of the two of them as an integral part of it?
The answer to that is yes. At the end of the 1980s, for example, the art dealer Anthony D'Offay staged an exhibition called Worlds and Windows by Gilbert & George. I have the enormously heavy catalogue – the cover lettering is gold-blocked. The whole enterprise has a sacred-cum-regal feel about it. The works on display are giant compositions in grid form, postcard-like repetitions of the same image, and they tilt at the Thatcher years – it's social satire of a kind, you might say. Interestingly, Gilbert & George themselves are not part of that imagery. They are nowhere to be seen – except at the foot of each panel, where their signature appears.
By the early 2000s, the world of Gilbert & George had changed forever. The painter Paul Hodgson recalls a key conversation he had with one of them on that favourite stamping ground of Kingsland Road. He'd been seeing a digital printmaker. Gilbert & George had been in touch with the same man, expressing a wish to go from analogue to digital in their work. They were introduced to Hodgson.
"I was trying to think of an opening line," Hodgson recalls, "so I said to Gilbert: 'I hear you're going digital.'"
"Oh yes," Gilbert replied, adding: "You know, we scan everything at 1500!"
"Wow, that's pretty big!" Hodsgson said.
Gilbert immediately agreed, "I know, pretty big. They are building a special computer, just for us. And we are scanning the whole G&G world!"
"The whole G&G world?"
"Yes. The whole G&G world."
And so the G&G world has been digital ever since. What is more, manipulated images of the two of them, as in some hall of mirrors from a Blackpool Pleasure Beach fun house, have been at the heart of it. The digitised, madcap world of G&G, that low-art-cum-high-art comic duo routine, has since the early 2000s largely consisted of giant, wall-to-ceiling, gallery-saturating exercises in dazzlingly colourful, computer-manipulated scampery; with tilts at religion in the Sonofagod pictures of 2006 and pretty much everything else since. As they put it in 2014: "We want our art to bring out the bigot from inside the liberal and conversely to bring out the liberal inside the bigot.'
And, oh yes, there is an other useful reason to make art in one's own image – rather than merely being the art. Who ever made serious money from being a sculpture? Lévy Gorvy were rather reluctant to disclose the selling price of one of those panels in Bond Street. They did so all the same – after a little gentle pressure. The largest work in the show is priced between £550,000 and £700,000.
One question still hangs in the air though. Is any of this art any good as art? Is it more than skin-deep? Or do we love it to bits, utterly uncritically, because the idea of G&G – that look, that daily routine, so dependable, so gorgeously, laughably repetitive – is so engaging, and so at odds with the anarchic humour of the art that gets made in their name?
'Gilbert & George – The Beard Pictures' is at White Cube in Bermondsey from 22 November to 28 January 2018
Join our new commenting forum
Join thought-provoking conversations, follow other Independent readers and see their replies