Global art dealers Hauser & Wirth opening a gallery in sleepy West Country town
But will it win over the locals? And will international buyers bother to make the trip?
Adrian Hamilton
Friday 04 July 2014 12:59 Comments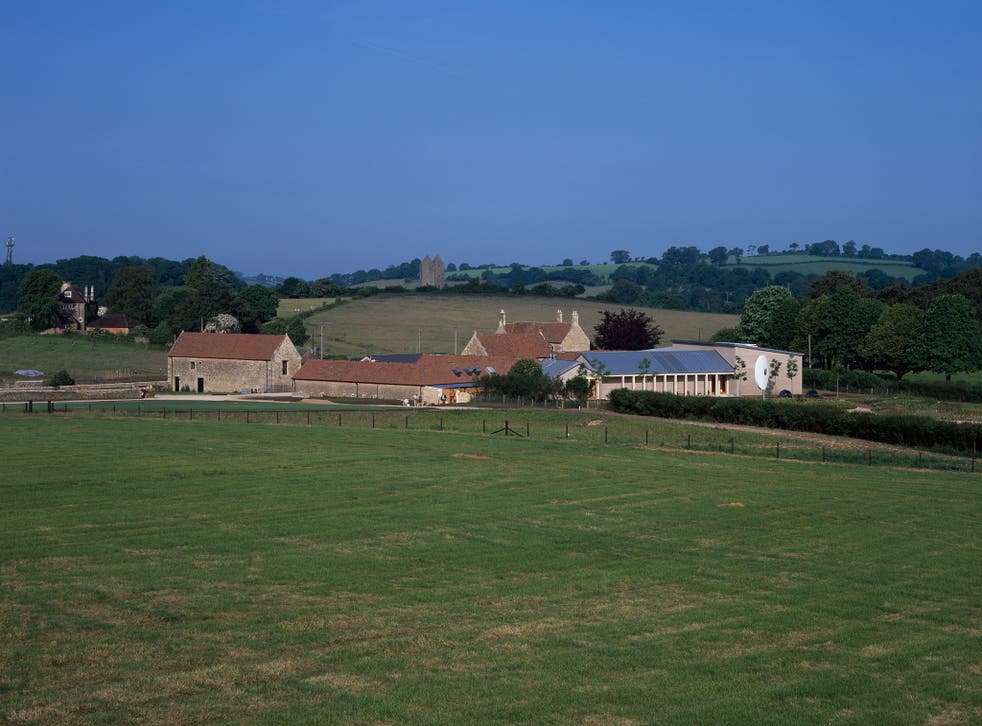 "What about the hedgehogs?" demanded one of the local inhabitants of Bruton (population 2,945) assembled to hear the multi-million-pound plans of the international art dealers Hauser & Wirth (galleries in London, New York, Zurich and Los Angeles) to develop a rural art idyll in deepest Somerset. It was a question which clearly surprised Hauser & Wirth as it paraded the top international talent of decorators, architects and garden designers commissioned to make a redundant farmyard into a showcase for its galaxy of international artists, few of whose works sell for less than a hundred thousand if not a million pounds each. Hedgehogs didn't figure.
Not that the plan's proposers were fazed by the question. If it had come to it, Iwan Wirth, whose project this is, would cheerfully have created a hedgehog park to keep people happy. Ever energetic, he has bought a local pub and half-a-dozen buildings in the town to house his staff. He's asked, and may well get, Great Western rail to stop the London train at Bruton's tiny station at the weekends. When his surroundings were threatened by a solar panel farm he found ready support in local opposition and finally settled the question by, it is rumoured, buying up the farm.
It's the personal nature of the project which makes it so intriguing. 'Hauser & Wirth Somerset', as the new art centre is called, doesn't come from ambitions for gallery expansion or even long-held dreams but from local accident. Wirth and his family were local to the area several years before the project was planned, having bought a farmhouse in this part of Somerset in 2006 as a weekend place and deciding to send their children to schools nearby. Durslade, a model farm built in the mid-eighteenth century at the height of the agricultural revolution in England and fallen into sad disrepair, had come up for sale on land adjoining his and he was persuaded – with some hesitation, one senses – to buy it basically to preserve it before it collapsed altogether and was sold for development.
Ideas to make use of the listed farmhouse, piggery and barns have followed thick and fast. The complex is a particularly warm agglomeration of local stone buildings designed with neo-Gothic and Georgian dignity and Hausers have gone to great lengths to preserve their texture. Bits of wallpaper have been kept, old stone and timber used to patch up the doors. The house has been restored as a rural retreat for Hauser & Wirth's artists and a guest house for visitors. The splendid threshing barn has been made the centrepiece of the display galleries. A new gallery has been constructed for contemporary sculptures and the piggeries preserved for smaller displays.
A meadow garden, designed by the Dutch landscape designer Piet Oudolf is now being planted alongside to open this autumn. An archive centre is being constructed in the courtyard and Catherine Butler and Ahmed Sidki, who have done so much to put Bruton on the map with their At the Chapel restaurant in town, will operate a second cafe at Durslade. Despite the grumbles about traffic, parking and land prices, the plans themselves have aroused remarkably little opposition from local residents or outside art bodies largely because the designers have been so careful to keep to scale and to texture.
Enormous efforts, positively frenetic indeed, are also being made to make the centre a focus of local activity. As well as the exhibitions planned for Hauser's own artists, the gallery has arranged Bristol Old Vic to hold a summer school. There are to be family Saturdays, local teachers' networks, a video collaboration with Bath Spa University and summer courses.
Whether it's going to work as an art centre is another question. Hastening from church at Easter, a local parishioner looked at the construction and remarked, "it's going to be wonderful; I only hope it doesn't go bankrupt". It's a good question but the wrong one. This is a personal, and brave, art venture, not a commercial development. And there is method in the madness. The art world over the last decade, even more so in the years after the 2008/9 financial meltdown, has become skewed and over-strained. Buying art has become the preserve of the super-rich.
The result is that perhaps half-a-dozen galleries, of which Hauser & Wirth is one, have a client list of the super-rich and a stable of names have come to dominate the international scene. Their problem is that there aren't the number of known artists or the volume of work to supply this exclusive clientele. Galleries need to keep their stable of artists loyal and rural residencies can be seen as one way of doing it.
At the same time the concentration of galleries now in Mayfair – one of the more pronounced features of the art scene in the last five years – has deprived galleries of the big spaces for large-scale sculpture installations. A country venue may have more attraction than the once fashionable converted warehouses and industrial buildings of the East End and outer London.
The challenge will be to get enough people to make the two-hour journey from London and Heathrow down to Bruton. Hauser & Wirth certainly has a good roster of artists to display, from Louise Bourgeois to Paul McCarthy and Ron Mueck. It's kicking off with an opening show of recent work by Phyllida Barlow, whose dock installation is currently on display at the Tate. Her fascination and experimentation with materials and rich textures makes her suitable to the place (she has spent time there), but whether a succession of work by in-house sculptors will be enough to keep the punters coming down without something more special is open to doubt. There are a number of small contemporary galleries in rural locations across Europe and the US as well as Japan, but most have a permanent collection to give a regular attraction.
More intriguing will be the ripple effect the centre may have on the wider community around it. Wirth, with his Swiss background, talks quite genuinely and enthusiastically about the way nearly every community in his home country has an art society and people of all incomes buy works. He sees no reason why the same shouldn't happen here. But then his project in Bruton, it has to be said, is still very much a top-down exercise.
That may change. It would be quite wrong to present Bruton, as some have, as a sort of sleepy backwater. True, like so many small towns, it has been in decline for nearly a century, its inns closed, the specialist shops shut and the church but sparsely attended. But, even before Wirth moved here, money was beginning to spread down to this part– "South Gloucestershire comes to Somerset" as a local headline had it. The creative spirits are here but they tend to the literary – John Steinbeck spent a happy nine months sojourn in a cottage nearby working on his rendition of Sir Thomas Malory's Le Morte d'Arthur – rather than the painterly.
Hauser & Wirth represents not just a huge leap in wealth but also in taste for this part of the West Country. Its conceptual artists produce works which are exactly the kind of art that puts off many ordinary gallery-goers. If Hauser & Wirth Somerset can break out of the select circle of the super-rich buyers and the favoured few artists and make contemporary art seem a natural part of living then it really will have contributed something to the artistic life of this country.
Hauser & Wirth Somerset, Bruton, Somerset (hauserwirthsomerset.com) opens 15 July
Register for free to continue reading
Registration is a free and easy way to support our truly independent journalism
By registering, you will also enjoy limited access to Premium articles, exclusive newsletters, commenting, and virtual events with our leading journalists
Already have an account? sign in
Join our new commenting forum
Join thought-provoking conversations, follow other Independent readers and see their replies