Graham Fagen, artist: 'In this space it's all about the making, in the other it's about the thinking'
Karen Wright meets Fagen in the Glasgow Sculpture Studios - one of two of the artist's studios
Karen Wright
Thursday 02 April 2015 12:58 Comments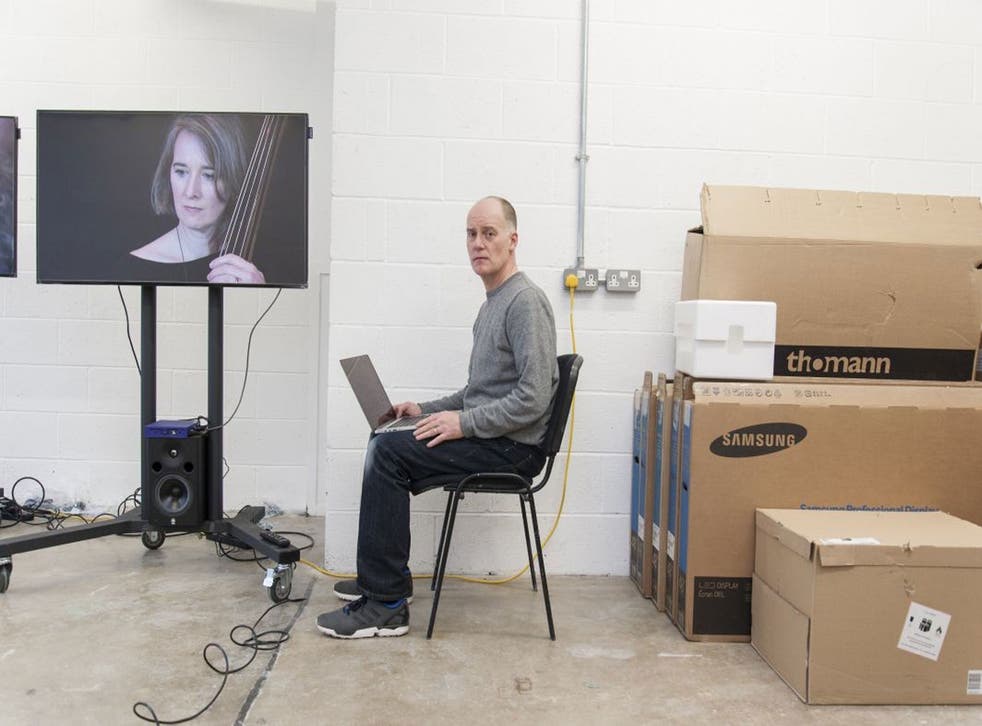 I visit Graham Fagen in the Glasgow Sculpture Studios, a somewhat corporate-feeling block of studios just outside the city centre. It's like a blank canvas, empty except for four large screens. Fagen tells me that he had difficulty choosing which of his two studios to bring me to. He has only been here since January having been working in his "soul" studio in the loft of his home for the last six years.
Fagen was born on the west coast of Scotland in 1966 and grew up in "a grey council house". He went to the Glasgow School of Art.
Fagen is representing Scotland at the forthcoming Venice Biennale and chose to return to an earlier work, The Slave's Lament, based on a poem by Robert Burns. The poet was important to Fagen while he was growing up. "There was the slang Scottishness, so when reciting Burns you could speak the way that you were taught not to speak at school."
He paired the Scottishness with his other cultural influences. "I was buying Jamaican music and did not know why a cultural opposite had so much meaning to me, the Jamaican sufferation with its jabbing rhythms and words you did not understand".
In his soul studio he has done his research. Like many contemporary artists, Fagen looks for inspiration from not only other artists but a wide variety of media, including music and film. He recalls hearing Arvo Pärt soundscape set to Burns lyrics "my heart's in the highlands". "Pärt took the lyrics that are tartan-and-biscuit tins and with the sonic spaces he changed the lyrics completely for me."
The screens in the studio arrived recently and he has not yet shown the work to anyone else but says he wants to give me a sample of the sounds that will greet the visitor to Venice.
When the equipment is ready, he plays me the film whose soundscape will by its nature dominate the pavilion. It is much more moving then I had expected, filmed dramatically focusing on musicians and singer in a quasi sculptural mode, each with their own monitor; the "mash-up" of classicism and reggae is unexpectedly affecting, bringing a lump to my throat. He points to the violinist – "that violin was made in the 1600s", his voice full of emotion.
Before I leave, I ask how much time he spends between his two studios. "In this space it is all about the making and in the other it is all about the thinking. When I am here, I wish I was in the other one and when I am there I wish here. It is about getting the balance right".
'Graham Fagen: Scotland + Venice 2015', 56th International Art Exhibition – Venice Biennale, 9 May to 22 November (labiennale.org/en)
Register for free to continue reading
Registration is a free and easy way to support our truly independent journalism
By registering, you will also enjoy limited access to Premium articles, exclusive newsletters, commenting, and virtual events with our leading journalists
Already have an account? sign in
Join our new commenting forum
Join thought-provoking conversations, follow other Independent readers and see their replies